Why Is LASIK Safer Than Contact Lenses?
Posted on October 15, 2019
Table of Contents
You can't see clearly without your glasses. But you don't want to wear them all the time. Should you head into a surgery center for LASIK? Or should you skip surgery and opt for contacts instead?
If you're safety conscious, you might assume contacts are a wiser choice, as you'll avoid anesthesia and incisions. But contacts come with surprising risks, and some can cause vision loss.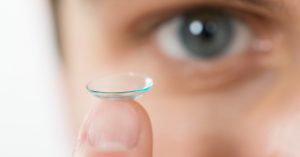 Contacts and Eye Health

Contacts lay on the surface of the eye. Every day, you make choices about how to use these medical devices. It's those decisions, experts say, that hold ocular-health risks.
Of those who wear contacts, 40 to 90 percent don't follow care instructions. That startling statistic from the U.S. Food and Drug Administration highlights how a busy lifestyle and complicated medical equipment don't always mix. Even tiny decisions can have a huge impact.
You can harm your eyes by:

Not washing your hands before you put in your contacts.

Touching your eyes with contact solution bottles.

Disinfecting your lenses improperly.

Wearing your contacts for too long.

Storing your lenses the wrong way.
Every year, doctors treat nearly a million eye infections, says the American Academy of Ophthalmology. Most are caused by improper use of contact lenses.
But even if you use your contacts just as your doctor recommends, you can't eliminate your risk. Experts say contact-related infections stem from a combination of:

Your immune system.

Microbes in your tears.

Your hygiene habits.
You can't eliminate all of these risks. And you can't always spot early infection warning signs. You could get an infection after wearing extended contact lenses for just one night, experts say.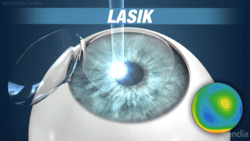 LASIK and Eye Health

Sign up for LASIK, and your doctor will amend your vision in a surgical procedure. Once it's complete and you've healed up, you have no maintenance work to perform — no hands to wash, no solutions to use, and no lenses to disinfect. You'll see risks decline because your opportunity to cut corners also falls.
Researchers say the long-term LASIK complication rate sits at about 1 percent. The chances of problems with LASIK are very slim.

How to Reduce Your Risk

No one wants to live with complications, whether you're using contact lenses or having LASIK done. There are some steps you can take to ensure that your eyes stay as healthy as possible as you amend your vision.
For all the reasons we discussed, LASIK could be considered the safer choice. You can reduce your risk of surgical complications, experts say, by:

Researching your provider. Learn more about the equipment your surgeon hopes to use. Find out how many times that person has performed LASIK on eyes like yours.
Moving beyond cost. The urge to save money is universal. But bargain-basement prices can come with higher risk. Don't be afraid to pay a little more to get the quality you deserve.
Asking about aftercare. Make the most of your investment, and follow instructions to the letter. If something seems unclear, ask before your surgery date.
If you've decided that surgery isn't right for you, take care of your eyes with proper contact care. Experts say you can do that by:

Following a schedule. Your doctor will tell you how long your contacts should stay in each day. You'll also know when to replace them.
Using the right products. Don't rely on spit or water to clean your contacts. Don't lean on rewetting drops for disinfection. Use new solution each time you clean your lenses.
Caring for your case. Rinse it in warm water and let it air dry. Replace your case every three months.
If you can't decide which avenue is right for you, consult your eye doctor. You may find that surgery is the best way forward. And if not, your doctor can help you understand exactly what to do to protect your eyes from the damage contacts can cause.

References

Focusing on Contact Lens Safety. (August 2017). U.S. Food and Drug Administration.
Eye Health Statistics. American Academy of Ophthalmology.
Contact Lenses: The Risks You Need to Know. (October 2012). Medscape.
LASIK Complication Rate: The Latest Facts and Stats You Should Know. (October 2017). American Refractive Surgery Council.
What Are the Risks and How Can I Find the Right Doctor for Me? (August 2018). U.S. Food and Drug Administration.
How to Take Care of Contact Lenses. (May 2019). American Academy of Ophthalmology.