Financing options are available for LASIK. In fact, there are several. Combining them can lower your cost and make the surgery affordable for most people. Researching your options can help you make smart choices for your future.
What Financing Options Are Available for LASIK?
Multiple forms of LASIK financing exist, including insurance, discounts, pre-tax benefits, and prepayment options. These methods can reduce your upfront costs and ensure you get the surgery you want to improve your vision.
LASIK eye surgery involves reshaping your cornea — the tissue at the front of your eye. The new shape allows light to focus perfectly on the retina at the back of your eye. The result is clear, crisp vision without the constant need for glasses and contacts.
Reputable providers provide fair and understandable pricing upfront. At NVISION Eye Centers, professionals always cover pricing and financing options during the consultation, so you know exactly what this procedure might cost.
Your financing options may include the following:
Health and vision insurance: Insurance coverage for LASIK exists, including from private companies and Medicare.
LASIK provider discounts: Some vision clinics, including NVISION Eye Centers, offer financing packages to qualified patients.
LASIK provider payment plans: Some vision clinics allow patients to break the price of services into several smaller pieces.
Flexible spending account (FSA): Using an FSA for LASIK eye surgery can help you use pre-tax dollars you put into this account and must spend within the year.
Health savings accounts (HSA): LASIK is a qualified medical expense eligible for coverage with HSA funds.
Credit cards: Using a credit card, including healthcare credit cards, can mean accessing cash back or other rewards, and you could get interest grace periods too.
Loans: A personal loan or medical loan could help you pay for surgery, and some come with very valuable terms.
Cash: Paying for your surgery upfront could result in additional discounts and cost savings.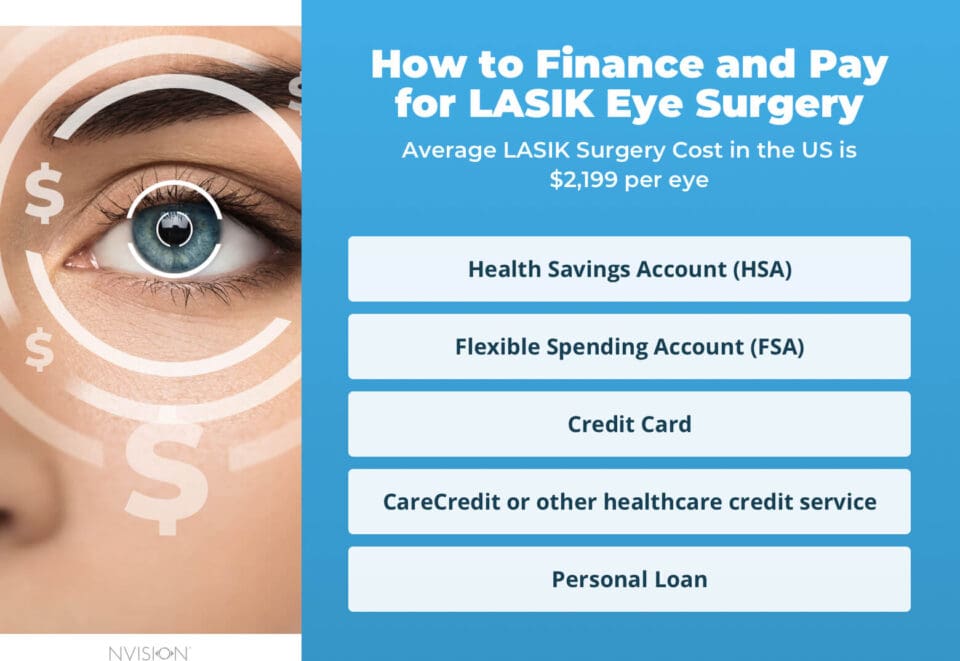 What Financial Options Does NVISION Provide for LASIK?
NVISION Eye Centers offers plenty of financing options to ensure that people get the benefits of life-changing LASIK surgery. Here are a few of them:
Free Consultation
All LASIK surgeries begin with a detailed examination and conversation. At NVISION Eye Centers, this appointment is free.
At the end of your free consultation for LASIK, you'll be able to make an educated decision about your surgery. You'll know just how much the plan might cost with all of your financing options explained.
CareCredit
CareCredit is a private company that provides financing for medical procedures. If you use a CareCredit card, you'll pay no interest if your balance is paid in full within 24 months. Monthly minimum payments are required.
If you open a new CareCredit account, you won't face a penalty if you pay the balance off early. Minimum monthly payments are required.
Special Promotions
NVISION Eye Centers offer promotions that allow people to choose our facilities for their eye surgeries. Sign up for surgery during one of these special periods, and you could save money on your procedure without sacrificing quality.
If you don't see a special offer for LASIK patients advertised, ask your medical team. There may be additional benefits you qualify for that can keep your costs down.
How to Choose the Best LASIK Finance Options for You
According to the MarketScope 2020 report, LASIK costs an average of $2,632 per eye. LASIK's permanent vision correction is an investment in your future, and financing can help to reduce the upfront cost of the procedure.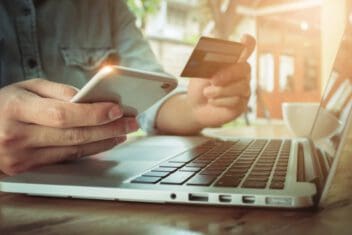 Before you dig into loans, look for sources of individual discounts. Your insurance company may offer discounts or payment options. Your provider may give you price breaks too.
If a remaining balance exists, look to your health savings accounts. FSAs and HSAs are made for expenses like LASIK. The money you set aside can — and should — be used to pay for the surgery you need.
Loans may help you fill any gaps left behind. Most of these products come with rules, including those about monthly payments, and interest fees are likely. Any loan should come with detailed terms and conditions you should read carefully before you borrow.
Evaluating Your LASIK Financing Options
| | |
| --- | --- |
| | Known Benefits |
| FSA/HSA | Use the money you set aside for healthcare expenses, and don't pay interest or additional fees for it. |
| Insurance coverage and discounts | Use the plan you paid for to help you pay for the surgery you want for your vision. |
| Provider discounts | Pay less for your surgery and help your doctor keep a full surgical roster. |
| Payment plan | Split the cost of your surgery into payments that fit your budget. |
| Credit card | Health-specific credit cards are made for these expenses, and some come with rewards like cash-back programs. |
| Personal loan | A personal or medical loan can help you cover the cost of surgery and split the price into payments. |
| Cash | Pay upfront and get a discount from some providers, and claim the price in your taxes for a potential healthcare discount. |
LASIK Financing Frequently Asked Questions
How do people afford LASIK?
Combining health insurance benefits, HSAs, FSAs, and loans can put the price of LASIK within reach of many people.
Is LASIK worth it financially?
LASIK is an investment in clear vision that lasts for the rest of your life. A reduced reliance on glasses and contacts can make LASIK very enticing.
Can I get my insurance company to cover LASIK?
Some insurance companies offer discount programs for their members, reducing the cost of LASIK if you work with a provider in the network.
Can LASIK be deducted from my taxes?
LASIK is considered a tax-deductible medical expense. The costs you pay within one year could help you lower your tax burden.
The information provided on this page should not be used in place of information provided by a doctor or specialist. To learn more, read our Privacy Policy and Editorial Policy pages.