Are you shopping for eyeglasses that best accentuate your unique personality and style? Matching frames and lenses to the shape of your face can help point you in the right direction.
It makes sense: the face is perhaps the most visually distinctive feature of your body. Since there are frames for all kinds of facial configurations out there, you only need to learn how to pick the right fit for great looks.
What Is My Face Shape?
Determining your face shape for glasses is easy. It requires no measuring or math. Just look in the mirror and trace the outline of your face using a dry-erase marker.
Compare the drawing with common geometric shapes like circle, oval or rectangle. Your face is the shape that best fits the outline you've drawn.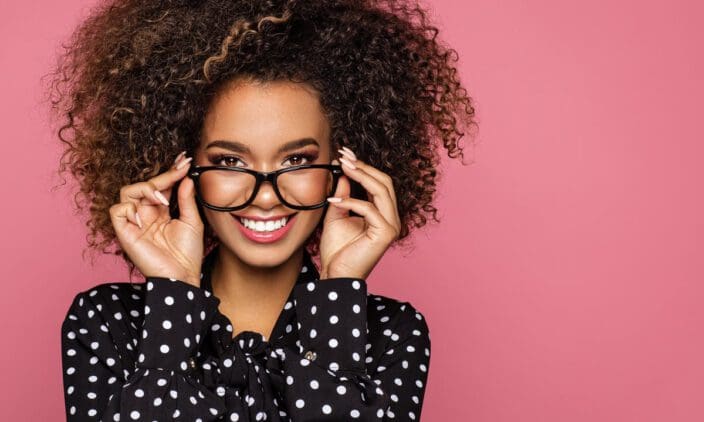 Glasses for Square Face Shapes
Square-shaped glasses on a square face make for a somewhat geeky, awkward look. Try to create contrast with frame designs that lessen the prominence of the rather clear-cut geometry.
Thin-frame, round or oval glasses are your best bet to look authentically attractive. They're the direct opposite of square and can smoothen out the sharp facial edges.
Rounded frames that are wide enough to slightly obscure your cheekbone are even better. Whether you go with oval or round, the curves around the lenses will soften your even facial features along all dimensions.
Glasses for Round Face Shapes
Both squared and rounded faces have proportional dimensions. But a round face has curved lines all around, including the chin.
For this, consider a frame design that can counter the circular facial outline with angular edges.
Rectangular varieties are ideal as they can add angles where none exist, without obscuring your natural beauty. Wearing these frames, you can create a stunning visual illusion sporting a longer but thinner face.
Glasses for Heart Face Shapes
A 2D outline of a heart-shaped face looks like an inverted triangle. It sports a prominent forehead, but features get smaller downward, ending with a narrow chin.
When shopping for glasses to match a heart-shaped face, select frames that can add balance in the middle of the face, around the cheekbones. There are several ways to obscure the wedged facial geometry and make the dimensions a little less angular.
Rectangular frames with a wider bottom can help establish some level of visual harmony, from the broader forehead to the narrower parts downward. To make your chin area less conspicuous, explore oval-shaped eyeglass frames.
Glasses for Triangle Face Shapes
With this face shape, the chin area is broader than the forehead, akin to a base-down triangle. The ideal frames for it should reverse the optics by adding width around the top half of the face.
Rocking a pair of cat-eye glasses can produce the desired illusion of width by drawing attention away from the wider facial base. Most people look chic and sophisticated in these iconic glasses with a vintage touch.
Frame designs with detailing on the upper part accentuate this effect, with the lower portion seeming lighter and less prominent.
To contrast any sharp edges and still make a fashion statement, try rounded frames.
Glasses for Oval Face Shapes
Only a handful of eyeglass frame designs could go wrong with an oval-shaped face. If this is your shape, you could don virtually any pair of eyeglasses without denting the natural symmetry of your face.
Watch out for the smooth curves, though—you don't want to overemphasize. To counter those by creating angular structures, try out rectangular or square frames.
The eye region is generally the broadest with an oval face shape. Keep this area in mind when selecting your frame size.
A frame that perfectly fits your region complements your natural facial symmetry better. Also, wayfarer-style glasses can emphasize the natural balance of a face with a slender top area and a little narrower chin.
Glasses for Diamond Face Shapes
While you don't see diamond-shaped faces every day, they have multiple glass frame matches on the market today. For these, you'd need to address the bulging cheekbones and angular, narrower jawline.
The chin area is narrow, too, but it won't be a problem once you create volume around the cheekbones. You can achieve this by sporting cat-eye glasses.
Rectangular frames look great on diamond-shaped faces, too, especially options with distinctive detailing. To soften the sharp edges, try out oval frames, which look stunning with their elegant curves.
Other Things to Consider
So, you've looked around and picked eyeglass frames that gorgeously match the shape of your face. You don't have to stop there.
There's a lot to consider when you're after the best eyeglasses for your personality, budget, and more. Other preferences may include:
Skin Tone
If you usually wear outfits that match your skin tone, select the same for your frames. For a warm complexion, options include shades of red or tan.
Use the same rule of thumb when selecting frames for a cool skin tone like blue. Avoid contrasting colors.
Lifestyle Fits
Consider durability of the frame material, comfort, budget and other factors pertinent to your everyday living. Memory-metal frames, such as Flexon, can bend and twist without breaking, for example.
Frame designs for the office shouldn't be too fancy.
Personality
Just like your outfit, the eyeglasses you wear (and their frames) can define your character to some extent. Vintage designs signify sophistication, while thick, oversized frames or "nerd glasses" project boldness.
The information provided on this page should not be used in place of information provided by a doctor or specialist. To learn more, read our Privacy Policy and Editorial Policy pages.