Procedures
Collagen Cross-Linking (CXL) for Keratoconus
Stop the Progression of Keratoconus
Keratoconus is a progressive disease of the cornea. With collagen cross-linking (CXL), you can halt the progression of keratoconus by strengthening your cornea. This ground-breaking procedure has helped tens of thousands of people around the world. NVISION is proud to offer the only FDA approved cross-linking treatment for keratoconus and it is covered by many major insurance plans.
Condition Treated
Keratoconus

Keratoconus is a condition where the clear tissue on the front of the eye (cornea) is weakened or thinning causing it to bulge outward. Symptoms typically occur during a person's teen years and include blurred vision and sensitivity to light and glare. It is typically not correctable with glasses, requiring specialty contact lenses, or in severe cases if left untreated, a corneal transplant.
We Promise Our Patients Peace of Mind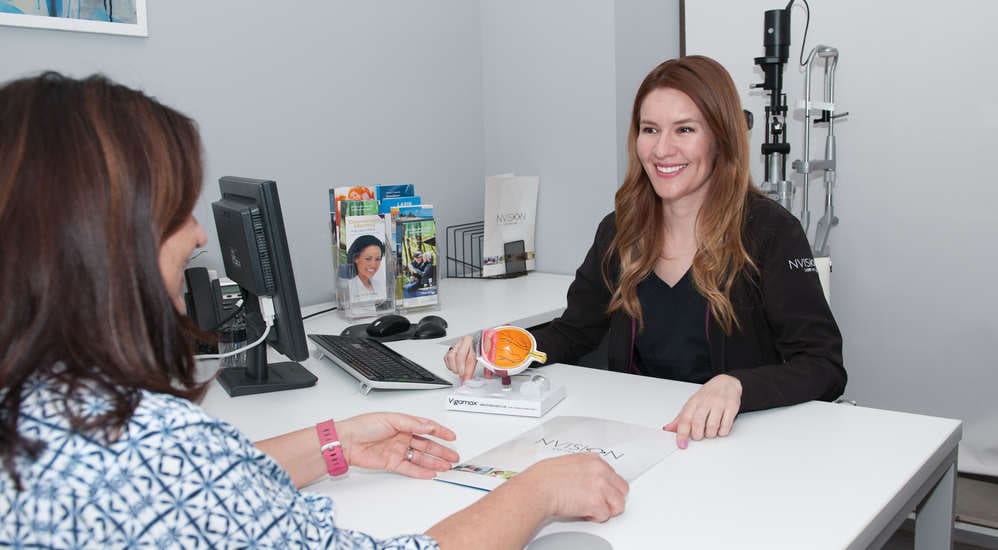 Consultation
During the consultation, we will ask you about your eye health history and your medications, and perform some tests. During one of the tests, your eyes will be dilated. You will then be examined by the surgeon who will discuss your treatment options. We will take the time to explain cataracts, the procedures and the available lens options.
The length of this appointment is usually two hours and your personal Patient Counselor will help you throughout the process. Your Counselor can review insurance and payment options and schedule you for surgery and related appointments, such as post-operative exams.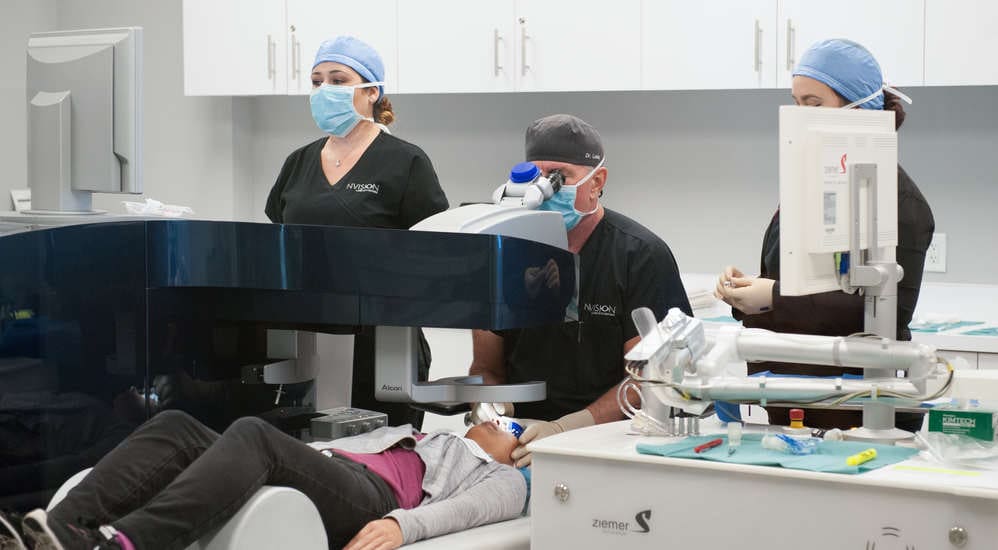 Procedure
Laser cataract surgery is a common and relatively painless procedure. Once your surgeon removes the cataract, an artificial lens is inserted, restoring your ability to see clearly once again.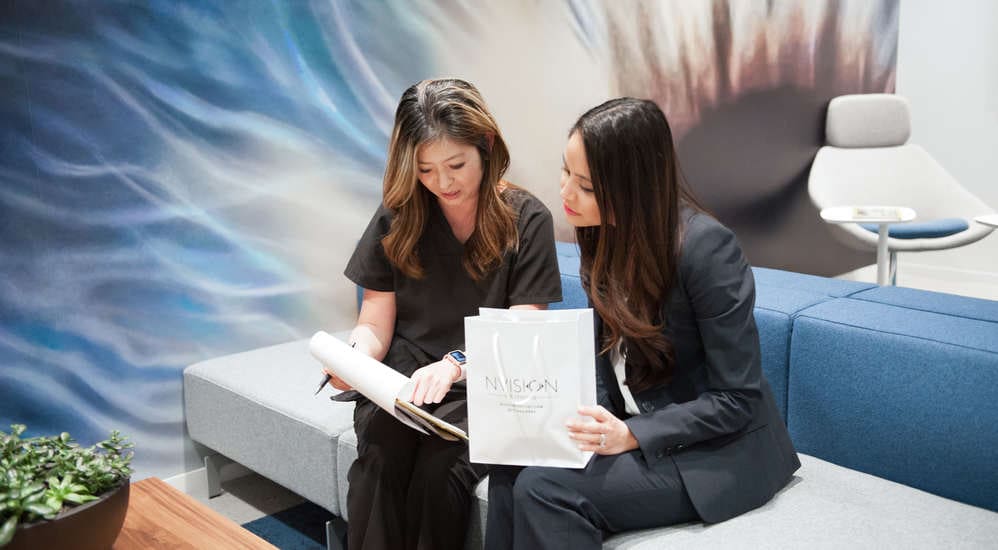 Post-Procedure
Following cataract surgery, you will have to wear protective glasses during the day and an eye shield at night. Antibiotics and steroid drops will be necessary. Your post-operative treatment plan will be outlined so you know what to expect, including your post-operative visit and your at-home recovery.
Common Questions About Collagen Cross-Linking (CXL) for Keratoconus
How does cross-linking work?

If you have keratoconus, your cornea has too few cross-links—or support beams—allowing your cornea to bulge outward into a cone shape.

The cross-linking procedure adds cross-links to your cornea. Once it has been distorted, the cornea cannot regain shape, but this procedure stabilizes and strengthens your cornea, which stops the thinning process and limits further vision loss.
Why choose NVISION to treat your keratoconus?

NVISION is one of the leaders in keratoconus care and surgery. Most importantly, our surgeons are keratoconus surgery pioneers and they thoroughly analyze your unique condition to develop a personalized treatment approach.
Is cross-linking right for me?

Early treatment for keratoconus is necessary to prevent it's progression. While the patients that benefit the most from crosslinking are in their teens or twenties, any patient that demonstrates active disease with progressive thinning can benefit. CXL is a treatment to consider if you are in one of the following categories:

You have been newly diagnosed with keratoconus. The earlier you have the treatment, the earlier you have the potential of stopping your disease from progressing.
ou have been living with keratoconus—even if you are getting good vision with contacts. Your disease may very well be progressing despite good vision or comfortable contact lens wear. Any progression is irreversible, and CXL is the only procedure that can stop the progression of the disease.
Your Nearest Center
Eye Doctors of Washington
301-804-1341
1016 16th Street NW Lower Level 100
Washington, DC 20036