Table of Contents
Shopping for glasses online provides a wide selection, allowing you to easily explore thousands of options. This method is convenient and can be accessed from almost any location.
However, there are potential drawbacks to online purchases. Glasses may not provide a proper fit, or the prescription might not be accurate.
These are some of the reasons why most Americans remain dedicated to working with their local providers. Working directly with an eyecare professional and trying glasses on before a purchase helps to minimize these problems.
It is worth noting that in 2021, during the peak of COVID-19 disruptions, only 12.9% of Americans chose to buy their prescription glasses online. In comparison to other products, this percentage reflects a modest rise from the 2019 rate of 9.2% before the pandemic shutdowns.
While the prospect of buying glasses online might appear beneficial at first glance, it is crucial to be aware of its advantages and disadvantages before committing to a purchase.
Pros: Convenience & Price
You can scroll through thousands of styles of eyeglasses in a matter of minutes. The price is often lower.
You can compare both style and prices between multiple providers. If you are willing to do your research, you may find an option that suits you.
You will still need to obtain a prescription for glasses from an eye doctor, and you'll need to have your measurements on hand when you order.
Cons: Fit & Prescription Issues
Ordering online can be a bit intimidating. One of the benefits of visiting an actual optical store is that a trained eye care professional can walk you through the process of selecting, fitting, and buying your glasses. They can explain the ins and outs of different features and ensure that the frames you choose fit your head and your face.
When you shop in person, all glasses are customized for you specifically. Selecting them in person can save you the hassle of having to guess on size and then having to return or exchange them if they do not fit as expected.
Buying glasses online can sound attractive, as it may offer conveinence and savings for some. But, consider that the attractive aspects of online glasses can also apply to buying through your eyecare provider:
Glasses ordered online may not look the way you expected them to. You may simply not like them when you see them in person. It can be difficult to choose color and style from a website as opposed to actually seeing them on your face in the mirror at an actual eyeglass store.
You may ultimately save money with your eye doctor, especially if you consider the time spent returning any glasses that were not what you expected.
Most eyecare providers do offer a wide range of options in both style and price.
Even if the perfect glasses are not on display, many providers can order a range of different styles for you. By having your provider assist in your order, you can avoid the common mistakes of ordering by yourself and maximize the chance for a great fit.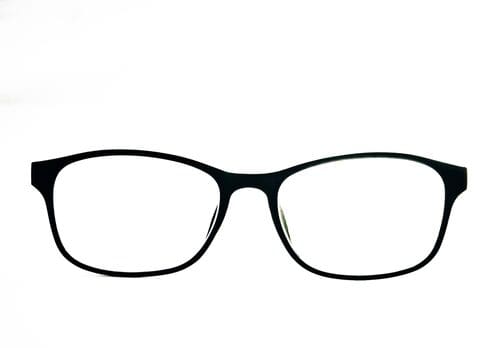 The quality of glasses purchased online may also be an issue. You can't tell how sturdy they are until they come in the mail. Often, the low price may be the result of poor materials. They may not last as long as glasses purchased in-store.
Prescription accuracy, durability of the lenses, and fit can all be potential issues of buying your glasses online. Glasses ordered online will often need to be adjusted by an optical professional anyway. They may charge you to handle this, and it ultimately means a trip to the eyeglass store after all.
Buying Glasses Online vs. In-Store
When thinking about whether to use an online shop or a traditional brick-and-mortar store, there are some things to consider.
If you are unsure about fit and frames and not clear on how to measure your face and eyes yourself, have a pro fit you in person.
Ordering glasses online allows you to comparison shop quickly to find cheap options that you like. But, if you buy your glasses online, your eye doctor or optical store may be willing to negotiate on price differences.
If you have specialized prescription needs, such as a need for progressive lenses, you may not be able to order glasses online (or it may be a bad idea). You may need to get them from a traditional optical storefront.
You will need your pupillary distance (PD) measured in order to buy glasses that fit from any source. This is the distance between the centers of both of your two pupils, and it is specific and unique to your eyes and face. Your eye doctor may include this on your prescription. If they do not, you can usually ask them to so you can buy glasses online. Online retailers do provide information on how to measure this distance yourself, but it is most accurate when measured by a trained professional.
Insurance companies may not cover glasses sold from an online retailer. In order to use your insurance coverage, you may need to see an eye doctor and buy from a specified provider.
Glasses that are bought online may not last as long as those purchased in person. If you only need glasses sometimes, that may be acceptable. If you wear glasses all the time, you may want to splurge for ones that fit nicely and will stand the test of time.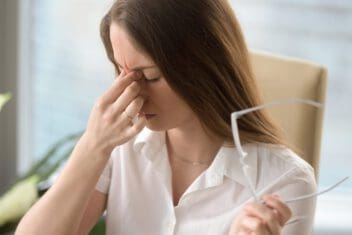 According to Forbes, just over 4 percent of the eyeglasses purchased in the United States in 2017 were bought from an online retailer. While that number is likely to continue to grow with time, at this point, most eyeglasses are still purchased from an actual physical storefront.
Even if you order your glasses from an online source, you will still need to visit an optometrist or ophthalmologist for an eye exam and a prescription for corrective lenses.
Many times, glasses ordered online do not fit correctly or the prescription is off. You will then have to go and get them adjusted in-store or elsewhere, or you'll have to deal with the hassle of attempting an exchange or getting a refund. This will take away from the convenience of online ordering in the first place.
Glasses found online are often cheaper than those bought from an optical store. Glasses can vary widely in price from as low as $8 all the way up to over $1,000. When buying online, add-ons, such as scratch-resistant coating, can add up quickly. You can go from $10 to over $100 very quickly, potentially without even knowing how you got there.
Ultimately, there are pros and cons to both options that all depend on the individual. However, we believe that working with your eye doctor is best option for most. Even if you simply cannot afford to buy glasses from any source, your eye doctor can help direct you to helpful resources.
The information provided on this page should not be used in place of information provided by a doctor or specialist. To learn more, read our Privacy Policy and Editorial Policy pages.