The gold standard service NVISION® is known for comes from the simple fact that we believe that it is a privilege to treat our patients. We offer personalized care, customized treatment plans, and employees who pride themselves in providing excellent patient care.
The Patient Experience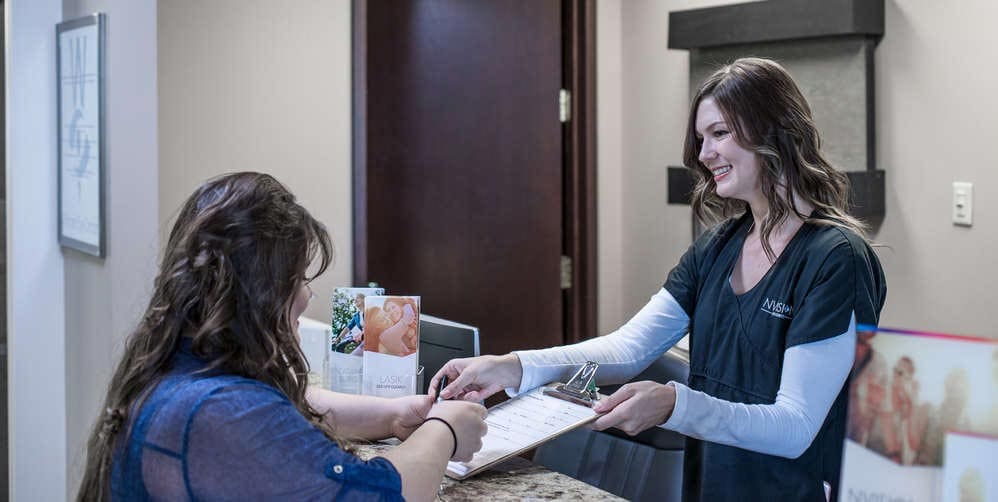 Unparalleled Commitment
Exceptional outcomes. The gold standard in patient care. The #1 Choice of Eye Doctors®. The Vision For Life promise. That's what makes the NVISION® experience like no other.
I have made up my mind to have my procedure. Can I just schedule a surgery, rather than a consultation?

At NVISION®, we require a consultation before any procedure. There are many factors that help to determine the best treatment plan, and it's important to us to talk with each patient and understand their individual goals, exam results, and more.
What do I need to do to prepare for my initial consultation?

If you wear contacts, you will want to remove them before your initial consultation. You will want to bring any glasses you wear to the consultation. Once you arrive at the NVISION® center, you will meet with a Patient Counselor who will ask a series of questions about your health and vision to create your file. And of course, you will also have the opportunity to ask any questions you may have.
Does NVISION® offer all procedures at all locations?

No, different NVISION® centers offer different procedures. Contact us about your procedure and we will help you find the right center for your needs and your location.
Can I bring someone with me to the initial consultation?

Yes, you are welcome to bring someone with you to the initial consultation. Your companion can accompany you throughout the entire screening process with the Patient Counselor and optometrist.
When do I get to meet the doctor who will perform my procedure?

You will get to meet your NVISION® surgeon during your initial consultation. If your surgeon is not available at the time of your initial consultation, your Patient Counselor will set up a separate visit for you to meet your surgeon.
Does my insurance cover my procedure?

Whether or not your procedure is covered by insurance will depend on both your procedure and your insurance provider. The NVISION® team will work with you to answer this question, and determine any available discounts, at your consultation.