For many people, toric astigmatism-correcting IOLs are worth it. The right lenses for you will depend on the refractive error you are aiming to correct. Since they can offer many people better vision after cataract surgery, they are often worth their increased price.
What Are Toric IOLs?
Toric IOLs are synthetic lenses doctors place inside your eye to replace lenses that are clouded by cataracts. They're made just for people with astigmatism.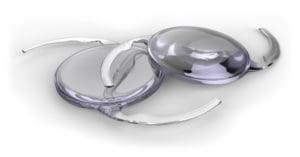 If you have astigmatism, the curve of your eye is slightly imperfect. Rays of light entering your eye aren't focused in one spot on the back of the retina. Instead, they're spread out and don't quite hit the retina in the right spot. Blurry vision results.
During cataract surgery, doctors don't fix the front of your eye. But they can align toric IOLs to match the curve of your eye. The result is crisp, sharp vision.
Key Facts About Toric Lens Implants
Up to 39 percent of people undergoing cataract surgery have astigmatism measuring less than 1 diopter. Up to 4 percent have measurements of 3 diopters or higher.
In the past, intraocular lenses could not correct astigmatism when used to replace the lens removed during cataract surgery. Toric IOLs changed this completely and gave people a viable treatment option for astigmatism.
Implanting a toric lens for astigmatism is very similar to cataract surgery. The same general steps are used for both procedures. The surgeon removes the eye's natural lens and replaces it with a toric IOL. The surgery only takes about 15 minutes per eye, and general anesthesia is not required.
As with many other things in the vision care world, the cost of IOLs depends on where you live, your surgeon, and your insurance plan. You can generally expect to pay between $900 and $1,500 per eye for toric IOLs.
How Do Toric Lens Implants Work?
Toric IOLs are technical tools made for talented ophthalmic surgeons. If your doctor thinks you need a toric IOL, measurement comes first.
Doctors must understand your astigmatic axis and place the lens precisely along that meridian. Most doctors use special tools to determine that axis. They must also understand how strong your lens should be to correct your astigmatism.
Toric lenses come with markers on the peripheral parts of the lens, allowing your doctor to see the ideal correction and rotate the lens accordingly.
FDA-approved toric IOLs include Abbott Medical Optics TECNIS Toric, Bausch and Lomb TRULIGN Toric, and Alcon AcrySof IQ Toric.
What Are the Advantages of Toric IOLs?
If you've grabbed glasses for decades to do everyday things like make a grocery list or read the morning paper, toric IOLs could be right for you.
Toric IOLs can help people with astigmatism see more clearly after cataract surgery than they did before they had cataracts. Studies show that people with astigmatism can see better with toric IOLs after surgery than can people with traditional monofocal IOLs.
If seeing better without glasses is your goal, and you've had astigmatism for a long time, these could be the right lenses for you.
What Are the Disadvantages of Toric IOLs?
Your surgeon must place and rotate the lens precisely for the right visual correction. In about 3 percent of cases, people need a lens adjustment as the original surgery wasn't quite right.
While you might want a toric IOL, your doctor might not recommend them. Eyes with severe astigmatism caused by a condition like keratoconus might not be right for these types of lenses.
Does Medicare Approve Toric IOLs?
Original Medicare plans cover traditional lenses and the surgeries needed to implant them. If you choose a toric IOL, your traditional Medicare plan won't cover the cost of the lens or the surgery.
If you want to use toric IOLs and you're using traditional Medicare, tell your doctor before the procedure starts. You'll need to work out payment plans.
Some people use Medicare Advantage plans, purchased through a health insurance company, to get better health care coverage. These plans could cover toric IOLs and their surgeries, but you'll need to read the fine print to be sure.
Toric IOL Frequently Asked Questions
What is the success rate of toric IOL?

Researchers say toric IOL success rates range between 70 percent and 80 percent. Newer surgical methods, including those that involve lasers, could make that success rate even higher.
Is a toric lens worth the cost?

It depends. If you'd like to reduce your dependence on glasses, paying a little more for these lenses could be appropriate for you. If your budget is tight and your glasses are covered by insurance, getting a standard lens might seem like the right choice.
How long does it take to adjust to this type of lens?

Experts say it can take up to six months to get used to your new lenses. If you're struggling to see clearly, talk with your doctor and ensure your eyes are healing properly.
How long does a toric lens last?

Your new cataract lens will last a lifetime, and you don't need to do anything to maintain it.
The information provided on this page should not be used in place of information provided by a doctor or specialist. To learn more, read our Privacy Policy and Editorial Policy pages.