The LASIK success rate is higher in 2023 than it's ever been before. People emerge from LASIK eye surgery with exceptional vision, few complications, and plenty of praise for the vision correction surgery.
Your preparation as a patient is a core part of your eventual success. But so is choosing a LASIK surgeon that uses the latest technology and equipment.
What Is the Success Rate of LASIK?
The LASIK surgery success rate at NVISION is 99%. Advanced laser vision correction technology makes this elective procedure more effective than it's ever been before.
People often opt for LASIK eye surgery to reduce their reliance on glasses or contact lenses. But for some, laser eye surgery is a mandatory part of keeping a job.
For example, some pilots use LASIK to ensure they can handle the demands of flying an aircraft. In one study of efficacy published in 2023, 100% of pilots treated with LASIK had uncorrected distance vision of 20/20.[1] They didn't just reduce their reliance on glasses or contacts. They no longer needed them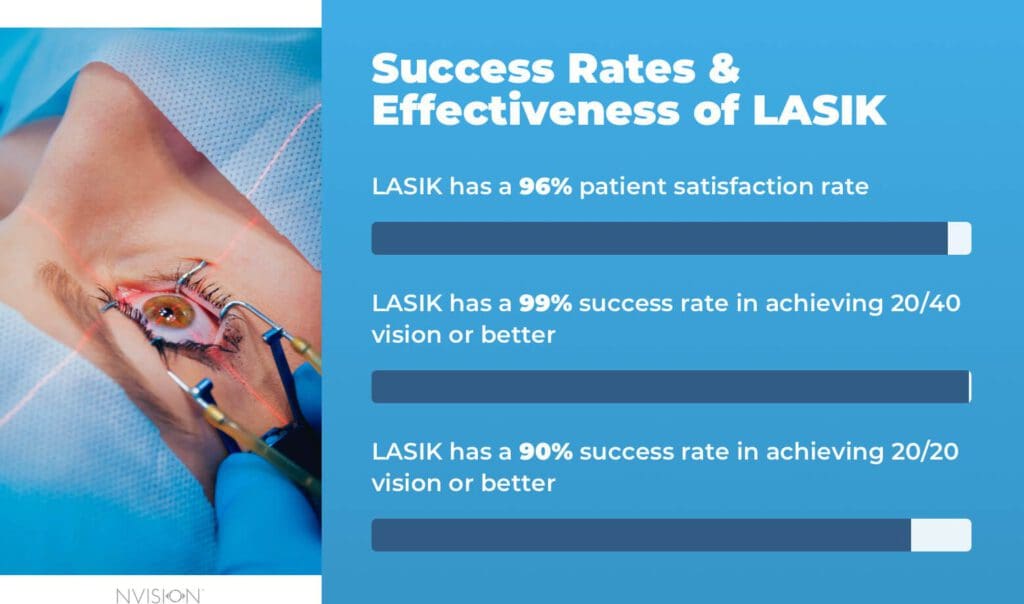 How Is the LASIK Success Rate Measured?
Some researchers use clinical outcomes, such as vision tests, to measure LASIK outcomes. But others say patient satisfaction is a core part of LASIK success rates.[3] When people are pleased with the results of their LASIK eye surgery, their opinion counts.
LASIK Eye Surgery Outcomes
Most patients undergo LASIK to address vision problems like nearsightedness or farsightedness. Their vision goals might be reducing the need to wear glasses while driving or reading. Their doctors can use these metrics to determine whether the LASIK procedure was successful or not.
To determine a LASIK success rate, doctors might assess visual acuity (or the sharpness of vision) both before and after the procedure. LASIK surgery can help correct myopia, also known as nearsightedness. Hyperopia (farsightedness) can also be corrected with LASIK eye surgery, as can astigmatism. Improvement in these refractive errors means the surgery worked.
Measuring lingering side effects of the surgical procedure, as well as determining patient satisfaction as the eyes heal, can also provide important clues.
What Is the LASIK Satisfaction Rate for Most Patients?
The current LASIK patient satisfaction rate is higher than 96%.[2] Few patients experience vision problems or other issues caused by laser vision correction surgery. When asked about their decision to have surgery, very few patients regret it.
Setting appropriate goals is an important part of ensuring a high satisfaction rate. For example, people who are aware that LASIK can't correct age-related vision changes aren't unhappy when those issues appear years later.
But some people experience benefits they never anticipated. For example, people who spend a significant amount of money every month on contact solutions and maintenance might be delighted with their cost savings after LASIK surgery.
Notable LASIK Eye Surgery Success Statistics
More than 98% of LASIK patients are satisfied or very satisfied with their sight after surgery.[4]
In a study of 58,653 LASIK procedures, less than 1% of patients lost two lines of best-corrected visual acuity.[2]
In a study of 107 military members, the vast majority reported significantly less difficulty in performing daily activities after surgery.[3]
In a study of physicians who had LASIK, the satisfaction rate was 98.3%. Close to 97% said they would have the procedure again.[5]
LASIK Complication Rate
Experts say LASIK complications are so unusual that a busy surgeon might have only one or two of these cases to manage during an entire year.[6]
After refractive surgery, your eyes must heal. Side effects, such as dry eyes, are common. But true complications that could harm your long-term vision are rare.
The current LASIK procedure complication rate is less than 1%.[7] Patients who listen closely to their doctors and follow proper follow-up procedures have the best outcomes, including low risk of complications. Using eye drops and taking medications as directed can help your eyes heal as quickly as possible.
Postoperative Vision Corrective Surgery Complications
While people might experience some side effects while their eyes heal, few experience true surgery complications.
Some known LASIK complications include the following:
Overcorrection or undercorrection: A programming error could mean taking off too much or too little tissue.
Visual aberrations: Higher order aberrations can lead to bothersome vision difficulties your doctor can fix with glasses or contact lenses.
Flap issues: When your eyes don't heal after surgery (macrostriae and microstriae), visual problems can appear.
Visual disturbances: Haloes, glare, and starbursts are typical side effects after surgery. If they persist, they're considered complications.
Dry eye: As eye tissues heal, they may feel dry and gritty. If dry eye persists, it's called a complication.
LASIK Blindness Rate
LASIK has never been connected to blindness. Researchers say it's never been considered a primary and exclusive cause of blindness.[2]
Patients should not worry about going blind from LASIK. This is simply not a side effect that takes place.
LASIK Failure Rate
LASIK is a safe and effective laser vision correction surgery with a complication rate of less than 1%.[7] It's extremely rare for the surgery to truly fail and leave patients worse than they were before the procedure was complete.
Given its very low failure rate, LASIK's popularity has grown increasingly over the years.
How to Improve Your Chances of LASIK Surgery Success
Your doctor has a lot of control over your LASIK success rate, but your hard work matters too. The steps you take before and after laser vision correction surgery have a strong impact on how well you heal.
Before surgery, take the following steps:
Play an active role in your overall health and eye health.
Educate yourself on laser vision correction and decide if a vision correction procedure is right for you.
Find a successful LASIK surgeon to assist you.
While you're recovering from LASIK, take the following steps:
Limit certain activities, such as driving, exercising, and outdoor activities.
Avoid rubbing your eyes.
Keep water out of your eyes.
Follow your doctor's instructions.
Keep all follow-up appointments.
Other factors that could impact LASIK's success rate include the following:
Advanced technology: Modern lasers make extremely precise incisions following custom-made maps of your eye's surface. With current technology, including the femtosecond laser for creating the flap and topography-guided laser treatments, all complications can usually be treated. The procedure has become extremely safe.
Your medical team: Your doctor's expertise matters. NVISION surgeons have performed more than 2 million surgical procedures. One of our NVISION surgeons has performed more than 150,000 LASIK procedures with no infections resulting from the procedure. Not one patient has lost vision from LASIK surgery.
With current technology, including the femtosecond laser for creating the flap and topography-guided laser treatments, nearly all LASIK complications can be treated.
Is LASIK Worth It?
With a high LASIK success rate and few vision problems after surgery, most LASIK patients are pleased with the results and their decision to have their vision corrected.
If you're healthy enough to have surgery and want to reduce your reliance on contacts and glasses, surgery can be a good option. In fact, in head-to-head studies, researchers say people who have LASIK are more satisfied with contact lens wear. They have fewer episodes of dry eye too.[8]
Considering LASIK? Take our LASIK Candidate Quiz online.
The information provided on this page should not be used in place of information provided by a doctor or specialist. To learn more, read our Privacy Policy and Editorial Policy pages.