Trivex is a new material that is a stronger, more resistant, clearer alternative to standard polycarbonate, which is one of the best materials for prescription glasses on the market Not only is Trivex strong and lightweight, it also offers 100 percent protection from UVA and UVB rays, sharper central vision, and sharper peripheral vision.
Table of Contents
Trivex was developed for military applications, so it is good for outdoor use. Other benefits include resistance to chemicals and better light refraction. However, this lens material can be expensive and hard to find.
Trivex might suit your lifestyle, but consider your needs for glasses before spending a lot out of pocket.
Materials for Glasses: Trivex Is a New Lens Type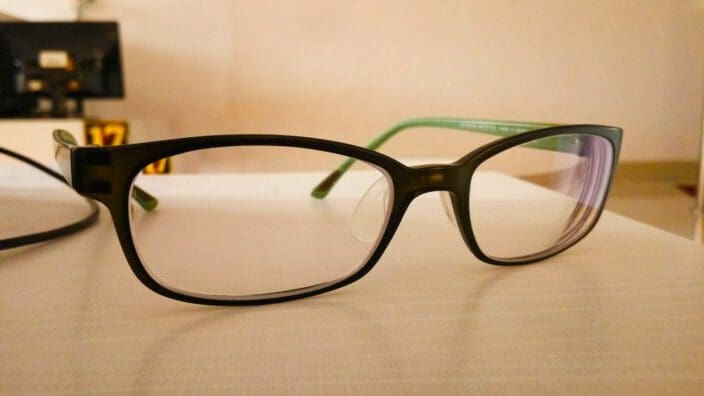 When glasses were invented centuries ago, the best, clearest, and strongest material to use was glass. In modern times, a range of plastics are available that do not break. These materials are resistant to scratching, easy to clean, and easy to shape to the right prescription strength.
Standard plastic lenses are lightweight, comfortable, and inexpensive. Polycarbonate lenses are a version of plastic lenses that provide impact and scratch resistance. These are the two most popular forms of glasses currently on the market.
A new, brand-name type of lightweight and resistant plastic has hit shelves: Trivex. It is similar to polycarbonate, but it has some distinct advantages.
Unfortunately, because they are newer and made from a specific form of plastic, Trivex lenses may not be available in all parts of the United States. When you do find them, they can be expensive. Your vision insurance may not be able to cover the cost of this lens material.
Even so, clear vision with several safety features is important to many glasses wearers. So some people opt to pay out of pocket for Trivex lenses.
What Can Trivex Lenses Do for Your Vision?
Like traditional polycarbonate lenses, Trivex offers:
A strong but lightweight lens material.
Resistance to scratches, so they are less likely to fog your vision.
Resistance to impact, so they are less likely to break.
Uniform lens thickness regardless of prescription power.
Trivex lenses offer some better options than standard polycarbonate, making them a great option for active people or those who work in several locations, indoors and outside. These options include:
100 percent protection from ultraviolet light.
Sharper central vision.
Sharper peripheral vison.
The crisper vision and improved eye safety from Trivex make them great for both children and adults. Other types of plastic or polycarbonate lenses require specific filters for UV protection, which can add to the cost. Too many people leave these off because they think they cannot afford this protection from the sun. When UV protection is built into the lenses, however, it can feel more affordable.
What Is Trivex?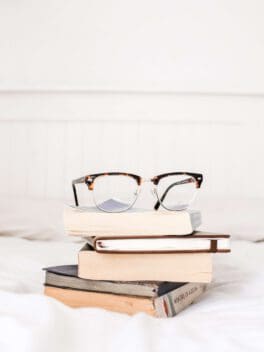 Trivex was originally developed for military use by PPG Industries in 2001. The company then took this ultra-strong, lightweight material and applied it to consumer optical needs.
The material is a urethane-based pre-polymer, named after the three important properties of this material:
Superior optics
Ultra-lightweight
Extreme strength
The material also has a high abbe value, meaning it manages light dispersal better than other materials. Light dispersal measures look at color and light distortions in lens materials. The higher the abbe value, the less dispersion and distortion. Trivex has an abbe value of 43–45, while standard polycarbonate has an abbe value of 30.
Additionally, Trivex's light transmittance is 91.4 percent, directly affecting the clarity, brightness, and crispness of your vision when wearing this lens material. This is the highest level of all lens materials for glasses.
People who enjoy the outdoors or work consistently outdoors can benefit from Trivex. The ultraviolet protection, great visual clarity, and strong material make them a good choice for those with active lifestyles, like hikers or runners.
Children can also benefit from Trivex glasses, since they are more prone to forgetting, dropping, crushing, or damaging their glasses. Trivex lenses can better withstand this kind of wear.
Pros of Trivex Lenses
Lenses made from Trivex are extremely resistant to common problems like being dropped or scratched. They are also very resistant to unusual problems, like several chemicals. They can resist acetone, which few plastics can resist, including polycarbonate. Acetone is a common chemical in nail polish removers and some other solvents that may be around your house.
Trivex is resistant to several chemicals in other common household items, like window glass cleaner and alcohol like isopropyl alcohol. Some people use window glass cleaner on their glasses, and this can harm other types of plastic.
This material differs from traditional polycarbonate in what makes it strong. Polycarbonate has a certain amount of internal stress, as do many materials. However, internal stress can cause birefringence, or small internal cracks and fractures that lead to cloudy or blurry vision over time with glasses. In contrast, Trivex has no internal stress due to how it is manufactured, so it will not experience this type of breakage.
Cons of Trivex Lenses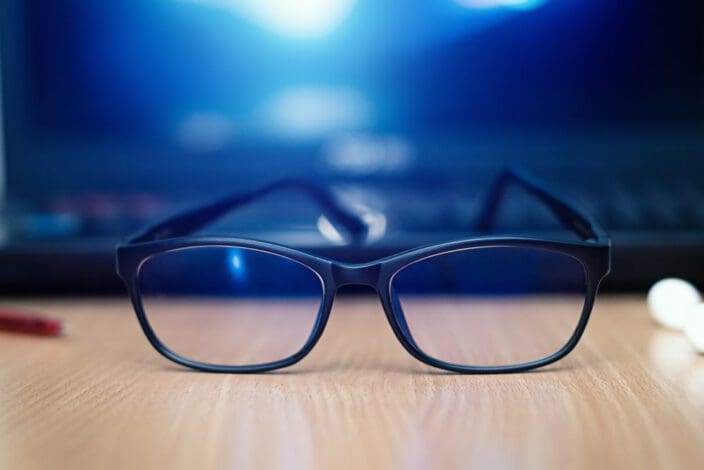 Although Trivex sounds like the perfect material for glasses, there are a few downsides. First, Trivex is a new material, so it can be hard to find among glasses retailers. If you want Trivex, you may have to purchase it online. This means you won't get a chance to test or feel the material beforehand.
Once you find Trivex prescription lenses, they can be very expensive. Standard polycarbonate lenses can range in price from $9 to $205, depending on your prescription and what add-ons you choose, including whether you need standard, bifocals, or progressives. Trivex lenses, in contrast, start around $200 for single-vision lenses.
Progressive lenses for multifocal vision needs are $400 to start. This does not include the cost of frames or filters like transition lenses or anti-reflective coatings. If you choose Trivex lenses and get some add-ons, your total bill can quickly rise.
Trivex Can Meet Your Needs for an Active Lifestyle
Trivex is one of the latest materials for prescription eyeglasses, and it offers an innovative option for children or more active adults. Despite its benefits, you do not need to jump on this material just because it is new. You may not need everything Trivex has to offer.
Consider how you use your glasses and what situations you wear them in at work or for personal hobbies. This can help you determine if you might benefit from Trivex or if you can get good vision with simple polycarbonate lens options.
If you are very active and frequently outdoors, Trivex might be a good choice for you. If you are more of a standard glasses wearer, you can probably simply use polycarbonate lenses.
Popular Trivex Brands
Although PPG is the original designer and developer of Trivex-based eyewear, several other companies have the license to manufacture these lenses today. Popular Trivex lens brands include:
GG Optix
GG Optix makes its glasses in the U.S. and offers a broad range of Trivex-based options. It has some stylish designs and protective eyewear for men and women.
Frames come in two options: plastic or stainless steel. One unique aspect of their plastic frames is that they're made with TR90. This plastic is long-lasting, light, and biodegradable.
The Revolt is one of their Trivex-based sunglasses with the eco-friendly framing. It incorporates tinted lenses with color correction for better contrast and glare protection.
Trilogy (Younger Optics)
Trilogy is Younger Optics' Trivex-based product line. Although lenses are high-impact, slim, and light, they don't have the color focusing problem associated with high-impact eyewear, according to the manufacturer.
The Trilogy lenses have an abbe value of 45, which is within the normal range for Trivex glasses. They also come in multiple style and treatment options, such as:
Clear
Photochromic, meaning they get darker in sunlight and lighter in dim light or the dark
Image progressive
Finished single vision
Spherical
Hoya
Hoya is another prescription eyeglasses manufacturer that offers Trivex lenses, especially their Phoenix-based products. The company asserts that this material is one of the only two that the American Optometric Association recommends for children's eyewear.
Hoya designed its Trivex-based solutions to be super-light and sturdy for active everyday living. As the lenses are strong and robust, they're suited to different mounting styles.
You can have your Hoya Phoenix lenses in rimless drill mounts, whether for cosmetic or practical reasons. Semi-rimless frames are also an ideal choice for those who enjoy the extra comfort and minimalist feel.
Where to Buy Trivex Lenses
There are plenty of valid places, both online and offline, where you can buy genuine Trivex lenses, including:
Where you had your eye exam is an ideal place to source your prescription lenses. That's where most patients purchase their corrective eyewear, according to consumer research
Get a recommendation from your optometrist or ophthalmologist (the eyecare specialist who wrote you the prescription)
A walk-in optical clinic
Some Trivex lens manufacturers do sell eyewear directly to consumers. Visit your preferred brand's website once you've received your prescription.
Major stores like Costco, Warby Parker, and Walmart
Independent online retailers
Before purchase, you should research the reputation and reliability of your preferred eyewear store on websites like Consumer Reports or the Better Business Bureau (BBB).
The information provided on this page should not be used in place of information provided by a doctor or specialist. To learn more, read our Privacy Policy and Editorial Policy pages.