Is Eyebrow Tinting Safe? Are There Long-Term Benefits?
Home / Vision Education / Is Eyebrow Tinting Safe?
Eyebrow tinting involves applying chemicals near the eyes, so it comes with risks. Generally, it is considered safe when it's performed correctly by a trained, licensed professional.
Table of Contents
However, eyebrow tints are not FDA-approved, and formulations can vary widely. In California, salons can only use FDA-approved products, so it is not legal in the state.
Short-term benefits of eyebrow tinting include fuller and more defined brows, and lasting results that won't rub or smudge off. Most often, the results last about a month, so the benefits are not long term.
Benefits & Risks of Eyebrow Tinting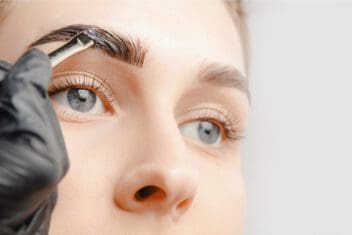 Eyebrow tinting involves using dye, usually semi-permanent dye, to color the eyebrows. When applied well, the dye can shape and enhance the eyebrows, giving an overall more youthful appearance to the face.
Benefits
Benefits of eyebrow tinting include the following:
Fuller brows
More definition
Less need to apply makeup, particularly eyebrow makeup
Adding symmetry to brows
Results that last about a month
More youthful appearance
Risks
Eyebrow tinting does come with some risks since chemicals are applied near the eyes. Risks include the following:
Allergic reactions
Injury to the eye if dye drips in it
Infection
Other potential side effects of eyebrow tinting include a burning sensation in the eyes due to fumes from the dye and contact dermatitis (rash or redness in the area).
Does Eyebrow Tinting Hurt Your Eyebrows or Your Eyes?
When done properly, eyebrow tinting should not damage your eyebrows.
Generally, semi-permanent vegetable dye is used, so it's gentle on your eyebrow hairs. In some cases, henna may be used.
If you are allergic to any ingredient in the dye, this can hurt the area around your eyes. It's usually recommended to do a small patch test of the dye to confirm you aren't allergic before it is applied over a larger area.
If the dye drips directly into your eye, it could hurt it. If this happens, immediately flush the area with water. If pain or redness persists, see a doctor.
At-Home Eyebrow Tinting
Most often, eyebrow tinting is done by a professional at a salon. While it's possible to tint your eyebrows on your own at home, it carries more risk. Problems are more likely, and you're likely to get less desirable results than if you have it done professionally.
At a salon, professional-grade products will be used, which results in more natural-looking results that tend to last longer.
If you decide to do at-home eyebrow tinting, make sure you choose a product that is specifically designed for eyebrows versus hair dye. Products that are designed to be used on the face tend to be gentler with more margin for error.
Protect your skin by spreading a thin layer of Vaseline over it. This way dye will not come in direct contact with your skin, helping to avoid irritation, allergic reactions, and other issues.
If you experience irritation, redness, or swelling after tinting your eyebrows, see a doctor promptly.
Alternatives to Eyebrow Tinting
Eyebrow tinting only colors existing eyebrows. If your eyebrows are thin or sparse, it won't help to fill in gaps in the brows.
Here are some alternatives to eyebrow tinting:
Microblading: This is the most common alternative to eyebrow tinting if you have sparse eyebrows. Since microblading uses medical-grade pigment and a needle to penetrate the upper surface of the skin, it is a semi-permanent to permanent solution. While eyebrow tinting lasts about a month or so as hair regrows, microblading lasts about a year or so on average.
Microshading: This is another alternative to tinting. It is similar to microblading, but the results are much softer and less precise.
Eyebrow mascara: This is an easy way to get brows that appear fuller and more defined. It's simple to quickly apply and get the results you want. Like any makeup, it wears off throughout the day.
Eyebrow pencil: This offers a more precise, defined alternative. Eyebrow pencil can make existing brows look fuller, but you need to apply it daily.
Eyebrow Tinting FAQS
Can eyebrow tinting cause blindness?

Though rare, there have been cases where dyes getting into the eyes have resulted in eye damage, including blindness. If done by a licensed professional, eyebrow tinting is usually considered safe.
Is eyebrow tinting FDA-approved?

No, eyebrow tinting is not FDA-approved.
How long does eyebrow tinting last?

On average, eyebrow tinting lasts about four to six weeks, following the hair's natural growth cycle.
Is eyebrow tinting the same as dying your eyebrows?

Essentially, yes. Eyebrow tint uses a semi-permanent dye to define and darken your brows. The color is generally the same shade as your hair color or one shade darker.
Is eyebrow tinting better than microblading?

It depends on the results you are looking for and the amount of maintenance you find acceptable. Microblading creates a more defined, precise look than eyebrow tinting. The results last much longer with microblading — up to two years. With eyebrow tinting, you'll need to re-tint your brows every four to six weeks.
The information provided on this page should not be used in place of information provided by a doctor or specialist. To learn more, read our Privacy Policy and Editorial Policy pages.