Posted on October 19, 2020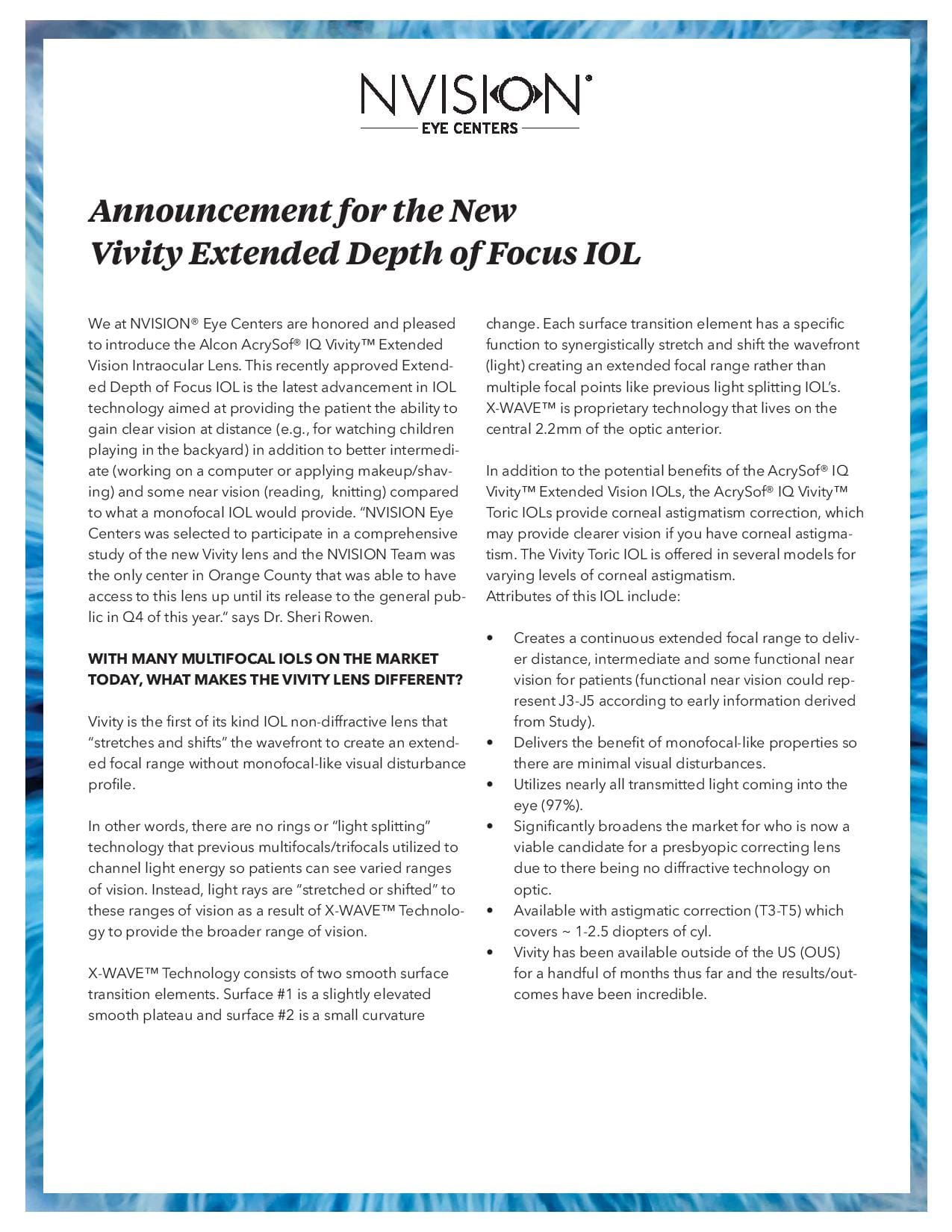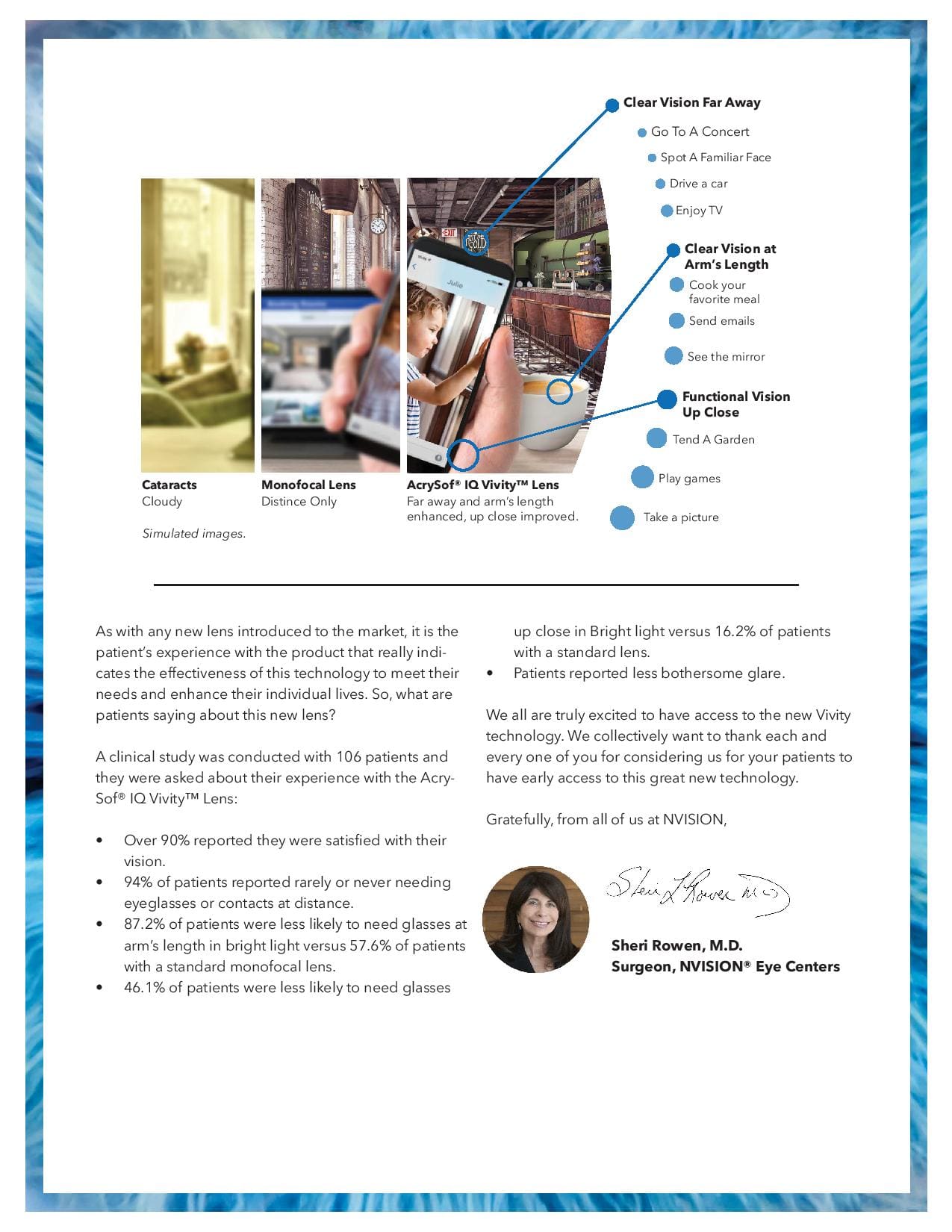 We at NVISION® Eye Centers are honored and pleased to introduce the Alcon AcrySof® IQ Vivity™ Extended Vision Introcular Lens. This recently approved Extended Depth of Focus IOL is the latest advancement in IOL technology aimed at providing the patient the ability to gain clear vision at distance (e.g., for watching children playing in the backyard) in addition to better intermediate (working on a computer or applying makeup/shaving) and some near vision (reading,  knitting) compared to what a monofocal IOL would provide. NVISION Eye Centers was selected to participate in a comprehensive study of the new Vivity lens and the NVISION Team was the only center in Orange County that was able to have access to this lens up until its release to the general public in Q4 of this year.
With many Multifocal IOLs on the market today, what makes the new Vivity lens different? 
Vivity is the first of its kind IOL non-diffractive lens that "stretches and shifts" the wavefront to create an extended focal range without monofocal-like a visual disturbance profile.
In other words, there are no rings or "light splitting" technology that previous multifocals/trifocals utilized to channel light energy so patients can see varied ranges of vision. Instead, light rays are "stretched or shifted" to these ranges of vision as a result of X-WAVE™ Technology to provide the broader range of vision.
X-WAVE™ Technology consists of two smooth surface transition elements. Surface #1 is a slightly elevated smooth plateau and surface #2 is a small curvature change. Each surface transition element has a specific function to synergistically stretch and shift the wavefront (light) creating an extended focal range rather than multiple focal points like previous light splitting IOL's. X-WAVE™ is proprietary technology that lives on the central 2.2mm of the optic anterior.
In addition to the potential benefits of the AcrySof® IQ Vivity™ Extended Vision IOLs, the AcrySof® IQ Vivity™ Toric IOLs provide corneal astigmatism correction, which may provide clearer vision if you have corneal astigmatism. The Vivity Toric IOL is offered in several models for varying levels of corneal astigmatism.
Attributes of this IOL include:
Creates a continuous extended focal range to deliver distance, intermediate and some functional near vision for patients (functional near vision could represent J3-J5 according to early information derived from Study).

Delivers the benefit of monofocal-like properties so there are minimal visual disturbances.

Utilizes nearly all transmitted light coming into the eye (97%).

Significantly broadens the market for who is now a viable candidate for a presbyopic correcting lens due to there being no diffractive technology on optic.

Available with astigmatic correction (T3-T5) which covers ~ 1-2.5 diopters of cyl.

Vivity has been available outside of the US (OUS) for a handful of months thus far and the results/outcomes have been incredible.
As with any new lens introduced to the market, it is the patients experience with the product that really indicates the effectiveness of this technology to meet their needs and enhance their individual lives. So, what are patients saying about this new Lens?
A clinical study was conducted with 106 patients and they were asked about their experience with the AcrySof® IQ Vivity™ Lens:
Over 90% reported they were satisfied with their vision. †

94% of patients reported rarely or never needing eyeglasses or contacts at distance.

87.2% of patients were less likely to need glasses at arm's length in bright light versus 57.6% of patients with a standard monofocal lens. 

46.1% of patients were less likely to need glasses up close in Birght light versus 16.2% of patients with a standard lens. 

Patients reported less bothersome glare.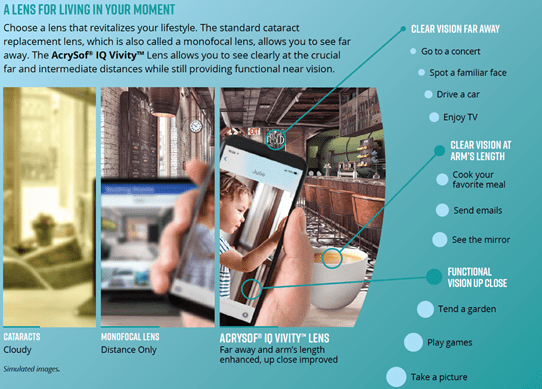 We all are truly excited to have access to the new Vivity technology. We collectively want to thank each and every one of you for considering us for your patients to have early access to this great new technology.
Gratefully, from all of us at NVISION,
Sheri Rowan, MD
Surgeon, NVISION Eye Centers