Convergence Insufficiency: What Is It, Symptoms and Treatments
Home / Conditions / Convergence Insufficiency: What Is It, Symptoms and Treatments
From the moment you get up in the morning, switch off your alarm, get dressed and head to work or school, you heavily rely on your eyesight. Throughout the day, you depend on your vision to perform both mundane and instrumental tasks.
This dependence on your eyesight is what makes vision problems so detrimental. One such vision problem is convergence insufficiency.
Table of Contents
What Is Convergence Insufficiency?
Convergence insufficiency (CI) is a binocular vision disorder that affects the movement of both eyes, even though only one eye may appear to be impacted. When describing the vision, convergence refers to the ability of your eyes to move together and almost point inward, especially when you're focusing on objects close by.
When you have convergence insufficiency, your eyes can't converge – look inward – when you're looking at something near you. While the condition is most common in children and young adults, it can affect people of any age.
According to recent data, convergence insufficiency affects between 2 and 13 percent of the population, but most CI cases go undiagnosed.
The cause of convergence insufficiency remains unclear. However, there have been various associative conditions linked to the disorder. Among them:
Brain injury
Alzheimer's disease
Graves' disease
Parkinson's disease
Concussions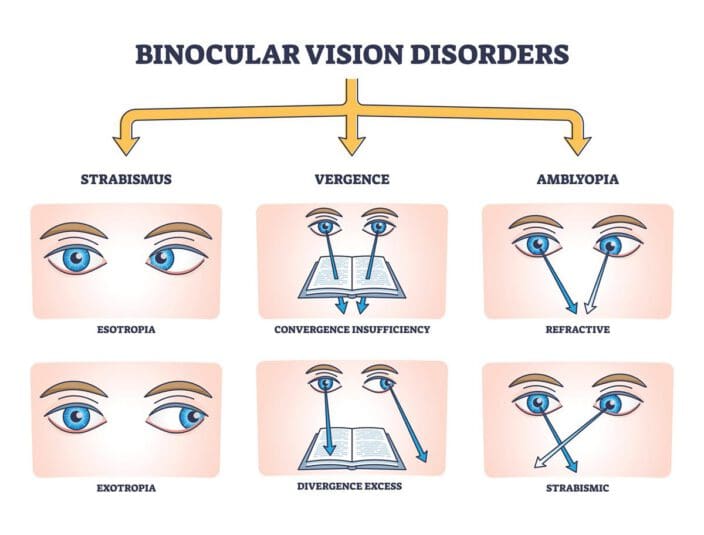 Symptoms of Convergence Insufficiency
The signs and symptoms of convergence insufficiency vary from one person to another. In addition, some people show little to no symptoms of vision complications.
In many cases, doctors diagnose convergence insufficiency after you discover difficulty focusing on close-up objects and activities, like reading. Among the common symptoms associated with the condition are:
Eyestrain that may cause irritation, soreness and fatigue
Blurry vision resulting from a lack of eye coordination
Closing or squinting one eye to help you focus on close objects and images
Headaches from straining your eyes too much. This may also lead to motion sickness and dizziness
Difficulty reading as words seem to be moving around
Feeling sleepy when reading
Losing track of what you're reading and needing to re-read the text
Even if you don't have a professional diagnosis, your friends or loved ones may notice one of your eyes moving outward when you're reading. Blurry vision causes the movement, which may also lead you to squint or close one eye to focus on the text or nearby image.
Causes of Convergence Insufficiency
Convergence insufficiency is caused by complications coronating eye movements and muscles. Instead of the eyes coming together (converging) to focus on objects close by, one or both eyes point outward.
Because the brain controls all eye movement, damage to the brain is the leading cause of convergence insufficiency. However, the exact cause of this condition remains a mystery.
The working theory among researchers is that neurogenerative disease such as Parkinson's disease, myasthenia gravis and Alzheimer's disease in some way cause CI.
Who Is at Risk of Developing Convergence Insufficiency?
Admittedly, more research is needed to conclusively identify CI risk factors. Currently, brain damage is one of the recognized risk factors. Research also suggests that convergence insufficiency tends to run in families. As such, if someone in your family has been diagnosed with the condition, you stand a greater chance of developing it.
How is convergence insufficiency diagnosed?
It's not uncommon to have CI go undiagnosed in most patients. In many cases, the symptoms are treated separately, not as part of CI as the underlying condition. However, convergence insufficiency is diagnosed by an optometrist, ophthalmologist, or orthoptist.
The diagnosis is made through a comprehensive vision exam and analysis of your medical history. A specialized convergence insufficiency exam measures each eye's ability to converge at objects close to the face.
For conclusive results, you may have to undergo the test several times. Each test will likely focus on a single eye before both eyes are tested together. Your medical history will go a long way in diagnosing the condition. This is mostly because the eye specialist can use the history to determine any of the aforementioned warning signs and associative symptoms.
What treatment options are available for convergence insufficiency?
If you don't exhibit any symptoms, you likely won't need treatment. However, if you experience the symptoms mentioned above, your eye specialist may recommend various treatment options and exercises, including:
Pencil pushups
In-office exercises
Prism glasses
Computer vision therapy
Surgery
Pencil Pushups
Pencil pushups are a relatively simple and inexpensive treatment option for CI. These exercises involve holding a pencil at arm's length and focusing on the object until you can make out a single clear image. Next, you're to move the pencil slowly towards your nose until you start seeing double. Repeat the exercise for 15 minutes a day, five times a week.
In-Office Exercises
Eye doctors prescribe and guide these exercises. Exercises involve various visual movements tailored to improve your eyes coordination. In-office exercises take about an hour and should be repeated once or twice a week, depending on your doctor's advice and direction.
Prism Glasses
Prism glasses are help the wearers manage and control double vision. Prism glasses bend light which assists you to focus on a single image. However, glasses are a temporary fix. They don't improve the condition long term.
Computer Vision Therapy
Computer vision therapy is an option considered among the most effective in treating CI. It is also widely preferred as you can perform the therapy at home. All you need is a computer and special software. After you're done with the exercises, you can print out the results to discuss them with your doctor at your next appointment.
Surgery
While rare, surgery may be used to treat CI if all other treatment and management options fail. The surgery can fix eye muscles, although it could result in complications such as esotropia – a condition where either one or both eyes turn inward.
FAQs
Can convergence insufficiency be cured?

Yes, the vision defect can be treated with the help of various treatment options. However, while most of the symptoms go away on their own or with recommended exercises, the condition may recur in some patients.
How do you overcome convergence insufficiency?

In some instances, the convergence insufficiency goes away on its own, even without professional intervention. However, it is prudent to seek medical help if you notice the symptoms. An eye specialist can help you manage and overcome the condition with targeted exercises and treatments.
What are the signs of convergence insufficiency?

There is no one set of symptoms linked with CI. Each case presents uniquely with varying combinations of symptoms. However, common signs are headaches, eye fatigue, double vision, vertigo and blurred vision.
The information provided on this page should not be used in place of information provided by a doctor or specialist. To learn more, read our Privacy Policy and Editorial Policy pages.