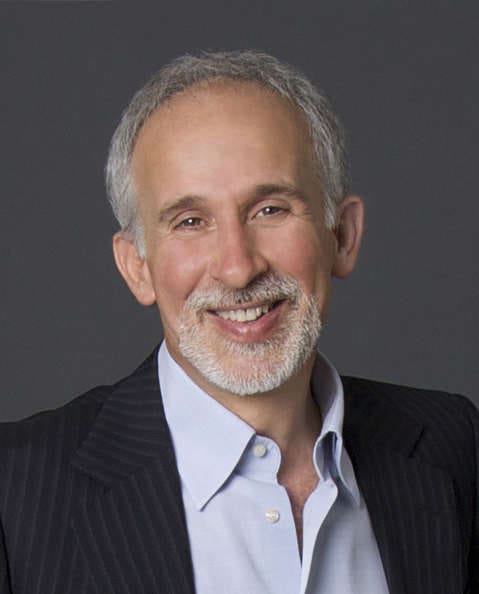 Medically Reviewed by Tom Tooma, M.D., Founder/Medical Director
At NVISION® Eye Centers, we provide the most advanced treatments to address your dry eyes. One of the latest offerings is the TearCare® System.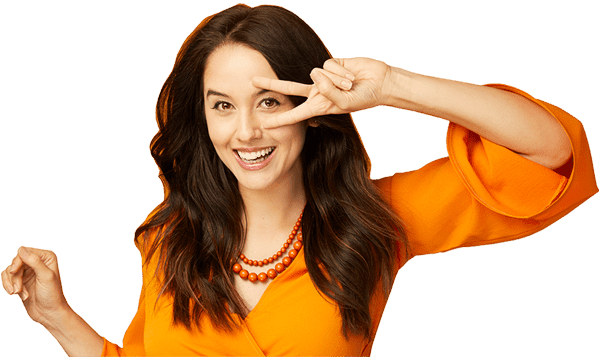 About the TearCare® System: What It Treats & How It Works
The TearCare® system is a treatment for meibomian gland disorder that uses heat and manual manipulation to improve meibum expression. This means patients experience an improvement in their dry eye symptoms, resulting in less discomfort and an overall improved quality of life.
Meibum is an oily substance that helps to keep the eye's tear film in place. Without sufficient meibum, which occurs with meibomian gland dysfunction (MGD), the eyes can become very dry, resulting in itchiness, irritation, and overall discomfort.
The TearCare® system is a wearable technology that safely applies thermal energy to the meibum glands to loosen blockages and stimulate proper function. The thermal energy can be customized to suit the individual needs of the patient.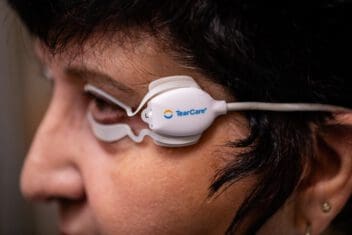 The patient will have the TearCare® device fitted on their eyes, and its flexible design allows it to form around each unique eye shape. The single-use eyelid devices apply low levels of heat to loosen any blockages, turning the wax-like substance that is blocking the glands into an oily substance. During the procedure, patients can blink normally.
As the patient blinks, SmartLidTM technology works to encourage natural meibum expression as the meibum softens. A doctor will then manually express the glands, removing the meibum and clearing the glands.
The total treatment can be done during a normal office visit.
Patients experience improvement after one session. Then, treatment every one to two years is recommended.
Oftentimes, a corticosteroid, such as Inveltys or Lotemax SM, is prescribed following the procedure. This helps to control inflammation and keep dry eye symptoms at bay.
Who Is a Candidate?
Candidates for the TearCare® System are adults who have evaporative dry eye disease due to meibomian gland dysfunction (MGD). Patients should be at least 22 years old.
Contact lenses must be removed prior to the procedure, and they should not be put back in until at least one hour after.
TearCare® Treatment with NVISION Eye Centers
NVISION Eye Centers currently offers TearCare® Treatment Days at several of our centers and we will be offering this at more of our centers in the future. You can learn more about scheduling an appointment with us here.
Even if your nearest NVISION Eye Center is not listed above, many of our affiliated optometrist partners are already offering this innovative treatment. Please check with your local optometrist to see if they offer TearCare treatments.
If you are an affiliate partner of NVISION Eye Centers and are interested in learning how to become a provider for TearCare®, please contact us here. We will help you get connected with your Tear Care Representative.
Dry Eye Survey
Frequently Asked Questions About TearCare®
What is meibomian gland dysfunction (MGD)?

Meibomian gland dysfunction occurs when the meibomian glands do not secrete enough oil (meibum) or the meibum is of inferior quality. Obstructive meibomian gland disease (MGD) occurs when the glands are blocked, resulting in dry eye symptoms.

MGD is more common with advanced age, and it occurs more often in Asian individuals and people who wear contact lenses. If left untreated, it can lead to long-term inflammation and corneal disease.
How Does the TearCare® Treatment Work?

The TearCare® treatment applies thermal heat to the eyes, loosening blockages in the meibum glands. After the heat has been applied for about 12 minutes, an eye doctor will manually express the meibum glands, removing blockages and promoting proper function.
Is the TearCare® Treatment Painful?

No, most patients find the procedure comfortable as they are able to keep their eyes open and blink normally. It only takes about 15 minutes total.
How Do I Know if I Have Dry Eye?

Symptoms of dry eye include a burning sensation in the eyes, blurry vision, light sensitivity, eye redness, and feeling like you have something in your eye. An eye doctor can diagnose the condition.
The information provided on this page should not be used in place of information provided by a doctor or specialist. To learn more, read our Privacy Policy and Editorial Policy pages.