A black eye can surround your whole eye, or it can just affect the area below your eye. It occurs as a result of blood collecting in the area.
A black eye itself is usually not serious, but it is possible that accompanying injuries could be problematic. If symptoms like persistent headache or vomiting occur, it is important to get medical attention promptly.
Treatments for a black eye usually involves ice, over-the-counter pain relievers, and elevating your head. If you care for a black eye properly, you can promote the healing process, but there isn't really a way to get rid of a black eye fast. The bruising has to subside on its own.
Tell your doctor about any treatments you are using to ensure their safety.
Table of Contents
What Is a Black Eye?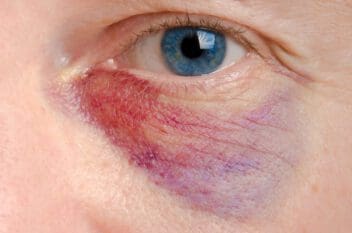 A black eye describes bruising in the eye area. Blood collects in the tissues, causing a purple, blue, or black appearance of the area around your eye. There is usually not an injury affecting your actual eye, just the area that surrounds it.
In addition to the darkened skin, you may also experience:
Pain in the area.
Blurry vision.
Swelling in the affected area.
Some symptoms can indicate that a black eye may be accompanied by a potentially serious head injury. These symptoms include:
Double vision.
Blood on the eye's surface.
Loss of consciousness or fainting.
Loss of vision.
Not being able to move your eye.
Ongoing or severe headache.
Fluid or blood coming from your nose or ears.
Any of these symptoms warrants a trip to the emergency room. A serious head injury can result in brain damage or death.
How Serious Can a Black Eye Be?
Most black eyes will heal in a few days without medical intervention so you typically don't really have to worry about getting rid of a black eye fast. They usually occur when something hits your nose or eye. It is possible for both eyes to be blackened at the same time, depending on your injury.
Any trauma to the face may cause serious injuries, such as a skull fracture or bleeding in the brain.
Other potentially serious injuries that may accompany a black eye include:
Hyphema. This issue is characterized by bleeding in your eye. Hyphema may negatively affect your vision and cornea.
Ocular hypertension. This may occur along with eye or facial trauma. It is characterized by increased pressure inside your eye. Eyesight damage is possible if this is left untreated.
Black Eye Treatments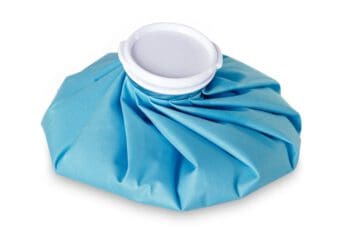 Wondering about how to get rid of a black eye fast? When you experience a black eye, it is best to be evaluated by a doctor. They can determine the extent of your injury and determine if something more serious is present, such as facial trauma or hyphema.
When a black eye is minor, home treatment is usually sufficient. Icing the eye can reduce swelling, lessen pain, and help to alleviate bruising.
When you apply ice to your eye, use a washcloth or similar barrier between the ice and your skin to prevent a cold injury.
Never ice the affected eye for more than 20 minutes at a time. Leaving the ice on for longer puts you at risk for frostbite in the area.
The cold helps because it constricts the blood vessels in the area. You can apply ice several times per day, as long as you use the proper technique.
Doctors may recommend over-the-counter pain medicine to alleviate any discomfort you experience. It is best to stick with acetaminophen. Both aspirin and nonsteroidal anti-inflammatory drugs may thin your blood and worsen the appearance of your black eye.
There are other methods that may help to reduce the appearance of a black eye.
After about two days of icing the affected eye, you can start applying warm compresses to the area. This helps to promote healing by increasing blood flow.
Be careful to avoid hot compresses that could burn your skin. As with cold compresses or ice, you can apply the heat for up to 20 minutes at a time.
Massage the area surrounding the blackened area. Do not massage the bruise.
You can start this about 24 hours after you experience the black eye. This may speed up the healing process by activating the lymphatic system in the area.
When you are sleeping, keep your head elevated above the rest of your body. This encourages drainage, which may help to reduce the amount of discoloration and swelling you are experiencing.
Black Eye Prevention
Since most people experience a black eye as the result of trauma, reduce your risk of experiencing a trauma. Wearing a seatbelt is important since facial injuries are common during motor vehicle accidents.
There are other ways to reduce your risk of falls.
When you are doing any activity where facial trauma is possible, always wear protective eye gear, such as goggles. These will reduce the risk of taking a direct blow to the eye. They also help to decrease the risk of foreign objects getting into your eye.
Evaluate your home for hazards that could cause you to trip and fall, such as clutter on your floors, loose carpeting and rugs, and similar hazards.
Use assistive devices if you are a fall risk.
If you experience a black eye, get a doctor's evaluation. They can determine the extent of the injury and recommend treatment options. It's important to rule out brain injury.
While the above treatment methods won't get rid of the black eye immediately, they will promote the healing process and could potentially shorten the overall healing timeline.
The information provided on this page should not be used in place of information provided by a doctor or specialist. To learn more, read our Privacy Policy and Editorial Policy pages.