Glaucoma involves high intraocular pressure and damage to the optic nerve. The most common type of glaucoma, open-angle, is a chronic and progressive disease that can be tough to manage. As medical marijuana becomes more popular, more people are interested in the suggestion that marijuana or CBD oil can help this eye condition.
Medical professionals agree that no form of medical marijuana, especially CBD products, helps to manage glaucoma symptoms. In fact, some types of medical marijuana can make symptoms worse and cause further eye damage.
The few medical studies conducted on marijuana and intraocular pressure found that THC, not CBD, temporarily lowers IOP. But this result does not last long enough to make it a good medical treatment. And marijuana can be addictive.
Further medical studies have shown that CBD in medical marijuana can slightly raise intraocular pressure, and marijuana decreases blood flow. Both of these things can further damage the optic nerve.
The best way to treat glaucoma is to follow your eye doctor's treatment plan.
Glaucoma & Marijuana: The Search for Lower Intraocular Pressure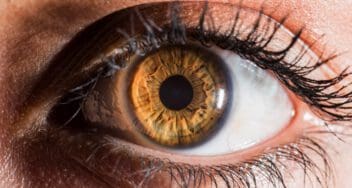 The term glaucoma covers several eye diseases that involve high fluid pressure and damage to the ocular nerve, leading to vision loss.
Open-angle glaucoma is the most common type. This is a progressive, chronic disease that leads to tunnel vision and eventually blindness if it is not treated. Other types of glaucoma may develop suddenly, and some even constitute a medical emergency and require immediate surgery.
Most people who develop glaucoma will not notice symptoms. An optometrist or ophthalmologist will diagnose high fluid pressure during your regular eye exam and conduct further tests to measure any potential vision loss. Then, your eye doctor will recommend medical treatment like eye drops or surgery to reduce your vision loss. While you cannot recover lost vision, you can slow the progression of open-angle glaucoma.
Eye specialists continually search for better treatments to slow the progression of chronic forms of glaucoma. The first study examining marijuana's impact on glaucoma occurred in 1971. It found a 30 percent overall decrease in eye pressure among participants who smoked a marijuana cigarette an hour before undergoing an eye exam.
Since then, this and related studies have been used to promote now-legal medical marijuana like cannabidiol (CBD) to treat glaucoma. However, this treatment is not recommended by medical professionals.
Can Medical Marijuana or CBD Help Glaucoma Symptoms?
Medical professionals agree that marijuana, including CBD, is not an effective treatment for glaucoma. This means that, even if medical marijuana is legal in your state, your optometrist or ophthalmologist will not prescribe it as a medical treatment for this condition.
First, glaucoma must be managed 24 hours a day, and no form of marijuana is a practical treatment for ongoing management of any condition. The drug's effects only last a few hours, while many chronic conditions require medication that lasts at least half the day.
Additionally, there is little medical research into how marijuana affects glaucoma. The research that does exist suggests that the drug does not help eye pressure for long, and it can be detrimental to the condition over time.
Finally, it is well known that marijuana is an addictive substance. While it may not be more harmful than alcohol, it is a drug that causes intoxication, impaired judgment, and changes in brain chemistry and structure that impact the rest of your life.
The Science of Marijuana's Impact on Glaucoma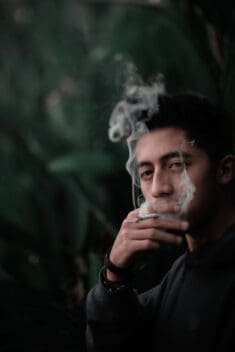 While there were some studies in the 1970s and 1980s that found marijuana could lower intraocular pressure, the real association between the drug and glaucoma treatment occurred due to a landmark medical marijuana court case in 1974.
A man named Robert Randall, who was 26 years old with high intraocular pressure and poorly treated glaucoma (unusual for his age) reported that the halos he saw around lights, which were a symptom of his eye condition, decreased when he smoked marijuana. He began to grow his own pot so he would have access to "medicine" that seemed to work for him. Soon, he faced federal criminal charges for growing the illegal plant, but he was able to persuade the federal judge that he needed marijuana as a medical treatment.
California became the first state to legalize marijuana in any form, in 1996. Glaucoma treatment was cited as one of the potential conditions that medical marijuana could help.
Although CBD has more recently been associated with medical marijuana, the chemical that works on intraocular pressure is tetrahydrocannabinol (THC). This chemical has been shown to lower intraocular pressure by 60 to 65 percent in anyone, including people who have glaucoma. One study found that, over the course of marijuana's primary effects on the body, IOP lowered 25 percent overall. This could seem to help glaucoma patients, but it is not a long-term solution due how THC is metabolized.
THC's peak effects in the body last for three to four hours. For any medical marijuana treatment to be effective for glaucoma, you would need to take a dose several times a day. Not only is this disruptive to work, school, or a regular daily routine, it also means you will be consistently intoxicated, which can be very dangerous. Marijuana, especially types high in THC, is addictive.
Short-term effects of marijuana include:
Altered senses, like seeing brighter colors.
Altered sense of time.
Changes in mood.
Impaired body movement.
Difficulty thinking clearly.
Problems with memory.
Trouble solving problems.
Hallucinations, delusions, and even psychosis, when used at very high doses.
Paranoia or anxiety.
When used on a long-term basis, marijuana changes your brain's development and alters structures in the brain associated with the reward system. Some medical studies have found that consistent, long-term abuse of this drug lowers intelligence and cognitive abilities, leads to a significant decline in general knowledge, and can lead to memory problems.
Mood problems can also arise. You may become more anxious or aggressive when you are not intoxicated.
Additionally, marijuana has been associated with eye problems, including:
Conjunctival hyperemia (discharge from the eye).
Less tear production.
Light sensitivity.
Ptosis, or drooping eyelid.
Blepharospasm, or uncontrolled twitching eyelid.
Nystagmus, or shaking eyes.
Medical Studies Show That Alternate Forms of Marijuana Can Cause Harm to the Eyes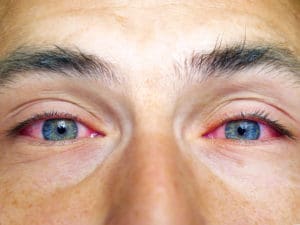 Today, there are new methods of ingesting medical cannabis that could be less addictive. For example, lozenges, topical oils, and creams have all been developed to reduce the risk of getting high while benefiting from potential medical effects.
Unfortunately, these newer methods of medical marijuana use do not work to lower intraocular pressure. A study found that eye drops containing THC did not lower intraocular pressure at all. Another study found that smoking marijuana lowered intraocular pressure, and the amount of cannabis ingested would lower IOP in measurable ways, but ingesting more cannabis would not lead to effects that lasted longer. The body still metabolized THC's peak effects in three to four hours.
Because the effects on IOP last only a few hours, medical marijuana does not help to maintain stable low eye pressure, which is necessary to reduce damage to the optic nerve.
Some studies suggest that marijuana can increase optic nerve damage. Cannabis use decreases blood flow throughout the body. If the optic nerve does not receive enough oxygen through the bloodstream, it will begin to die, which will lead to further vision loss.
A study on CBD oil in laboratory rats found that there was a paradoxical harmful effect. Since THC seems to be the chemical that lowers IOP, using medical marijuana with less THC can be worse for your eyes. The study reported an 18 percent increase in intraocular pressure in the rats who used CBD oil, which lasted for about four hours.
Eye Doctors Understand the Best Course of Glaucoma Treatment
Ultimately, the best treatment for glaucoma keeps eye pressure in a healthy range all day. Eye drops and some forms of surgery can help to maintain lower eye pressure for months or years. Eye drops must be applied consistently, but they will be used less often than medical marijuana would need to be used, and they have fewer impactful side effects.
The information provided on this page should not be used in place of information provided by a doctor or specialist. To learn more, read our Privacy Policy and Editorial Policy pages.