Medicaid is federal health insurance coverage for eligible citizens. Coverage is based on the state where you are a resident.
Table of Contents
Children and young adults, ages 21 and older, who are Medicaid beneficiaries automatically have vision care coverage as part of their health insurance plan. In some states, adults have vision coverage as well.
Eligibility for Medicaid insurance coverage is generally based on income level. Medicaid most regularly supports low-income families and individuals, expanding access to health care and necessary services. Vision screening and coverage for products like eyeglasses are required for children beneficiaries of Medicaid, and some states also offer these services for adult beneficiaries.
Generally, only medically necessary surgeries and medical procedures are covered through Medicaid. Things like corrective surgeries for refractive errors will therefore not be covered.
Check with your state and your direct provider to see what Medicaid vision benefits are available to you under your specific policy.
Vision Care Coverage With Medicaid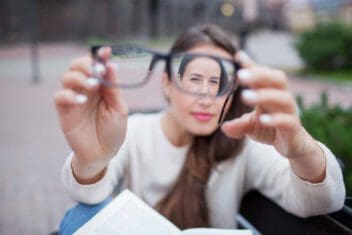 Medicaid is a free or low-cost health insurance option for eligible low-income families and individuals.
Federal regulations require that vision care and coverage be provided for recipients of Medicaid who are age 21 or younger. Preventative care, such as eye exams for children, can help to decrease problems later in life.
Vision screenings are to be a routine part of well-child checkups with additional screenings, and diagnostics performed if a problem is suspected. There is no charge for well-child visits under Medicaid. Coverage is provided through the Children Health Insurance Program (CHIP).
The Early, Periodic, Screening, and Diagnostic Program (EPSDP) is the program under Medicaid that provides vision benefits, such as eye exams and eyeglass frames and lenses to adolescents and children ages 21 and younger. Each state will determine how often these exams and replacement prescription eyewear are offered.
Some states will also offer these services to adult Medicaid beneficiaries, although there are no federal guidelines requiring this. In some states, Medicaid adult vision care coverage can include screening for glaucoma, necessary cataract surgery, surgical and medical procedures, contact lenses and eyeglasses, and potentially reduced copays.
Contact your state Medicaid provider for information on specific coverage under your plan and policy.
Eligibility for Medicaid Vision Coverage
More than 70 million Americans receive health care coverage through Medicaid, which provides health insurance and care to eligible citizens. Under federal laws, Medicaid must be offered to the following
Low-income families — typically those at or below 133 percent of the federal poverty line (FPL)
Qualified children and pregnant women
Individuals with disabilities, which includes blindness
People receiving Supplemental Security Income (SSI)
Each state has their own Medicaid program, and benefits can be expanded beyond these basic parameters to include more people, such as low-income adults. Preventative care through Medicaid includes checkups, which should also include a vision screening.
Vision screenings can help to recognize a potential issue. You can then be referred for additional diagnostics and exams.
Children using Medicaid automatically qualify for these vision services through federal guidelines, and each state can determine the extent of vision coverage for adults. Your doctor can help you determine what services are covered and at what amount.
Typically, Medicaid offers services for free or at a reduced cost. While there is no charge for most services for children, there may be a small copay for adults using Medicaid services.
If you are, or may be, eligible for Medicaid or CHIP services, you can apply through your state's Medicaid office or through the federal Marketplace. From there, you will enroll in services and choose a local provider. This provider will then send you a Medicaid services card that you will use when you receive services. You can call the number on the back of your member services card to find out about local providers and services that are covered.
Vision Benefits Under Medicaid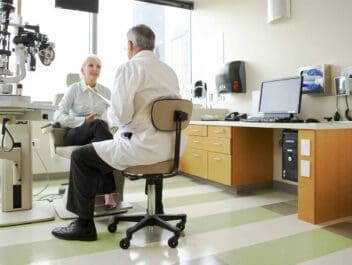 Vision care starts with preventative care. Under Medicaid, well-child checkups and exams should include vision screenings. Each state will determine how often these checkups and screenings are performed, but it is generally recommended that an annual eye exam is performed to ensure optimal eye health.
Regular eye exams can help to catch any potential problems or changes in vision. They will also help to identify some health conditions like diabetes, high blood pressure, or glaucoma.
Medicaid vision care benefits can include the following for low costs or completely free of charge, depending on your eligibility:
Eye exams
Eyeglass frames
Prescription eyeglass lenses
Bifocals or trifocals
Contact lenses if they are medically necessary
Medical and surgical procedures
Screenings for glaucoma
Medicaid covers standard eyeglass frames, eyeglass lenses, and contact lenses. Usually, specialty lenses or premium frames are not included.
Most states will provide coverage for one pair of eyeglasses that is considered to be "Medicaid approved" each calendar year. Additional prescription eyewear may be covered as well if it is deemed medically necessary.
You will need to see your Medicaid provider for the eye exam and lens fitting. They can often help you find approved prescription eyewear that will be covered under your Medicaid plan.
Contact lenses may or may not be approved under your Medicaid coverage. This depends on your state of residence and the specific plan and provider you have.
You will need to use a Medicaid-approved optometrist or ophthalmologist in order to use your coverage. Call the member services number on the back of your Medicaid provider card to get more information on providers and to learn how to best optimize your coverage.
Does Medicaid Cover Cataracts?
Cataracts are a common eye condition, particularly among older adults. If you're a Medicaid beneficiary, you might wonder whether cataract treatment is covered. The good news is that Medicaid typically covers medically necessary procedures, and cataract surgery often falls under this category. This means that if a doctor determines that cataract surgery is essential for your eye health and vision, Medicaid will usually cover the cost of the procedure.
However, the extent of coverage for cataract-related services, like pre-surgery consultations, post-surgery care, or specific types of intraocular lenses, might vary based on the state where you reside. While cataract removal is generally considered a necessary medical procedure, some enhancements or elective options might not be covered. It's vital to consult with your state's Medicaid prog
Eye Surgery Coverage With Medicaid
Eye surgeries covered through Medicaid generally need to be considered "medically necessary." This can include necessary surgeries to repair the eyes due to injury or illness as well as cataract surgeries.
Surgeries to correct refractive errors, such as LASIK (laser-assisted in situ keratomileusis), are not covered through Medicaid. These surgeries are determined to be elective and therefore not medically necessary. Federal and state-based insurance plans generally do not offer any kind of coverage for these services.
You may be able to purchase "gap" insurance or vision coverage in addition to Medicaid that has more options. These policies may offer discounts on corrective eye surgeries.
The information provided on this page should not be used in place of information provided by a doctor or specialist. To learn more, read our Privacy Policy and Editorial Policy pages.