Table of Contents
Humana is a private, for-profit health care company, providing medical insurance for over 14 million Americans as of 2017. With specialty programs for seniors, military personnel, employers and employees, Medicare beneficiaries, and individuals, Humana offers a wide range of health insurance coverage across the United States.
Supplemental insurance and health plans are also offered by Humana in addition to Medicare and group health insurance plans.
LASIK is a corrective eye surgery that is generally considered to be an elective procedure. It is therefore not typically covered by medical insurance.
Humana offers supplemental vision insurance that provides discounts on LASIK and PRK procedures. When eye surgery is deemed medically necessary, such as in the case of cataracts, Medicare or Humana health insurance may cover the procedure. (Learn More)
To obtain the deepest discounts on LASIK surgery, it is optimal to use a Humana network provider. (Learn More) A Medicare-participating physician may determine that certain eye conditions require surgical corrections that may be covered through Humana Medicare coverage.
Vision insurance plans offered by Humana provide coverage for a yearly vision exam and an annual allowance for eyeglass lenses or standard contact lenses with a copay. A Humana representative can guide you through what your specific insurance plan will cover and at what rate.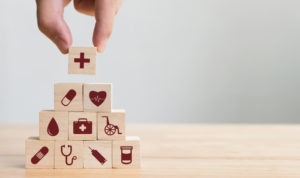 Humana Discounts for LASIK and Eye Surgery Coverage
LASIK (laser in-situ keratomileusis) is an FDA-approved surgical eye procedure that changes the shape of the cornea to correct common refractive errors. It serves to permanently change vision, so you may no longer need corrective eyewear, such as eyeglasses or contacts.
LASIK is considered an elective, and often a cosmetic, procedure. As a result, it is not usually covered by health insurance directly.
Humana does offer discounts on LASIK procedures. As a member of Humana, you can receive up to 15 percent off standard LASIK pricing (and 5 percent off promotional pricing) at specified in-network providers.
Members of HumanaVision can receive deep discounts on LASIK services, especially when using a specific in-network provider. Services can range from $700 to $2,000 per eye, depending on the provider, location, and whether or not the services are traditional or customized.
You can use a different and independent LASIK surgery provider and still receive a discount of 10 percent off the usual cost of the services, as a HumanaVision member. Fees are not to exceed $1,800 for conventional/traditional or $2,300 for customized LASIK per eye. The cost for LASIK can vary greatly and get up to around $4,000 per eye, so these discounts can be substantial.
Routine eye exams and vision care, as well as contacts and eyeglasses, are not covered through Medicare, Humana explains, but Medicare Part B does include a simple vision exam within the first year of coverage. Annual exams are only covered if you suffer from diabetes and diabetes retinopathy. Diagnostic eye exams checking for macular degeneration or glaucoma may also be covered at 80 percent.
Eye surgery, even for cataracts, is not deemed medically necessary. Therefore, it is not covered through traditional Medicare.
With Humana's Medicare Advantage plan, you can opt for a MyOption Vision Plan that offers routine eye care as a covered service. This may then cover eye surgery, such as cataract surgery involving the placement of an intraocular lens. Surgery coverage will depend on whether the procedure is performed on an inpatient or outpatient basis, the provider used (in-network versus out-of-network), and where you live.
Using Humana Coverage for Eye Surgery or a LASIK Discount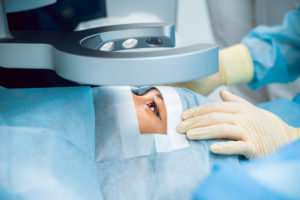 If you have Humana vision insurance coverage or supplemental coverage that comes with being a member of HumanaVision, you can receive discounts on LASIK services. You will need to remain current with your monthly premiums. You will then need to schedule a comprehensive eye health exam with your doctor who can help you decide if you are a candidate for LASIK.
If you suffer from mild to moderate nearsightedness (myopia) or astigmatism (irregularly shaped corneas) and currently wear contacts or eyeglasses, you may be eligible. If so, you will need a referral from an in-network medical provider.
Humana partners with the following network providers and centers that can provide LASIK services for a set fee as explained:
LasikPLUS: This offers conventional LASIK for qualified candidates using IntraLase for $695 per eye with free enhancements for one year, or for $1,395 per eye with free lifetime enhancements. Customized LASIK using IntraLase for $1,895 per eye with free lifetime enhancements is available.
TLC designated locations: These offer conventional LASIK for $895 per eye, customized LASIK for $1,295 per eye, and customized LASIK using IntraLase for $1,895 per eye.
QualSight LASIK: This offers conventional LASIK for $895 per eye with free enhancements for a year, or for $1,295 per eye with a QualSight Lifetime Assurance Plan. Customized LASIK is available for $1,320 per eye, or for $1,995 per eye using IntraLase with a QualSight Lifetime Assurance Plan.
Prices, services, and procedures can vary depending on where you live.
You can receive LASIK discounts from out-of-network providers as well. Your HumanaVision ID card entitles you to these discounts.
A customer care specialist can help you determine your coverage, obtain a referral, and set you up with a LASIK provider. LASIK providers often offer affordable payment plans to help you budget for services.
To use Humana Medicare Advantage plans to help pay for eye surgery, you will need a referral from an in-network doctor who deems the procedure to be medically necessary. Typically, this will mostly relate to surgery for cataracts.
This medical condition most frequently occurs with age, causing tissue buildup on the lens of the eye. Cataracts often require a complete lens replacement to clear up cloudy vision.
Doctors' visits will usually incur a copay, which is a set amount that is due upon receiving services. Your annual deductible, the amount you need to reach before coverage begins, will also apply to eye surgery. You will generally be responsible for 20 percent of the cost of eye surgery services, and you will need to use an in-network provider.
Depending on which state you live in and your specific Humana Medicare Advantage plan, services may be covered at variable rates. Your coverage may stipulate if surgery can be completed on an outpatient basis or if it is required to be performed as an inpatient.
References
2017 Annual Report. Humana.
Humana Sites. (2019). Humana.
LASIK. (March 2018). U.S. Food and Drug Administration.
Savings Center. (2019). Humana.
Humana Vision Insurance. (2019). Humana.
HumanaVision LASIK. Humana.
Vision Coverage: Does Medicare Cover Eye Exams? (October 2018). Humana.
Get Started with Humana Medicare. (January 2019). Humana.
HumanaVision LASIK. Humana.
The information provided on this page should not be used in place of information provided by a doctor or specialist. To learn more, read our Privacy Policy and Editorial Policy pages.