Aflac offers two broad vision insurance options.
Aflac Vision Insurance covers most of the basics expected of a vision plan and notably offers a significant LASIK discount at participating providers. Aflac supplemental vision insurance is another option, which can add vision to an existing employee insurance package.
Rates on the plans vary greatly according to geographic location and other factors. You can create an account on their site to get a custom quote.
Table of Contents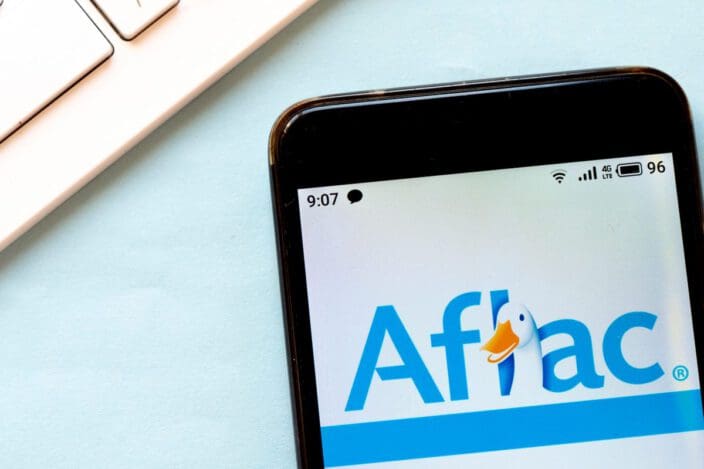 What Is Aflac Vision Insurance?
Aflac Vision Insurance boasts a number of mainstay features for policyholders, including these:
Free or reduced cost for glasses frames
Easy access to glasses and replacement contacts
A network spanning thousands of locations
Affordable eye exams and contact lens evaluations
Members get a one-year breakage warranty, $50 frame enhancement at Visionworks, and a 25 percent discount on LASIK at participating providers.
That last point is noteworthy, as this is a significant discount for LASIK. Many other insurance plans offer a less reduced rate if any LASIK discount is given at all.
This is largely because LASIK is considered an elective procedure, meaning cheaper alternatives like glasses usually can offer a similar level of correction. As a result, many insurance companies are reluctant to help pay for it.
Aflac Supplemental Vision Insurance
Aflac also offers their Supplemental Vision Insurance, which an employer can add to a plan to give policyholders vision coverage. As Aflac notes, this plan is added through worksite payroll deduction.
The policy works by giving the policyholder cash when they incur relevant expenses, such as the cost of an annual eye exam or covered eye procedures. This helps to offset out-of-pocket costs and reduce their impact, working similar (but not identically) to the way health insurance usually works.
Availability of Aflac Vision Insurance
Aflac offers insurance throughout the country but not in every state. They offer coverage in these states:
Alabama
Alaska
Arizona
Arkansas
California
Connecticut
Delaware
Florida
Georgia
Hawaii
Idaho
Illinois
Indiana
Iowa
Kansas
Louisiana
Maine
Michigan
Minnesota
Mississippi
Missouri
Nebraska
Nevada
New Hampshire
North Dakota
Ohio
Oklahoma
Oregon
Pennsylvania
South Carolina
South Dakota
Tennessee
Texas
Utah
Vermont
West Virginia
Wisconsin
Wyoming
When exploring your options with Aflac, remember that many of the plans they offer are employer-facing. They are intended to help employers provide benefits to workers. Depending on the plan you're interested in, you may have to talk with your employer and convince them a given plan is a good fit for the company's needs.
If you'd like a custom quote for Aflac Vision Insurance, visit their site.
The information provided on this page should not be used in place of information provided by a doctor or specialist. To learn more, read our Privacy Policy and Editorial Policy pages.