MetLife Vision is part of the larger MetLife health insurance network. This policy partners with tens of thousands of national vision care providers, so patients can get exams and eyewear from trusted sources.
MetLife Vision covers an eye exam every year, new prescription lenses (including bifocals or trifocals), new frames, and contact lenses. MetLife also discounts the cost of LASIK, so you can better afford this useful outpatient procedure.
While there are some coverage exclusions, MetLife works with some companies so you can get vision benefits through a few out-of-network providers. This is a service few vision insurance policies provide.
MetLife Vision Insurance Covers Your Eyes' Needs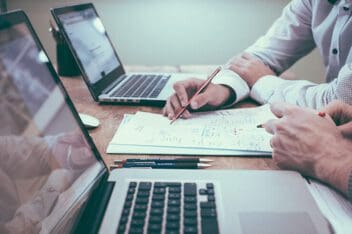 MetLife is a major health insurance provider for numerous Americans. The plan provides individual and family coverage, which you can get through your employer or separately.
Like many big health insurance companies, MetLife offers vision insurance that can be acquired separately or as part of their standard health insurance coverage. This option means you get access to tens of thousands of reputable vision care providers, significant discounts on some elective treatments, and coverage for necessary vision correction.
There are different types of vision insurance offered by MetLife that cover similar needs. Most MetLife vision insurance helps you get annual eye exams, glasses or contact lenses, and discounts on prescription sunglasses. You can also get some upgrades to your eye exam covered as well as discounts on other treatments like LASIK.
By offsetting many costs and offering some fully covered treatments, your basic vision needs are well managed.
Basic Costs & Services Through MetLife Vision
Vision benefits through MetLife's vision insurance plans cover routine exams and any eyewear needed to see clearly.
Most people who have vision trouble have a refractive error. This is a problem with their cornea or lens, which refracts light onto their retina to create an image of the world in the brain. When the cornea is not shaped properly or there is a problem with the lens, light is not refracted "clearly," so you see a blurry image at certain distances. Astigmatism, myopia (nearsightedness), and hyperopia or presbyopia (two types of farsightedness) are common refractive errors.
Since refractive errors are very common, getting regular examinations is important. Your optometrist or ophthalmologist can follow your vision changes and keep your prescriptions up to date.
Once you get a new prescription, you will likely need to get new glasses and contact lenses. Without vision insurance, this entire process can cost hundreds of dollars. With a vision plan like MetLife, you get significant coverage for these routine treatments.
For example, MetLife Vision offers coverage for:
Eye exams. MetLife Vision covers one eye exam per year, so your optometrist or ophthalmologist can measure your refractive error and write a new prescription if needed. During this exam, they can also see if you are developing any additional eye problems like cataracts or glaucoma. MetLife has a $10 copay for these exams. If you paid out of pocket, you would be likely to pay $150 or more.
If you need additional tests during your yearly eye exam, these come at a discount too. For example, retinal imaging is only $39.
Glasses frames. New frames can be expensive, and while you do not need new frames for new lenses, many retailers combine the sale or refuse to work with frames that are not from their store. MetLife provides a $120 frame allowance after a $20 copay. Costco members who buy at Costco receive a $65 allowance after their $20 copay.
If you want prescription sunglasses or a second pair of glasses, you get a 20 percent discount on additional pairs.
Specialty lenses. As you age, you are likely to develop presbyopia, or age-related farsightedness. If you have an existing refractive error, you may need bifocals to get correction for both problems. MetLife covers the entire cost of bifocal lenses, which can otherwise be hundreds of dollars. Trifocal and lenticular lenses are also covered after a $20 copay.
Ultraviolet coating. Ultraviolet (UV) light is one of the leading causes of skin cancer, and it can also cause extreme damage to your eyes. This light puts you at risk of eye cancer, and you can damage your cornea, lens, and retina from too much UV exposure. Getting UV coating on your prescription lenses just makes sense, so MetLife covers this cost.
Anti-reflective coating. Seeing clearly in many conditions, including while driving at night, now requires reduced glare. Since anti-reflective lens coating is a safety issue, MetLife covers much of the cost. Rather than paying $110 out of pocket for this coating, you only pay a $69.
Contact lenses. Getting a fitting to ensure your contacts work well is important, so MetLife Vision covers much of this cost, requiring only up to $60 out of pocket for you. You receive $120 as a contact lens allowance, and necessary lenses are covered after your $20 lens copay.
Special arrangements with optical centers through major companies like Walmart or Sam's Club mean you can use some MetLife Vision benefits even when your eye exam is through an out-of-network provider. But with tens of thousands of providers accepting MetLife, you are likely to find an optometrist or ophthalmologist in the MetLife network that is conveniently near you.
LASIK Discounts With MetLife Vision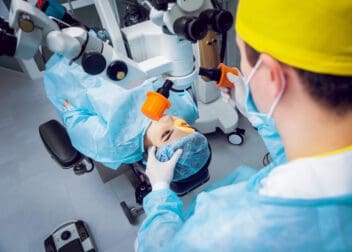 Millions of people around the world have undergone LASIK for improved visual clarity. So many people are choosing this as a method of treating refractive errors, so they have less need for glasses or contact lenses. As a result, more vision insurance providers are finding ways to help their customers get coverage for this laser eye surgery.
MetLife partners with surgery centers to discount the cost of LASIK. You can also get MetLife VisionAccess for further discounts on second pairs of glasses, different types of contact lenses, other forms of lens coatings, and elective eye treatments like LASIK.
Exclusions From MetLife Vision
Vision plan exclusions are similar to those of other vision insurance policies. Excluded vision treatments include:
Orthoptics or vision training.
Medical and surgical treatment for your eyes, although this may be covered by your standard health insurance plan.
Services or materials obtained outside the United States, except emergency services.
Replacement glasses or contact lenses that fall outside the plan benefits.
Missed appointments.
Eye exams or eyewear required for employment, but the costs of these should be covered by your employer.
Most vision insurance policies have these types of exclusions. You can compare MetLife's coverage benefits to others and see that they have an extensive network around the nation and good out-of-network partnerships even for out-of-country emergencies. Most policyholders seem to be pleased with the service and coverage they offer.
History of Metlife
Metlife was created in 1863 as a company that insured civil war soldiers against any disability from wounds or sickness.
The company shifted to the life insurance as its primary business in March 1868 and was named Metropolitan Life Insurance Company. By 1930, the company insured one in every five people in the United States and Canada.
By 1979, Metlife had spread its operations to four business categories:
Personal insurance
Group insurance
Investments
Pensions
Metlife has been through significant acquisitions, mergers and sales to become one of the largest life insurance firms in the United States. It saw potential in the U.S.-managed vision care market, and, since 2012, has facilitated group vision insurance. It acquired Versant Health in September 2020.
The company serves more than 38 million members for vision insurance.
The information provided on this page should not be used in place of information provided by a doctor or specialist. To learn more, read our Privacy Policy and Editorial Policy pages.