Medicare does not pay for prescription eyeglasses or contact lenses. Medicare Part B can provide coverage for one pair of prescription eyeglasses after you have cataract surgery, however.
If you have a supplemental Medicare Advantage plan, this can help you pay for glasses and provide some vision insurance coverage. There are also nonprofit organizations, private insurance, and other options to aid you in paying for glasses when Medicare does not offer any coverage.
Medicare & Vision Coverage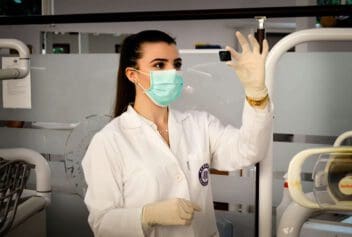 Original Medicare, which includes Medicare Part A and Medicare Part B, does not offer coverage for vision services. The following are not covered:
Routine or regular eye exams
Contact lenses
Eyeglasses
Upgraded lenses
Prescription eyewear, including eyeglasses, are not paid for by original Medicare.
Medicare can offer coverage for vision screenings for people at risk for glaucoma or diabetic retinopathy. Medicare also covers the cost of cataract surgery.
Medigap, which is supplemental insurance to help cover costs that original Medicare does not cover, also does not provide any vision benefit coverage, including coverage for eyeglasses.
Glasses After Cataract Surgery
The only time that original Medicare will provide coverage for prescription eyeglasses is in the event of cataract surgery. Medicare Part B, which offers coverage for outpatient services, will cover part of the cost of one pair of corrective lenses after the surgery. Medicare will does not offer vision insurance or pay for glasses in other instances.
Cataracts impact one out of five adults over the age of 65, which is the same age that people qualify for Medicare. As a result, cataract surgery is a common medical procedure for those on Medicare.
Since cataract surgery is deemed a medically necessary procedure, Medicare will cover it. Part of this coverage will include one pair of glasses (or contacts) after the procedure.
You will be responsible for any copays and premiums. The overall cost is based on the following:
The doctor's specific rates
The type of facility where the operation is performed
Any other insurance you may have in addition to Medicare
Whether the doctor and facility accept Medicare
You will pay 20 percent of the cost of your corrective lenses based on the Medicare-approved amount. Medicare will only pay for corrective lenses from a supplier that is currently enrolled in Medicare. You can receive one pair of standard frames, and upgraded frames will cost extra.
Medicare Advantage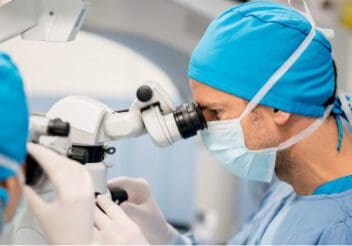 You can choose to use Medicare Advantage, or Medicare Part C, instead of original Medicare. With this option, you are choosing a private insurance company to provide your Medicare benefits.
Medicare Advantage plans provide all the benefits that original Medicare plans do, but they also offer expanded coverage that can include vision, hearing, and dental care. These are not covered under original Medicare.
When using a Medicare Advantage plan for vision benefits, you will often pay higher premiums and deductibles. You will need to meet your deductible amount before vision costs are covered. There is often a copay associated with eye appointments and vision assessments.
You can still have quite a few out-of-pocket costs when using a Medicare Advantage plan. You will likely be paying more than half of the costs of your vision services yourself. To minimize these expenses, be sure to use an in-network provider for your vision benefits and obtain your prescription glasses from an approved supplier.
Coverage, including vision coverage, varies based on where you live. To shop for Medicare Advantage plans in your area, visit Medicare.gov.
Additional Options for Paying for Glasses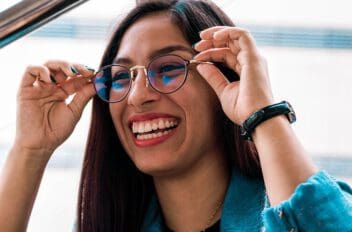 There are some options you can use to help offset the cost of glasses.
Additional insurance, such as private insurance, can provide vision benefits that can cover the cost of prescription eyewear, at least to an extent. You will need to talk to your insurance provider to find out what your coverage options are, what your out-of-pocket costs will be, and what provider and supplier you will need to use to get coverage for vision care and eyeglasses.
Other options, including nonprofits and organizations that offer services to reduce the costs of prescription eyewear, exist.
When Medicare does not offer the coverage you need for vision care and prescription eyewear, there are still options to get help with paying for glasses or even to get free glasses.
The information provided on this page should not be used in place of information provided by a doctor or specialist. To learn more, read our Privacy Policy and Editorial Policy pages.