Table of Contents
Davis Vision is a comprehensive vision insurance policy. It covers basic refractive error management, as well as more testing and treatment for more eye conditions.
In addition to basic annual eye care, they cover additional eye tests, offer a special collection of glasses frames, and feature more contact lens and glasses lens options. Davis Vision also discounts LASIK, along with some other types of refractive surgery, unlike other vision plans.
Regular low vision exams are covered to catch problems or significant changes, so you can manage these issues better. If you need other treatment, like diabetes help or hearing treatment, Davis can add these alongside your vision plan.
Davis Vision: Focusing on Your Eyes' Health

Davis Vision has offered comprehensive vision insurance coverage for more than 50 years. The organization works with 91,000 points of access for vision care, including numerous local, independent eye care specialists and retailers. Davis Vision also partners with four out of five major eyewear retailers, so you can get quality glasses and contact lenses at the lowest possible cost.
With several plan options through employers and for individuals and families, you can get good coverage for your needs.
Each plan fully covers the cost of eyewear, helps you find preferred pricing for other treatment options, and offers specific glasses frames that nonmembers cannot access. You can get significant discounts on LASIK and follow-up procedures, too, so you can manage your vision improvements in ways that work best for you.
What Does Davis Vision Cover?
Davis Vision offers plans that cover many additional tests and eyewear, so you have vision coverage for more than just your basic needs. While almost all vision policies cover an annual eye exam, for example, Davis Vision covers additional tests, like slit lamp and eye dilation, so you can have your entire eye examined, not just your refractive error.
Covered treatments include:
Eye exams. One full eye exam per year is covered through Davis Vision. There is no copay, so you pay nothing when you use this insurance provider. If you work with an out-of-network optometrist or ophthalmologist, you will pay out of pocket.
Eye exam with dilation. If your optometrist orders dilation, slip lamp testing, retinal scans, or other forms of eye exams to diagnose glaucoma, macular degeneration, cataracts, and other eye diseases, these are also totally covered. You can get up to $40 reimbursed if you get these tests through an out-of-network provider.
Contact lens evaluation and fitting. Contact lenses are a simple way to get great vision clarity without wearing frames on your face. However, it is important to have new lenses fitted to your eyes for optimal comfort. Have an optometrist evaluate your eye health and fit you for contacts. This will better keep your eyes comfortable and reduce itchiness, dry eyes, and inflammation. These fittings, along with follow-up care, are covered with a $10 copay.
Prescription lenses are covered with a $10 copay every year if you do not get contact lenses. You also get great frame options each year, with your non-Davis Vision collection allowance starting at $130 for in-network providers, or $180 for VisionWorks locations, and a 20 percent discount on any cost you incur after the allowance. If you choose Davis Vision Frames Collection, both the Fashion and Designer level frames are covered in full. The Premier level has a $25 copay.
Lenses and lens options. You can choose between a pair of glasses or a set of contact lenses each year. If you choose prescription lenses, these are covered in full, and special tints are also covered. These tints include:

Tinting for computers or bright light.
Scratch resistant coating.
Ultraviolet light coating, which has a $12 copay.
Anti-reflective coating, which starts at a $35 copay.
Progressive lenses, which start at $50.
High-index lenses, which are $55.
Polarized lenses, which are $75.
Photochromatic lenses, which are $65.
Davis Vision also provides a generous one-year breakage warranty, so you get replacement glasses if and when you need them.
Contact lenses. Medically necessary contacts are covered. Collection lenses, which are covered if you choose these in place of glasses, can be either:

Four boxes of disposable lenses.
Two boxes of planned replacement lenses.
If you need replacement contact lenses, mail ordering them offers the greatest convenience and savings.
Davis Vision Offers Great LASIK Discounts
Davis Vision acknowledges that the cost of LASIK has gone up over the years, although more people are choosing this as an option over glasses and contact lenses. To help more of their policyholders, Davis Vision works with LASIK providers around the country.
While the lower cost for LASIK in many places averages $1,677 per eye, the Davis Vision member price is less than $1,000 per eye for traditional LASIK. The company also offers discounts on other refractive surgeries like:
Custom LASIK.
All-laser LASIK.
Photorefractive keratectomy (PRK).
Low Vision Treatment Coverage Through Davis Vision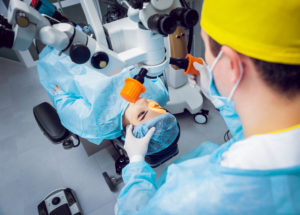 While most vision insurance policies cover basic eye exams and treatment, they do not cover exams for more significant eye diseases. Davis Vision provides coverage for other types of eye testing, which can be included during your routine eye exam, like pressure tests for glaucoma or slit lamp tests to examine your retinal health.
Davis Vision also offers some low vision coverage. This can help to catch this condition early, so you can begin an appropriate treatment plan. Low vision treatment includes:
Low vision evaluation once every five years, with a maximum charge of $300. This exam looks at your hand-eye coordination, depth perception, distance and clarity of vision, contrast perception, and other crucial components of your sight.
Low vision aid, with a $600 allowance or a lifetime maximum of $1,200. This covers devices to improve low vision like high-powered spectacles, magnifiers, or telescopes.
Follow-up low vision care, which covers four visits over a five-year period, charging no more than $100 per visit.
A Comprehensive Vision Plan With More Options
Davis Vision also provides further health treatments that impact your quality of life, like hearing health, fitness support, and diabetes management. While the plan may have similar or slightly higher costs compared to other vision plans, Davis Vision covers a much wider range of vision services and needs, so you can get the comprehensive treatment for various eye conditions, ranging from mild nearsightedness to serious vision loss.
If you're interested in a Davis Vision plan, you can contact their customer service department. A representative can outline your coverage options and help you choose the best plan for your situation.
You can also talk to a rep about your options for laser eye surgery coverage, including LASIK. Even if the procedure is not fully covered, you can still usually get significant discounts when you use your Davis Vision plan.
References
Homepage. Davis Vision.
Davis Vision. Davis Vision.
Members. Davis Vision.
Cost of LASIK. Davis Vision.
The information provided on this page should not be used in place of information provided by a doctor or specialist. To learn more, read our Privacy Policy and Editorial Policy pages.