Ameritas has offered life and financial insurance to Americans since the 19th century. They now offer vision, dental, and hearing plans through employers or for individuals and families.
Ameritas provides different types of vision plans, with EyeMed and Vision Perfect being the biggest two options for routine eye exams, prescription glasses, and contact lenses. Ameritas also offers a LASIK-specific plan, which you can use once in your lifetime, and in combination with other deals or discounts through a LASIK provider, on any LASIK surgeon or surgery center you choose.
Since Ameritas has existed for a long time, they know how to offer premium insurance coverage, including for your eyes.
What Is Ameritas Vision Coverage?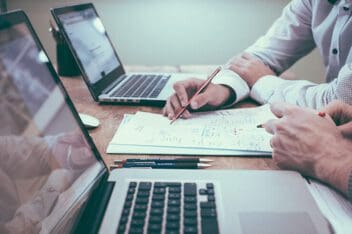 Ameritas is one of the oldest insurance companies in the United States, providing life, health, dental, and vision plans to many individuals and families. While the company started by covering life insurance, financial losses, and disability income, they have grown to provide health insurance, including dental and vision options.
There are three vision coverage types through Ameritas: Vision Perfect, EyeMed, and LASIK Advantage. You can choose one or all of these options, and combine them with dental and hearing plans to get access to great specialists for a range of treatments over the course of your life.
Treatment Coverage Through Ameritas Programs Like EyeMed & Vision Perfect
When you sign up with an Ameritas vision plan, either as an individual, with your family, or through your employer, you get several great benefits to keep your eyes healthy and your glasses prescription up to date. These benefits are mostly found under the EyeMed plans, so you can use that name to find in-network treatment providers and retailers for your exams, glasses, and contact lenses.
Treatment options include:
Annual eye exams. After a $15 copay, your yearly eye exam is covered in full. This includes dilating your pupils if your optometrist or ophthalmologist finds it necessary. You can also go to an out-of-network provider for your eye exam and receive up to $45 from Ameritas to cover that cost.
Prescription lenses. Once per year, you can get new prescription lenses for your glasses. Single vision, bifocals, trifocals, and lenticular lenses are all covered after a $10 copay. You can get discounts on two types of progressive lenses too.

Standard progressive: These are just $75 at in-network providers. Up to $47 is paid from Ameritas for out-of-network providers.
Premium progressive: These are $75, and 80 percent off any cost after $120. Like with standard progressives, up to $47 is paid from Ameritas if you choose an out-of-network provider instead of an in-network provider.
New frames. You can get full coverage on a new set of frames for your glasses every two years. You receive up to $130 allowance to pay for frames and 20 percent off your balance for any cost past that allowance. If you go with an out-of-network provider, Ameritas pays up to $47.
Contact lenses. If you are new to wearing contact lenses, getting a fitting and follow-up exam can keep your eyes comfortable and healthy while wearing this new device. With Ameritas, standard contact fittings cost up to $55, and premium fittings receive a 10 percent discount.

Medically necessary contacts are covered in full, while elective contacts have no copay and a $130 allowance to cover costs. If you choose an out-of-network provider, elective contact lenses can be covered up to $105, and medically necessary lenses can be covered up to $210.
With the Vision Perfect plan, rather than the EyeMed plan, Ameritas partners with specific treatment providers, but you do not have to go with just these options. Instead, you choose the optometrist or ophthalmologist you like the best, find a glasses or contact lens retailer near you or your favorite online, and Ameritas will reimburse your costs up to $200. This $200 can be applied to any part of your vision care. There is no frequency or limitations for submitting claims, as long as you have money through Vision Perfect that you can use.
It is more common to receive these benefits when you sign up for plans through your employer. Individual plans can vary in coverage options, but you can still get great treatment through in-network providers.
LASIK Advantage Through Ameritas
Ameritas understands that many people are turning to LASIK to get rid of their need for glasses and contact lenses. About 90 percent of people who choose LASIK achieve 20/40 vision or better, so they rarely (if ever) need to use glasses or contacts to see.
With the LASIK Advantage add-on plan, you get a certain amount of money that increases over time. By the third or fourth year you have LASIK Advantage, you will have a higher benefit.
Unlike other kinds of health plans, LASIK Advantage is not tied to specific in-network providers. Instead, you can apply this benefit once to your LASIK procedure. You cannot use the benefit once per year, only once in your lifetime.
You can combine your benefit with discounts or coupons through LASIK providers to get this procedure basically for free or for very little money. This allows you to find high-quality LASIK surgeons without worrying as much about price.
Covered refractive surgeries include the following:
LASIK
LASEK
Wavefront LASIK
Advanced surface ablation (ASA)
LASIK with IntraLase
Photorefractive keratectomy (PRK)
Coverage Through a Trusted Insurance Provider
Ameritas plans are available through employers all over the U.S. If you need individual coverage or insurance for your family, you can purchase this separately too.
Combining Ameritas vision with dental and hearing plans gets better coverage for your long-term health, as your dental, hearing, and vision needs change greatly over the course of your life.
The information provided on this page should not be used in place of information provided by a doctor or specialist. To learn more, read our Privacy Policy and Editorial Policy pages.