Aetna provides a range of health insurance options for people all over the United States, including generous vision insurance plans. These are offered through an employer plan or as an add-on to your individual health insurance coverage.
Vision plans through Aetna offer generous discounts on glasses, contact lenses, LASIK surgery, and needed supplements during your annual eye exam, like retinal imaging. You can get substantial discounts on LASIK and PRK through partnered laser surgery centers, so you pay far less than the normal out-of-pocket amount per eye.
Eye exams are covered except for some add-ons like retinal scans or pupil dilation, but the fees for these options are small, thanks to Aetna's program.
When your vision plan works alongside your regular health insurance plan, it is easier to treat more serious eye diseases like glaucoma or cataracts.
Aetna Vision Insurance: Coverage Through Employers or Individual Health Plans
Aetna is one of the largest health insurance providers in the United States. As more people shop for health insurance individually, plans offer vision coverage combined with their standard health plan.
Aetna provides some vision coverage through their regular health insurance plan. They also offer vision coverage through employers, which provides more treatment options for individuals and families.
As one of the larger health insurance companies, Aetna partners with dozens of different kinds of doctors and specialists all over the country. For vision insurance, this includes working with glasses and contact lens retailers, optometrists, and ophthalmologists.
You can also get non-vision treatment discounts for using Aetna vision insurance, including hearing tests and screenings, acupuncture and chiropractic discounts, and even rewards like books or dining coupons.
Aetna Medical Plans and Coverage Costs
On the Aetna Medicare solutions page, you can search specific coverage information for your location. You'll realize that coverage costs vary by location and some plans may not be available in certain counties or states.
Your out-of-pocket expenses will also depend on the specific Aetna plan you have.
For example, the Aetna Medicare Dual Preferred Plan (HMO D-SNP) is one of the coverage options for Alabama residents. In this state, the plan is only available in five counties, including Montgomery, Dallas, and Mobile.
HMO D-SNP covers multiple medical issues, including eye care, and it costs up to $27.2 in monthly premiums. With this plan, you can pay up to $7,550 out of pocket per year.
You'll usually pay nothing or 20% of eye exams under this plan. These tests include diabetic eye and glaucoma screening.
If you live in certain counties in Texas, for example, your coverage options include the Aetna Medicare Choice II Plan (PPO). As with most other Aetna plans, only a handful of counties in this state offer this package, including Austin, Brazos, and Grimes.
The monthly premium for the PPO is $15 (in-network) and the maximum out-of-pocket amount for the year is $7,550. This plan pays the full cost of glaucoma screening, but diabetic eye exams may cost you up to $40.
A routine eye exam is free under this plan, but only once per year. So, you'd have to pay out of pocket for any additional routine checkup.
What Does Aetna Vision Cover?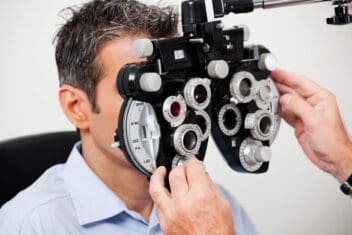 With the Aetna Vision Savings plan, you can get discounts through your standard Aetna health insurance on vision-related needs. This includes discounts on eye exams, glasses, contact lenses, and even laser in-situ keratomileusis (LASIK).
The Vision Preferred program partners with 77,000 vision providers across the U.S., ranging from independent neighborhood providers to large chains and big-box stores like Target Optical or LensCrafters.
As an Aetna Vision Preferred member, you can get discounts on:
Second pairs of glasses.
LASIK eye surgery.
Retinal imaging.
Vision wellness through your regular Aetna health insurance helps you get regular eye exams, which are vital for diagnosing and treating serious eye diseases like glaucoma or cataracts before they lead to vision loss. The Vision Preferred plan covers routine and important vision care like:
One annual routine eye exam to diagnose any eye changes. There is no charge unless you need pupil dilation, which requires a $10 copay.
Eyeglasses frames with a $150 allowance and 20 percent discounts on several frame options.
Eyeglass lenses with a $10 copay.
Lens options.
Contact lenses with a $150 allowance.
You can also get optional lens coatings or upgrades like:
Progressive lenses for bifocals or multifocal needs.
Anti-reflective coatings.
Photochromatic lenses that seamlessly transition between indoor and outdoor light. Lens discounts include:

$15 discounted fee for ultraviolet light treatment.
$15 discounted fee for tint, solid or gradient.
$45 discounted fee for reflective coating.
Between $95 and $120 discounted fee for most premium progressive lenses.
$75 discounted fee for photochromatic or transition lenses.
Up to 40 percent off either a second pair of glasses or prescription sunglasses.

Contact lens discounts include:

$40 discounted fee on contact lens fittings, which can help lenses fit properly in your eyes.
10 percent discount off the retail cost of premium contact lenses and follow-up exams to fit them.
15 percent discount on any balance you pay for conventional contact lenses over the cost covered by Aetna Vision.
Does Aetna Vision Cover LASIK or Laser Surgery Costs?
More and more, vision insurance plans are finding ways to cover some portion of the cost of LASIK. Almost 10 million Americans have undergone this procedure to improve nearsightedness, farsightedness, and astigmatism, so vision insurance providers are finding it practical to offer some coverage for this simple outpatient laser surgery.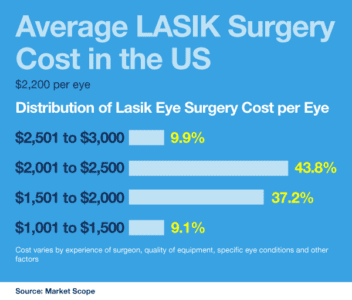 Without any vision insurance coverage, LASIK can cost up to $3,000 per eye, so you might pay up to $6,000 to $7,000 to have both eyes corrected.
To offset this cost, Aetna Vision offers 15 percent off retail prices or 5 percent off promotional prices at partnered LASIK vision centers. You can also get similar discounts for photorefractive keratectomy (PRK), an older procedure similar to LASIK.
Regular Eye Exams & Necessary Eye Surgeries
Regular annual eye exams with in-network providers cost nothing. If you need additional tests during that exam, there is a small added cost. For example, retinal imaging has a $39 discounted fee if you need this for your eyes' health.
You can also get 20 percent off items that are not typically covered by your vision insurance, but that might be necessary for your eyes' health.
If your Aetna Vision plan ties into your regular Aetna health insurance, more serious eye diseases like macular degeneration, glaucoma, or cataracts can be treated with this coverage.
Aetna Vision: A Good Option for Many Americans
If your employer offers Aetna Vision, or you want to combine your individual insurance with vision coverage options, Aetna is a good choice.
Since they are a large national insurance provider, they work with most national companies, along with many local providers and retailers, so you can get the best service for your eyes. Few providers will be out of network.
If you need both glasses and contact lenses or a second pair of glasses, the discounts through Aetna Vision can add up.
How to Check if You Have Vision Coverage
Details of your Aetna Medicare plan's benefits are in your Evidence of Coverage (EOC) copy. When you buy you plan, you'll receive this document, detailing every treatment or diagnostic service covered.
If you have vision coverage, there will be a section on the EOC indicating the specific benefits available. These may include glaucoma screening, routine eye checkups, and therapeutic eyewear like contact lenses, frames and anti-UV glasses.
It's best if you compared the plans before purchasing to pick the option with your preferred coverage benefits. In case your existing plan doesn't cover eye care, you may inquire with Aetna about buying supplemental coverage, such as a Vision Preferred plan.
The information provided on this page should not be used in place of information provided by a doctor or specialist. To learn more, read our Privacy Policy and Editorial Policy pages.