Table of Contents
A corneal transplant involves replacing damaged or nonfunctional tissue with a replacement from a donor. In 2018 alone, more than 85,000 corneal transplant surgeries were performed. (Learn more)
Cornea transplants are usually successful, but they come with risks. These are organ transplant surgeries, and about one person in three rejects the transplanted tissue within the first five years. You may also face infections, scarring, and bleeding. (Learn more)
You might need a corneal transplant after an injury, but typically, these surgeries are used to help people living with severe eye disease that limits their ability to see. (Learn more)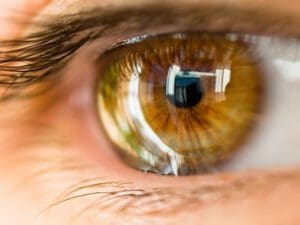 Insurance companies often cover the cost of a cornea transplant. But expect to prove that no other option can restore your vision. (Learn more)
To prepare for your surgery, you'll need to complete a surgical appointment. Your doctor must assess your eye health and measure your cornea. You'll need to stop taking some types of medication and care for your eyes well before your surgery date arrives. (Learn more)
After surgery, avoid rubbing or pressing on your eyes. Use medications as directed by your doctor. And expect many follow-up visits, so your doctor can ensure that everything is healing properly. (Learn more)
How Does Cornea Transplant Surgery Work?
The cornea is the clear, outer layer of your eye. It helps protect the delicate structures inside the eye from infection, debris, and injury. During a cornea transplant surgery, some or all of this tissue is replaced.
Corneal transplant surgery is relatively common. The Eye Bank Association of America says, for example, that 85,441 corneal transplants happened in 2018 alone.
 Your transplant surgery will typically move forward in these phases:
Eye numbing: Your doctor uses a local anesthetic to dull the pain-delivering nerves around and in your eye. Those injections also keep your eye from moving.
Sedation: For some surgeries, you're given medication to help you drift into a sleep-like state while the work takes place.
Recovery: You'll awaken in a recovery room, and you'll stay there until your doctor deems you ready to go home. Typically, you can leave the same day, but someone must drive you.
The Royal National Institute of Blind People says most cornea transplant surgeries take an hour or two to finish. But expect to spend much longer in the clinic as you prepare for and recover from the procedure.
The American Academy of Ophthalmology says there are many different types of corneal transplants, including: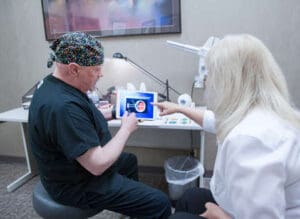 Full thickness. Your doctor removes a circle-shaped piece of your cornea and stitches donor tissue in as a replacement.
Partial thickness. Your doctor removes a layer of corneal cells from the front or back of your cornea.
Almost every corneal transplant surgery involves donor tissue. The University of Iowa says that procedures with artificial corneas are available, but they are rare. An estimated 400 to 500 of these surgeries are done worldwide every year. If you're having a corneal transplant, it's likely the new tissue in your eye will come from a donor.
Corneal Transplant Risks & Success Rates
The goal of a corneal transplant is simple. Your doctor uses this technique to replace damaged or diseased tissue. You should emerge with better visual acuity. The organization Saving Sight says more than 95 percent of corneal transplants are successful.
Cornea transplant surgeries can deliver amazing successes. One such case highlighted by the Health Resources and Services Administration involved a child with 20/100 vision in his left eye. That meant the boy could see things at 20 feet that others can see from 100 feet away. After surgery, his vision in that eye measured 20/60. That's a remarkable transformation.
Corneal transplants do come with risks. There is the potential to experience any of these:
Bleeding
Cataract formation
Glaucoma
Infections
Scarring
Swelling
Vision loss
Your body may also treat the new tissue as an invader, and when that happens, your immune system can begin to attack. This is tissue rejection, and the U.S. National Library of Medicine says it happens to one patient in three within the first five years of surgery.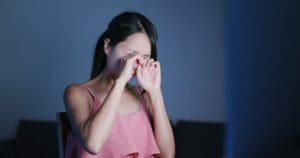 Who Needs a Corneal Transplant?
As we mentioned, corneal transplants are relatively common. Every year, thousands of people have them. But they aren't benign procedures, and they're not right for every condition.
Research from 2017 suggests that most corneal transplants are used to treat two conditions.
Fuchs endothelial corneal dystrophy: People with this condition develop corneal swelling. People get blurred vision, and they may struggle with night vision. Blisters can dot the surface of the cornea and cause even more damage.
Keratoconus: This condition causes the cornea to thin, and in time, it bulges in the center. The cone shape distorts light as it enters the eye, and vision is distorted.
You may also need a corneal transplant if your eye is injured, and typical therapies to boost healing aren't helping.
How Much Does a Corneal Transplant Cost?
Tissue transplant surgeries are complex, and you need an expert's help to complete them. You'll also need the help of donor banks, so you can get the replacement tissue for your eye. Because so many experts are involved, costs can rise quickly. It's not uncommon for these surgeries to come with a price tag in the thousands.
Health insurance plans can offer relief from the high cost of care. It's not unusual for policies to cover this procedure. For example, these insurance providers offer some level of coverage for corneal transplants:
BlueCross BlueShield of North Carolina: This organization considers surgery a covered benefit when it's deemed medically necessary. Most patients need a prior review, in which they outline that they need surgery beforehand.
Aetna: This organization considers the surgery a covered benefit, but patients should expect to prove that the procedure is a medical necessity. They can't use this solution for any condition, and they might need approval of costs before surgery.
Medicare: This organization treats cornea transplants similarly to other organ transplants. If your surgery is deemed medically necessary, your tests, medications, surgery, organ procurement, and follow-up care are covered.
Your surgeon works as an intermediary between you and your insurance company. They will trade paperwork, and together, they will come to an understanding about the plan. In most cases, you won't play an active role in these talks. If you have any questions, talk to your insurance provider as well as your eye surgeon's office.
Prepare for Your Corneal Transplant Surgery
While your doctor works with your insurance company to address payment issues, you'll work together to prepare your eyes for the procedure to come.
You'll begin with a thorough eye exam. Your doctor will:
Assess your eye health. If you discussed transplantation weeks (or months) in the past, your doctor will determine if your condition has grown better or worse.
Take measurements. Your doctor needs accurate data to get properly sized donor tissue.
Treat other issues. If you have an infection or inflammation, your doctor will address those issues. They must be resolved prior to surgery.
You'll also need to discuss medications. My Health Alberta suggests that many common products can put your surgery's success at risk, including:
Aspirin
Clopidogrel (Plavix)
Herbal remedies
Warfarin (Coumadin)
Don't stop taking any prescription medications without your doctor's approval. But be open and honest about what you use, so your doctor can give you the right advice. They will likely advise you to stop using the above medications a week or two before surgery.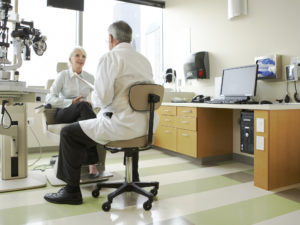 What to Expect After Surgery
A corneal transplant is typically an outpatient surgery, so you head home the same day. You'll need someone to drive you home after the procedure.
Your recovery isn't complete in one day. At-home care can help to ensure that your eye heals properly and your procedure is a success.
After your surgery, you should:
Use medications as directed. Steroid eye drops can keep your immune system from rejecting the new tissue. Antibiotic drugs may keep infections from setting in.
Keep all follow-up appointments. The Cleveland Clinic says people typically visit their surgeons 24 to 48 hours after the procedure for a checkup. This ensures everything looks good and no further intervention is needed.
Protect your eye. Use goggles or glasses to shield your eye from an injury.
Keep your hands away. Pressing or rubbing on your eye can impair healing. If your eye itches, call your doctor.
Stay away from work. NHS says people that work in manual jobs should take up to four months off from this type of work. Others can return within a few weeks. Talk to your employer about modifications as your eye heals.
Be kind to your eyes. If sunlight, dust, or smoke irritate your eyes, steer clear. Think of your eyes as needing some TLC during this vulnerable time.
Follow directions. Don't bathe or exercise until your doctor tells you it's safe to do so.
If you have questions or concerns about your surgery or recovery, call your doctor and ask for help. Don't be afraid to reach out. Your doctor wants you to get well and have a good surgery. You can help the process by asking questions when you're unsure. Get clarity to keep your eyes safe.
References
2018 Eye Banking Statistical Report. Eye Bank Association of America.
Corneal Transplant. Royal National Institute of Blind People.
What to Expect When You Have a Corneal Transplant. (September 2019). American Academy of Ophthalmology.
Eye Donor Awareness: Frequently Asked Questions. (October 2018). University of Iowa Hospitals and Clinics.
Important Information About Cornea Donation. Saving Sight.
Corneal Transplant Lets Boy See the World. Health Resources and Services Administration.
Corneal Transplant. (August 2018). U.S. National Library of Medicine.
The Evolution of Corneal Transplantation. (December 2017). Annals of Transplantation.
Corporate Medical Policy. (June 2019). BlueCross BlueShield of North Carolina.
Corneal Remodeling. (May 2019). Aetna. http://www.aetna.com/cpb/medical/data/1_99/0023.html
Organ Transplants. Medicare.gov.
Cornea Transplant. (May 2018). Mayo Clinic.
Corneal Transplant (Full Thickness): Before Your Surgery. (July 2018). My Health Alberta.
Cornea Transplant: Procedure Details. (February 2018). Cleveland Clinic.
Afterwards: Cornea Transplant. (April 2018). National Health Service.