Table of Contents
Some kids need to wear glasses from a young age. Even infants younger than 1 year old may need to wear glasses. (Learn More)
Kids have different needs than adults when it comes to glasses. They often need frames that are more durable to withstand the daily wear and tear of life as a kid. (Learn More)
In addition to standard eyeglasses, kids may need prescription goggles or sports glasses to wear when they are active. (Learn More)
When Children Can Start Wearing Glasses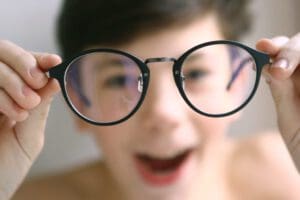 According to the American Academy of Ophthalmology, children can wear glasses at any age. For babies between ages 1 and 2, they may need glasses if:
They experience farsightedness (hyperopia) of +5.00 but do not have strabismus (misalignment of the eyes) or +2.00 with strabismus.
They have nearsightedness (myopia) of -4.00.
They have astigmatism (irregular curvature of the eyes) of +2.50 or more.
These are only general guidelines. Your child's eye doctor can assess whether they apply to your child's vision needs or if they need to start wearing glasses at a younger age.
What to Keep in Mind
Vision problems tend to begin later, but some children have problems with eyesight or alignment at a young age. Toddlers can be tested for problems with eyesight even though they cannot yet read using alternatives such as the Lea test, which uses shapes instead of letters.
When buying glasses for your toddler, look for these features:
Comfortable frames: Many glasses for toddlers are flexible or use a strap to ensure that glasses stay on your child. You can also get comfort cables so your child can feel more comfortable.
Durable lenses: There is no such thing as indestructible when it comes to glasses for toddlers, but many lens manufacturers make polycarbonate or plastic lenses that can withstand a child's activity. It is best to request a scratch-resistant coating, as the downside of plastic lenses is that they scratch easily.
An appealing design: Toddlers and young children can be picky, so it is best to let your child help in choosing the color or style.
 
Regular Eyewear
Older children often need glasses to correct vision issues that could be causing them problems at school.
By the time your child is at least 6 years old, they are generally more responsible about wearing glasses than a toddler is. It's still a good idea to ask about warranties that cover your child's new glasses.
Stores such as Zenni Optical sell kids' glasses that look similar to chic frames sold for adults. A pair of glasses your child likes could potentially boost their confidence.
Eyeglasses for children come in a variety of materials and at different price points.
Frame material: Plastic frames are light and may be available in trendier styles, but most metal frames have nose pads that make them more comfortable for children to wear.
Cost: Frames can start as cheap as $6.95 on sites such as Zenni Optical, but you will have to pay for lenses and any extra features your child may need. Prices will range depending on where you buy your child's glasses. Member clubs such as Costco sell kids' glasses, and independent retailers and larger stores like Walmart also sell glasses at various prices.
Vision Changes With Age 
Keep in mind that children grow at different rates, and this can affect the status of their vision.
It is possible for a child to see well with a current prescription, but not to see well once puberty hits. In addition to hormonal changes, puberty can bring on increased nearsightedness that needs to be corrected quickly. Take your child to an eye doctor if they are not able to see as well.
Prescription Sunglasses and Sports Glasses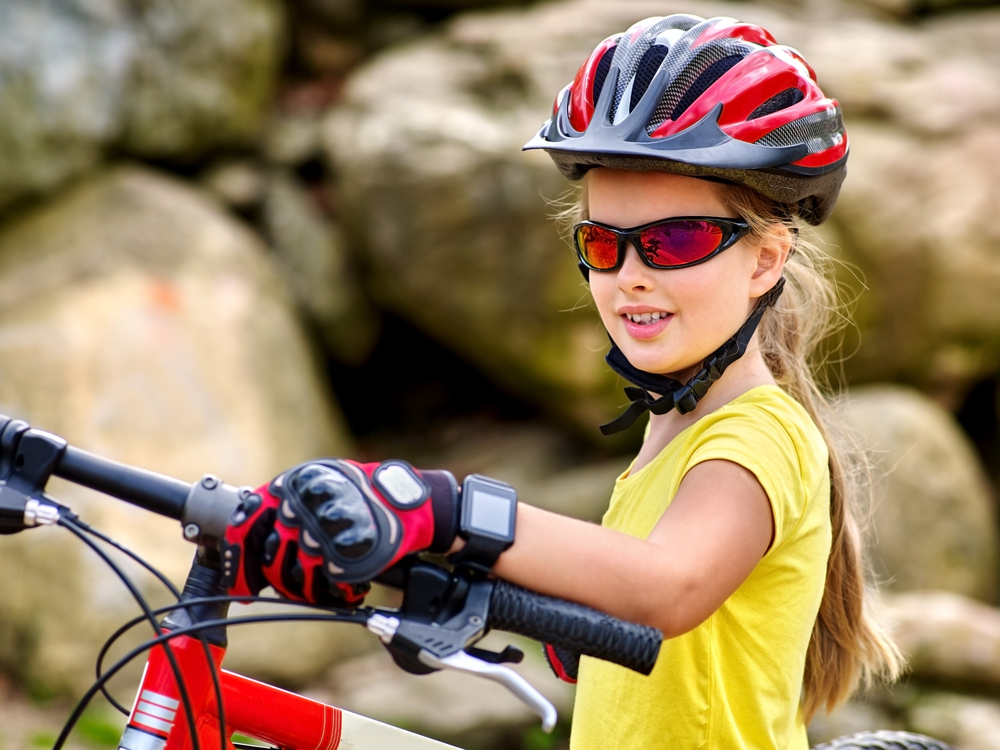 Sports glasses can be customized according to your child's needs. Sports glasses or goggles can be prescription. This not only protects your child's eyes from injury, but also allows them to see clearly.
Once considered a luxury or accessory for athletes of all ages, prescription sunglasses and sports glasses are now required in some sports or activities.
Features of sports glasses for children are:
Photochromic lenses. These lenses are clear, but they become dark once your child is in a sunny or brightly lit area. They are better known as transition lenses.
Polarized glasses. These protect your child's eyes from glare, which is important if you live in an area where it snows or if your child skis, snowboards, or participates in water sports.
Anti-reflective coating. This can also diminish glare in areas with a lot of water, on pavement, and other surfaces that increase glare caused by sunlight.
Prescription sunglasses and sports glasses can retail for anywhere from $26 to $205 on sites such as Safety Gear Pro. The following brands offer prescription sunglasses and sports glasses/goggles for children:
Oakley
Nike
Wiley
Ray Ban
Progear
These brands also offer conventional glasses options for kids.
Frequently Asked Questions
At what age can children start wearing glasses?
Children can start wearing glasses at any age, depending on their eye issues. 
Which brands have the most options for children's glasses?
Well-known brands such as Oakley, Ray Ban, Wiley, and Nike sell children's glasses. Lesser-known brands may be cheaper, and they can still protect your child's vision without compromising safety or quality.
Should children use sports glasses or prescription sunglasses?
Your child may be required to wear sports glasses or goggles for certain activities or sports. If your child must use glasses at all times, sports goggles/glasses and prescription sunglasses may help them succeed and see properly.
You can use your child's current prescription to obtain sports glasses/goggles or prescription sunglasses and add features that will help them see better, such as anti-reflective coating, polarization, or photochromic (transitions) lenses.
References
10 Tips for Buying Kids' Eyewear. (June 2019). All About Vision.
Is There a Minimum Recommended Age to Let Children Start Wearing Glasses? (April 2013). American Academy of Ophthalmology.
Children's Vision Problems Q & A. (April 2017). All About Vision.
How to Know if Your Child Needs Glasses. (2019). Johns Hopkins Medicine.
Eye Protection for Sports: How to Choose Sports Goggles. (January 2017). All About Vision.
Eyeglasses That Enhance Sports Performance. (June 2019). All About Vision.
All Kids' Glasses. (2019). Zenni Optical.
Best Kids Sunglasses & Prescription Kids Sunglasses. (2019). Safety Gear Pro.
Best Kids Glasses & Sunglasses Designed for Sport & Lifestyle. (2019). SportsRx.
All About Toddler Glasses. (March 2019). What to Expect.