Before you pick out your next set of eyeglasses, read this.
As we emerge from mask-wearing and pandemic lockdowns in 2022, fashion is changing rapidly. If you don't keep up, the glasses you get now could seem dated and old just a few weeks later.
We've spelled out the eight top trends in eyeglasses, and we've included a few links in case you're ready to buy now.
Remember that you're not required by law to buy your glasses from your ophthalmologist, so you could buy frames from any vendor you like. But your eye doctor can help ensure that you get the best frames for your prescription, and your doctor can cut the right lenses too.
Let's jump right in.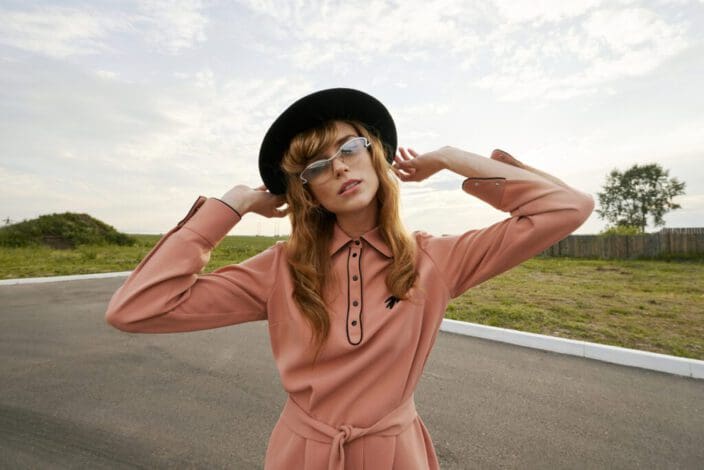 Trend 1: Cat Eye
Cat-eye frames can hold rounded or oblong lenses. All should have an uptick of material near the edge of your eyes. Some accomplish this with the frame only, and others incorporate the lens.
In years past, cat-eye glasses were associated with grannies, but modern styles are fun, flirty, and far from old. These frames are very trendy in 2022.
Is a Cat Eye Right for You?
Cat-eye frames tend to look best on people with balanced facial proportions. You'll need a well-defined forehead and chin to counteract these pointed frames.
Styling Tips for Cat-Eye Frames
Pair your new frames with retro looks, like an upswept hairdo and big skirts. Mirror your frames with cat-eye eyeliner to complete the effect.
Cat-Eyes to Try
We like these pink, retro cat-eye frames from Prada.
Trend 2: Thin, Metal Frames
In 2008, women all over the United States sported wire frames inspired by Sarah Palin. The former Alaska governor caused quite a fashion stir with her eyeglasses, and the trend is sticky. Even decades later, people love the look of a thin frame.
Thin frames like this don't clutter your peripheral vision, and they could be good options for people who have never worn glasses before. They're also incredibly lightweight, so they could be helpful for active people worried about bouncing lenses.
Is a Thin Frame Right for You?
Thin frames can't hold larger lenses. If your prescription is too strong, the lenses will pop right out of your frames. Check with your doctor first if you're considering this type of eyeglass to ensure your lenses aren't too thick to work well with them.
Styling Tips for Thin Frames
Your frames will be difficult to spot, but they're not invisible. Remember to match your metals.
If your frames are gold, wear gold jewelry too. The more accessories you wear, the more your frames will stand out.
Wire Frames to Try
We like these round, oversized metal glasses in white gold.
Trend 3: Clear Frames
Imagine surrounding your lenses with air quotes. Large, chunky, clear frames do just that. People will see the plastic around your lenses, but the colors will be muted and subtle.
This is one of the most exciting eyeglass trends of 2022, and we are especially fond of oversized, clear versions. People with thick prescriptions once struggled to stay on trend, as their lenses just wouldn't work with popular thin frames. This eyeglass option works perfectly for even very strong prescriptions.
Is a Clear Frame Right for You?
Clear frames tend to work for any complexion. Your own skin color will shine right through.
But slightly tinted colors like pink can pull out acne-related blemishes and scars. Choose your color with care.
Styling Tips for Clear Frames
If your frames are truly colorless, play with hues in the rest of your outfit. Get as wild as you want, knowing that your glasses won't compete for visual space.
Clear Frames to Try
We like these square, lavender clear glasses.
Trend 4: Thick, Oversized Rims
When coronavirus raged across the world, researchers discovered the protective power of glasses. People with lenses seemed protected from infection. Some people remember these studies, and they're responding by wearing very large lenses with thick, oversized rims.
These glasses make a statement. They are oversized, so they cover a great deal of your face. And the thick rims stand out and are impossible to ignore.
If you want people to notice your glasses before seeing anything else about you, this is a good choice.
While these glasses are made to be big, they should fit you well. Your pupil should be in the center of the lens, and the bridge should be snug on the bridge of your nose.
Are Thick Rims Right for You?
In general, people with large features can wear glasses like this successfully. If you're slight with a light complexion, you could be overwhelmed by these fashion frames.
Styling Tips for Thick Rims
Play up the color of your rims in the rest of your outfit. If the frames are black, make sure you've got some ebony in your clothing too.
Steer clear of chunky jewelry so your glasses can do the talking.
Thick Rims to Try
We like these super-thick, black frames.
Trend 5: Round Lenses
Shouldn't your lenses be the same shape as your eyeball? If you agree, round eyeglass frames are right for you.
Modern round glasses tend to be chunky and extremely geometric. Some versions combine round and square shapes by connecting your lenses with a straight, horizontal bar. If you're a fan of geometry, you might love these glasses.
Are Round Lenses Right for You?
People with oval-shaped or square faces look fantastic in round lenses. Your glasses counteract the natural shape of your face and give you a lot of balance.
Styling Tips for Round Lenses
It's tempting to echo your circles in your clothing and jewelry. Don't get too playful. Keep the roundness confined to your face for the best results.
Round Lenses to Try
We like these perfectly round Italian eyeglass frames.
Trend 6: Tortoiseshell
Years ago, artisans made tortoiseshell out of real shells from tortoises. Now, most eyeglasses are made of polymers, so you don't have to worry about animal rights concerns.
Modern tortoiseshell glasses come in plenty of fun colors and patterns. Keep the speckles small for a subtle look, or go for an oversized design that almost looks like polka dots. Stick with traditional orange and brown, or mix it up with blue and pink.
Are Tortoiseshell Glasses Right for You?
You have plenty of tortoiseshell options available, so you can play around with color and pattern until you find something perfect.
Styling Tips for Tortoiseshell
Pair your brown-and-orange glasses with leopard or other animal prints to keep the theme moving across your whole body. Or stick with solid colors and let the pattern in your glasses really shine.
Tortoiseshell Lenses to Try
We like these plastic, tortoiseshell-looking frames.
Trend 7: Retro, Square Lenses
Most people associate classic glasses with higher levels of intelligence. As we return to the office and start working closely with our colleagues, we all want to look smart. Square lenses can help.
Modern square glasses come in various colors and sizes, so you aren't stuck with glasses that look just like your neighbor's. You can vary the width of the frames too to suit your facial features.
Are Square Lenses Right for You?
Square frames can help to soften a very round face. Glasses like this can also help you seem older and more mature.
Styling Tips for Square Lenses
If you've chosen very thick, dark frames, keep the rest of your jewelry light and airy. Soften the look with a scarf to pull attention down from your face.
Square Lenses to Try
We like these bright blue square eyeglass frames.
Trend 8: Eco-Friendly Materials
A good number of people all around the world want to ban single-use plastics. Some want to go further and eliminate plastic from their everyday lives. You can start with your glasses.
Wood, recycled plastic, and other eco-friendly materials appear in plenty of eyeglass frames. You'll show your support for a healing planet every time someone looks in your eyes.
Are Eco-Friendly Materials Right for You?
Some Earth-friendly frames require special care. Wood frames can't go underwater, for example, and some eco forms can bend in the heat. If you're hard on your glasses, this might not be the right choice for you.
Styling Tips for Eco-Friendly Materials
Earth-friendly glasses come in almost all shapes and sizes. Keep looking until you find a pair you like.
Eco-Friendly Lenses to Try
We like these wood glasses frames with an oval lens design.
The information provided on this page should not be used in place of information provided by a doctor or specialist. To learn more, read our Privacy Policy and Editorial Policy pages.