For many, sunglasses are a simple way to look more chic and celebrate summer. But sunglasses protect your eyes from harmful UV rays and help you feel comfortable when it is too bright outside.
Table of Contents
Wearing sunglasses can be tricky for people who have a pair of prescription glasses. If they sport regular sunglasses, they won't be able to see well, so prescription sunglasses are the best bet.
There are alternatives to prescription sunglasses, such as photochromic lenses or clip-on sunglasses. These can save you some money since you don't have to purchase a separate pair of prescription glasses.
Prescription sunglasses offer a more complete solution, however. Learn what to look for in a good pair.
Why Buy Prescription Sunglasses?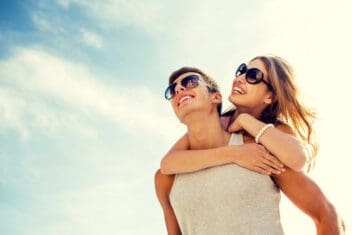 If you already use prescription glasses and cannot wear contacts, a pair of prescription glasses may be a sound investment if you spend a lot of time outside or in sunlight.
They can protect your eyes while letting you see well.
They may be useful for people who are losing sight because of diabetes complications.
Many brands allow you to add custom features if you need them for sports or cold weather.
What to Look for in Prescription Sunglasses
Like regular glasses, prescription sunglasses are available in different types. You need to take each feature into account because each can add to the cost of your sunglasses.
Frames: As with everyday glasses, manufacturers make sunglass frames of metal or plastic. Constructed of nickel, stainless steel or titanium, metal frames tend to be stronger than plastic frames, but they can be difficult to wear if you have left the in the car on a hot day and you need to put them on to drive. They also tend to be more expensive than plastic frames. Although usually less expensive than metal frames, plastic frames can bend and break easier. They're constructed from zylonite or polycarbonate.
Styles: Full-frame glasses offer the most protection. Half-frame glasses usually only have a frame at the top part of the lenses. Frameless glasses tend to be lighter.
Hinges: Some types of hinges are more common to metal sunglasses, while others are more common with plastic glasses.

Barrel hinges are the most prevalent. They consist of parts that are held in place with a screw.
Interlocking hinges are similar to barrel hinges. They are part of the frame already.
Spring hinges are sometimes used instead of a screw. The spring permits a better fit. 
Average Cost of Prescription Sunglasses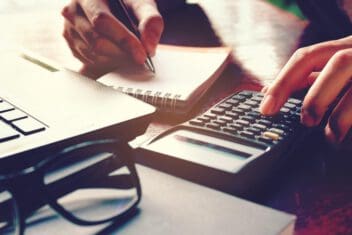 The cost of prescription sunglasses depends on the type of frame, style, brand and hinges you choose in combination with your prescription. A search on GlassesUSA shows that some glasses can cost as little as $25, while others retail for $648.
High-end designer brands are usually more expensive, and lesser-known brands cost less. Most retailers offer promotions and discounts to save you money.
Brands such as Ray-Ban have options that start at $112 and can go up to $390, although you can buy most prescription pairs for between $150 and $190. Ray-Ban offers different kinds of lenses for their prescription sunglasses, such as polarized, non-polar and gradient lenses.
Oakley has some prescription sunglasses options for everyday use, but they also sell sunglasses meant for outdoor activities. Prices start at $133 and can go up to $426 before discounts, according to its website.
Brands such as Amelia A. Jocasta, Cat-CSA and Lenny sell prescription sunglasses that cost less than $100, although add-on features, taxes, shipping and handling will raise the final price.
On the other end of the spectrum, Haute couture designers, such as Stella McCartney, Prada, Versace, Gucci and other brands also sell prescription sunglasses. These can cost hundreds of dollars and are usually more well-suited for everyday walking-around wear.
To choose the best lens for you, it is best to talk to your optician about your hobbies, the kind of light and weather you are exposed to, and how long you spend in these conditions. Ray-Ban sunglasses are known to be for more conventional activities, while Oakley's brand themselves as the sunglass of choice for those who are active, especially when it comes to playing sports.
Your prescription type could influence the cost of your sunglasses.
Single vision: These are the most prescribed lenses. They can help with astigmatism (problems with the curvature in your eyes), farsightedness, and nearsightedness. These lenses have one power grade only.
Progressive: Also known as multifocals, these glasses help you see at various perspectives without the need to use more than one pair. These take some practice to use properly, but modern techniques have made them easier to use than their predecessors.
Bifocals: These sometimes have a line to denote different prescriptions on one lens, but some models today do not have this line. These allow you to see nearby, so you can concentrate on things that are closer and more detailed, and far away, which is helpful for driving.

Trifocals: These allow you to see from three different perspectives: near, middle, and farther away. Usually, the closest prescription is at the bottom, the middle part is located mid lens, and distance is at the top.
Alternatives to Prescription Sunglasses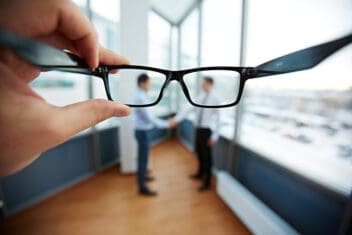 If you decide against conventional prescription sunglasses, there are some alternatives that might work better for you.
Photochromic lenses: The most popular photochromic lens brand is Transitions Lenses. These are glasses that automatically become darker when they detect ultraviolet (UV) light. Most lenses will not become darker when driving because car windshields block out UV rays, and they will become darker on cloudy days because UV light is still present.
You can get photochromic bifocal, trifocal, and single vision lenses. You can also add anti-reflective coating on them as well.
Fit-over sunglasses. These are regular sunglasses that fit over your prescription glasses. You can simply go to any store and try on several pairs until you find some that comfortably fit on top your regular glasses.
A large pair of sunglasses has the added advantage of blocking UV rays from more angles than smaller glasses. The best options say they block 100 percent of UV light. Best of all, you can save time and money because you will be able to walk out with the glasses you choose. Green, gray, and blue lenses can block UV rays as much as any darker colors.
Clip-on sunglasses. You may be able to buy clip-on sunglasses for your current pair of glasses. Magnetic lenses are also another option that is cost-effective.
Additional Features to Consider
You do not need every add-on feature for prescription sunglasses, but some people may benefit from some additional options.
Polarized lenses: These diminish glare on pavement, water, windows, and other shiny surfaces. Not all polarized lenses block UV lights, but you may be able to get lenses that do both.
Blue-blocking. More data is necessary on the harms of blue light, but many blue-blocking glasses are amber or brown. They can be helpful to people who ski or spend a lot of time in snow.
Frequently Asked Questions
When are prescription sunglasses a good idea?

Prescription sunglasses are great for people who spend a lot of time outside. People who ski, snowboard, or spend a lot of time in snow benefit from prescription sunglasses the most.
What is the average cost of prescription sunglasses?

Prescription sunglasses can cost as little as $25 and as much as $6,400 or more if you buy a designer brand. (Believe it or not, the most expensive prescription sunglasses in the world sell for more than $400,000). Factors like the brand you choose, material, prescription grade and adding additional features, such as polarized lenses, anti-scratch lenses or anti-reflective (blue-light blocking) coating, can run up the cost of your prescription sunglasses.
Are there any alternatives to prescription sunglasses?

Photochromic lenses, better known as transition lenses, become darker as soon as they come into contact with UV rays. They also adjust as soon as you are somewhere dark.

Clip-on or magnetic lenses you can attach over your regular prescription glasses are great options for people who do not want a second pair of prescription sunglasses.

Fit-over sunglasses are also cost-effective and prevent you from having to buy another pair of prescription glasses. You can use a large, regular pair of sunglasses that fits over your regular glasses. As long as they provide 100 percent protection against UV rays, they are a viable option for people who want to see well and protect their vision.
The information provided on this page should not be used in place of information provided by a doctor or specialist. To learn more, read our Privacy Policy and Editorial Policy pages.