The U.S. Food and Drug Administration (FDA) approved the first prescription eyedrops to treat presbyopia, an age-related vision disorder characterized by blurred close-range vision. VUITY eyedrops gained FDA approval in October 2021 after showing in clinical trials that they could provide clear, up-close vision support for several hours with minimal significant side effects.
Presbyopia mostly affects people older than 40, and it usually requires them to wear reading glasses or contact lenses when looking at small text or working on a computer.
VUITY Eye Drops
VUITY is the first approved medication of its kind to offer a once-a-day treatment of presbyopia. The prescription eyedrops let adults see up-close without the use of glasses and without losing their long-range vision.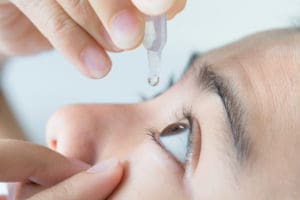 The U.S. Food and Drug Administration (FDA) approved the medicated drops specifically for presbyopia. The drops are manufactured by Allergan, an AbbVie Company.
Directions call for one drop in each eye, allowing about 15 minutes for them to take effect. After the drops kick in, the presbyopia medication can provide sharper vision for up to six per dose, although some users have reported that one dose can last up to 10 hours.
VUITY is available to the public by prescription. It is the only presbyopia drug of its kind, but nine similar eye drop products are in clinical development.
So far, a prescription for VUITY is not covered by any major health insurer, by Medicare of by any vision insurance plan, because the drops are not considered "medically necessary."
How Do VUITY Eye Drops Work?
VUITY takes advantage of the pupil's natural ability to resize by using a pilocarpine formulation as its active ingredient. Pilocarpine is one of the oldest drugs used in ophthalmology.
"It's been in use for decades (for vision issues), mostly to treat glaucoma induced by damage to the optic nerve," said Dr. Stephen Orlin, an ophthalmologist at the University of Pennsylvania's Perelman School of Medicine.
Allergan has a formula that mixes pilocarpine with the company's proprietary pHast technology to deliver clearer up-close vision. VUITY creates a pinhole effect on the eyes by constricting the size of the pupils. The smaller pupil creates a reduction of the peripheral light allowed to pass through them, making objects appear sharper.
The drops treat mild to intermediate presbyopia, but because they work for less than half a day, they can't serve as a permanent replacement for reading glasses. They will reduce the amount of time you need to wear the glasses you use for reading.
VUITY does not treat other eye conditions such as astigmatism, nearsightedness and farsightedness. People with existing eye defects will need to hang onto their prescribed eyewear for corrections – and may not benefit much from VUITY.
"The drops are meant for mild to intermediate cases and won't be as effective for people aged 65 and older," said George Waring, the principal investigator of a VUITY clinical trial.
Who Can Use VUITY?
VUITY helps the considerable portion of the global adult population that suffers from age-related presbyopia. In the United States alone, 90 percent of the middle-aged population (roughly 128 million people aged 45 and older) develop presbyopia.
Dr. Scott M. McRae of the University of Rochester's Center for Visual Science said that people ages 45 to 55 are the demographic that gains the best results from VUITY. That in part is because people in that age range who experience issues with presbyopia have mild cases of the condition. The drops so far have not proven as effective for people with advanced presbyopia.
VUITY is not yet approved for anyone under 18 years old.
Is VUITY Safe?
The third-phase clinical trials, comprised of two studies (GEMINI 1 & GEMINI 2), assessed the medication's efficacy, tolerability, and safety. Researchers deemed both studies successful.
At the end of the trial, most test subjects reported improved near visual acuity with a negligible loss in distance vision acuity after 30 days. The placebo group showed no notable improvement in close-range vision.
During the clinical trials, a portion of test subjects reported some mild side effects: 14.9 percent experienced mild headaches and up to 5 percent reported eye redness, pain, irritation, blurred vision, increased tear production and visual impairment.
Using VUITY may also temporarily affect your ability to adjust your focus on objects that are near and far.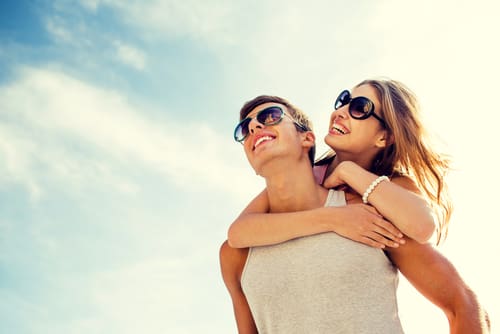 VUITY is not recommended for use at night or in low-light environments. The reason is that the drops reduce the pupil size, which impedes the ability to see in low light. According to the manufacturer, it's dangerous to drive or operate heavy machinery at night while using VUITY.
Among the manufacturer's suggestions related to using VUITY:
Allow yourself days or weeks to become acclimated to the drops. Users can experience difficulties in focusing quickly between near objects and faraway objects.
If you wear contact lenses, you should remove them before inserting the drops and then waiting at least 10 minutes after application before re-inserting them.
If you are already using another eye drop (such as for dry eyes or itchy eyes), wait at least five minutes between using VUITY and the other product. (Allergen does not say which drop to apply first.)
Do not use the drops if you have Iritis.
Clinical trials show the most common side effects are eye redness and headache. So far, the drops are only approved for adults.
Where Can I Find VUITY Eye Drops?
VUITY is available only by prescription. Since the drug's approval in October, its parent company Allergan has made it available in pharmacies countrywide.
To get a prescription, you must first consult your ophthalmologist to know whether you qualify for the presbyopia medication.
Although fraudulent online pharmacies are already pushing illegal generic iterations of the medicine, no generic version of the drug is available yet in the U.S.
How Much Does VUITY Cost?
A 30-day supply of VUITY goes for about $80, barring any store discounts. As with many new prescription medications, VUITY's cost should decline over time but not in the immediate future.
The information provided on this page should not be used in place of information provided by a doctor or specialist. To learn more, read our Privacy Policy and Editorial Policy pages.