Table of Contents
Rheumatoid arthritis is an inflammatory condition that can hurt your joints. The disease can also cause problems with a range of other organ systems, including your vision. (Learn More)
There are several common vision complications associated with rheumatoid arthritis, including dry eye, infections like conjunctivitis, damage to the corneas, and inflammation of the sclera, iris, or conjunctiva. (Learn More) People who have rheumatoid arthritis are also at higher risk for developing cataracts or glaucoma, two serious chronic conditions that can lead to vision loss if untreated. (Learn More)
Eye drops and your rheumatoid arthritis medications will help you manage most eye problems. Seeing an ophthalmologist regularly means you will receive diagnoses for vision problems early, so you can best manage them. (Learn More)
Rheumatoid Arthritis: Inflammation Affects Your Vision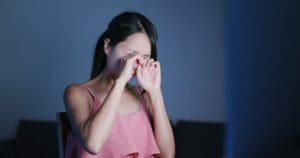 Rheumatoid arthritis is the most common form of this inflammatory disease. It is a type of autoimmune condition, meaning that the body's immune system attacks various tissues, leading to inflammation, pain, fatigue, and other symptoms. Rheumatoid arthritis's main symptom is pain and swelling in the small joints of the hands and feet, especially the wrists.
Diagnosis of rheumatoid arthritis requires a visit to a rheumatologist. However, this is not the only doctor you will need to work with if you have this autoimmune disease. This condition can cause vision complications, so you may also need to work with an optometrist or ophthalmologist to manage problems with your eyes.
Inflammation from rheumatoid arthritis can damage a variety of body systems, including your eyes. While the main signs you may have this type of arthritis include tender, stiff, warm, and swollen joints, you may also experience dry, itchy, red, and painful eyes as well as blurry vision and other visual disturbances.
Common Vision Complications Associated With Rheumatoid Arthritis 
The underlying cause of rheumatoid arthritis is a problem with the immune system. Rather than just attacking bacteria or viruses, this body system may begin to attack the synovium, which is the membrane lining your joints. This leads to chronic inflammation, which can damage the cartilage and bone underneath, eventually destroying these tissues. Joints will lose their shape and alignment, which can cause your fingers to become crooked, stiff, and painful.
Your immune system may attack tissues associated with your eyes too, leading to vision problems. About 25 percent of people who have rheumatoid arthritis will develop an eye problem.
Chronic dry eye, or conjunctivitis sicca, occurs in 15 to 25 percent of people with RA.
Sjogren's syndrome can occur as a secondary autoimmune disease if your body attacks glands that produce tears or saliva.
Episcleritis, or redness in your eyes from inflammation that produces discomfort but not pain, occurs in about 5.6 percent of people with RA.
Scleritis is a more severe form of redness due to eye inflammation that particularly affects people between 40 and 70 years old with RA. Around 6.7 percent of people with RA develop this painful condition.
Uveitis can occur, which is when the pigmented part of your eye becomes inflamed.
Conjunctivitis, or inflammation of the white part of the eye due to an infection, is common in those with RA.
Keratitis, when the cornea becomes inflamed and damaged, can occur.
If you develop eye problems from rheumatoid arthritis and you do not get medical help from an eye doctor, you can develop corneal damage. If your dry eyes and inflammation are not managed, your cornea can become scratched, scarred, or even develop ulcers. This can ultimately lead to vision loss.
These symptoms may indicate rheumatoid arthritis-related eye problems:
Red eyes
Itching
Pain
Dryness
Feeling like grit or sand is in your eye
Sensitivity to light
While you may need help to reduce inflammation and eye irritation, you should also continue getting regular eye exams. Both cataracts and glaucoma become more likely in people who have rheumatoid arthritis compared to the general population. Regular exams can help your eye doctor to catch these issues early, resulting in better treatment outcomes.
Cataracts & Glaucoma: Vision Problems Linked With Rheumatoid Arthritis
Everyone should go to regular appointments with their optometrist, but if you are diagnosed with rheumatoid arthritis, you may need to go more often. Two chronic eye diseases, cataracts, and glaucoma are more likely to develop if you have rheumatoid arthritis. If your optometrist or ophthalmologist can diagnose these diseases early, they can help you maintain your sight with treatment.
Cataracts: This is a condition in which damaged proteins in the lens of your eye bunch together, creating darker spots, cloudy film, or white clumps of material. As they grow larger, these obstruct your vision. Eventually, your lens must be removed and replaced with an artificial lens.
Glaucoma: This eye disease is caused by damage to the retina from high fluid pressure in your eye. You will develop spots of lost vision or poor peripheral vision. Over time, these become tunnel vision as your retina degenerates. Glaucoma is treatable with special eye drops that lower your fluid pressure, laser surgeries to relieve fluid pressure, or more permanent shunts that allow for ongoing drainage in your eye.
RA may damage the tissues of your eyes because your cornea and sclera are made from collagen, just like your connective tissues. This is what the autoimmune disease attacks.
While rheumatoid arthritis itself can increase your risk for developing both cataracts and glaucoma, one of the medical treatments for RA also increases the risk of these diseases. Glucocorticoids are described as a "bridge therapy" for inflammatory diseases like RA, so they may be an important part of your overall treatment. However, if you are concerned about developing either cataracts or glaucoma, ask your doctor about side effects and how these impact your long-term health.
Treating Rheumatoid Arthritis & Getting Regular Eye Exams Will Keep Your Eyes Healthy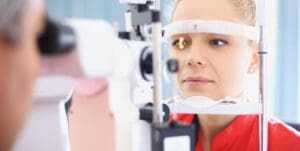 A rheumatologist will diagnose rheumatoid arthritis, but if you think you have this condition and your symptoms include itching or dry eyes, pain, or vision problems, you need to also work with an ophthalmologist. They can prescribe eye drops or other treatments to help you manage eye issues associated with this condition. They can also inform you of potential vision-related side effects from certain rheumatoid arthritis medications.
Treatments include a combination of eye drops, medications, and lifestyle changes.
Use a humidifier to keep the air in your home from becoming too dry and irritating your eyes.
Use artificial tears or eye drops to keep your eyes moist.
Take prescription corticosteroid eye drops if necessary.
Take your rheumatoid arthritis medication as prescribed to reduce overall inflammation.
You cannot prevent conditions like cataracts or glaucoma from developing, but you can manage these chronic eye diseases with regular checkups and guidance from your ophthalmologist. Eye surgery for these serious conditions may become necessary. Work with your eye doctor and rheumatologist to understand how chronic inflammation and medications to manage this autoimmune disorder may impact your body's ability to heal.
References
Rheumatoid Arthritis. (March 2019). American College of Rheumatology.
Rheumatoid Arthritis: Overview. (August 2016). Informed Health.
Six Ways Arthritis Can Affect Your Eyes. Arthritis Foundation.
RA and Your Eyes: What You Need to Know. (September 2016). Everyday Health.
Diagnosing, Treating Ocular Manifestations of Rheumatoid Arthritis. (August 2013). Optometry Times.
Sjorgen's Syndrome. (December 2019). MedlinePlus.
Rheumatoid Arthritis-Related Eye Concerns. Bausch + Lomb.
Arthritis and Your Eyes. (November 2019). American Academy of Ophthalmology (AAO).
Association Between Glucocorticoid Use and Cataracts in RA. (November 2016). Rheumatology Advisor.
How Does Arthritis Affect the Eyes? (October 2017). Medical News Today.