Table of Contents
If you have a refractive error, you may find your vision insurance plan only covers one pair of glasses per year. With inexpensive, quality frames available online, you can consider getting a second pair of glasses. (Learn More)
Before you purchase glasses online, consider the retailer's return policies and what you will do if you need your glasses adjusted. (Learn More)
There are some great online glasses retailers, with three consistently leading in reviews and prices. (Learn More) Some brick-and-mortar stores are offering online options too, so you can get the best of both worlds from these providers. (Learn More)
Online Glasses: Inexpensive, High-Quality Frames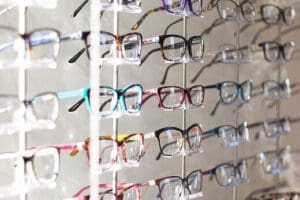 Online shopping is becoming more popular all the time, with retailers offering a wide range of services and items that previously could only be found in stores. Now, you can find glasses with prescription lenses online, often for less than options that are available in traditional stores. Some of these online retailers have become so successful that they have expanded into the brick-and-mortar space, so they can provide glasses fittings and adjustments in person.
Eye care professionals are often skeptical of online glasses shopping options. You have less opportunity to adjust the frames to fit on your nose or ears. There is less attention to specialty lenses like multifocal or progressive lenses. And when you get your new prescription lenses, there is no one to check if the prescription power is correct.
However, buying glasses from a store is often expensive. Because vision insurance covers either a pair of glasses or new contacts, many people with refractive errors are forced to choose between the two every year. If you want more than one pair of glasses, you will likely pay out of pocket, with just a bit of a discount through your vision insurance.
In contrast, online eyeglass retailers steeply discount the cost of frames and have inexpensive shipping charges. While the prescription lenses may add to the cost — and specialty lenses like blue light glasses, transition lenses, or progressive lenses will certainly cost more — just discounting the cost of the frames can make glasses affordable for more people. In addition, you are likely to find more options for colors or styles that you could never find in person.
What to Watch Out for With Online Glasses Retailers
Although online glasses shopping has made great frames more accessible to more people, it is important to keep some points about various websites in mind. When you shop for glasses online, consider these points:
Look for reports about the company with the Better Business Bureau, which will show whether they are top-ranked businesses or have consumer complaints filed against them.
Search review sites for information about which companies are the most reputable.
If frames have needed a lot of adjustment on your face in the past, consider purchasing from a company with a brick-and-mortar store so you can get them adjusted for free in person.
Get frames with a good return policy or a free trial period, so you can return glasses that do not work for you.
Make sure the company offers a warranty on glasses, so you can get a replacement if your frames or lenses arrive broken or warped, or you accidentally damage them soon after you receive them.
Enter your prescription information carefully, especially pupillary distance (PD).
You can have your doctor check the prescription on the lenses if they do not seem to fit, or you develop eye strain. You may also consider having your optometrist adjust them for a small fee.
The Top 3 Online Glasses Retailers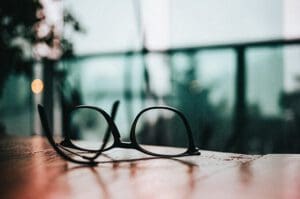 While there are new glasses retailers popping up online all the time, these three offer low prices, good quality, various options, and solid customer policies:
Warby Parker: One of the first blockbusters in the online glasses retail world, Warby Parker now offers in-person help at several brick-and-mortar stores in major cities across the United States. While ordering online is still the best way to get the biggest range of styles and low prices, you can take your glasses into their stores for adjustment to better fit your face. They offer this service for free at any time.

An online app allows you to upload a picture of yourself to virtually try on different frames. You can also get up to five pairs of frames to try on in person, at home, for free (you pay shipping). If you decide to purchase glasses with them, send back the trial frames and then get free shipping on your actual prescription pair.

Warby Parker also has a buy-one-donate-one program to distribute glasses for people in need all over the world.

Your glasses ship in one to two weeks, depending on how complex your prescription needs are.

Although Warby Parker is one of the more recognized names in online glasses sales, they are also among the more expensive. Many of their frames are designer, meaning they cost a few hundred dollars. Once you add prescription lenses and lens coatings, you end up not saving as much as you could with some other online retailers.

Zenni Optical: You can try new glasses and send them back in a certain time period. If you want a refund due to manufacturing error, you only get 50 percent of your money back. Instead, their return policy encourages you to exchange your incorrect glasses for a new pair of correct glasses.

They offer some of the best prices on their wide range of frame offerings, with consistent sales and discounts like a three-for-the-price-of-two deal.

Like other online glasses retailers, Zenni offers an online "mirror" so you can try frames on in a virtual environment. Once you place an order, glasses ship in about two weeks.

If you like the glasses, you can reorder the same pair. You can also order glasses with different prescriptions in the same order. They have a 30-day warranty period, during which you can return glasses.

GlassesUSA: With a no-questions-asked return policy offering a full refund, this is one of the better deals for online glasses shopping. The company offers plenty of discounts on frames on a regular basis, along with the most up-to-date seasonal options. Most customers report that they have one of the best, biggest selections of glasses possible online.

They are very affordable too, with prescription lenses in an inexpensive, well-made frame starting at $38 total. When you buy frames with them the first time, you get another 65 percent discount.

You can use their "online mirror" feature to virtually try on frames. If you are still unsure about which frames you want, you can request tester frames. You can also get your full prescription lenses in the frames and try them for 14 days. Your order ships in about 7 to 10 days.
If you just like the stylish look of a pair of glasses, you could consider purchasing just the frames online with lenses that have no prescription. But most people who wear glasses need to get a prescription, which means a trip to your optometrist or ophthalmologist. This should be covered by your vision insurance, although there are inexpensive options if you do not have good vision coverage.
Once you have a prescription in hand, you will also have an optometrist or ophthalmologist that you know you can consult with if you purchase glasses online and the prescription is incorrect or feels wrong. It's a good idea to have someone you can visit in person with any concerns.
How to Know if Online Shopping for Glasses Is for You
Online retailers give people access to quality items that were once out of their price range or hard to find. Before you purchase online, consider how much adjustment you will need for your glasses and what specialty options you require.
If you have a simple refractive error like myopia, for example, you are likely to have a good experience. You can even get multiple pairs of glasses for different occasions, like one for spending time outside and another for working on your computer. If you have a more complex issue, like presbyopia requiring bifocals or multifocal lenses, you may want in-person help.
Even brick-and-mortar glasses stores now offer online options. If you buy from one of these vendors, you could get the convenience of online ordering with in-person help when you need it.
References
Your Guide to Buying Glasses Online. (December 2016). Consumer Reports.
How to Buy Glasses Online and Save Hundreds of Dollars. (July 2019). CNET.
Homepage. Warby Parker.
Homepage. Zenni Optical.
Homepage. GlassesUSA.