Table of Contents
While basic eye health may be assessed during your child's wellness visits, a pediatric optometrist specializes in eye health and knows more about what to look for. Because of this, it is imperative that you choose a pediatric optometrist that is suited to your child's needs.
The first step is determining exactly what an optometrist does and their scope of practice. (Learn More) If your child's visual health has other needs, you may need a developmental optometrist.
Now, you need to explore the eye care your child needs as they grow. This will help you in your search for a good optometrist. (Learn More)
Lastly, you should do a complete evaluation of the optometrists on your list. When you do your homework, you can rest assured that the optometrist you choose is competent and able to provide your child with a high level of care. (Learn More)
How Is a Pediatric Optometrist Different Than a Standard Optometrist?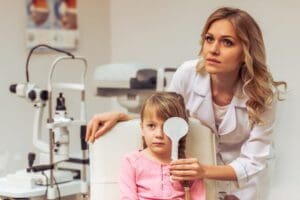 An optometrist is a doctor of optometry. In the U.S., after completing about three years of specialized training, these professionals must also undergo clinical training. Prior to registering with the state in which they wish to practice, they must demonstrate competence regarding optometry skills and knowledge.
A pediatric optometrist specializes in working with children. They undergo further training and education to work with this population.
An optometrist examines the eyes to look for signs of injury, abnormalities, vision defects, and ocular diseases. They also monitor eye health in people who have conditions that may affect the eyes, such as diabetes and high blood pressure.
An optometrist does not perform surgery. They perform health assessments, prescribe medicines and corrective lenses, offer medical advice, and refer people to other specialists if a higher level of treatment is needed for their condition.
If your child does not have any eye diseases, a pediatric optometrist is a good professional to see. They are also a good choice for vision issues that require corrective lenses. Should a more serious issue develop in the future, your pediatric optometrist may refer your child to a specialist.
A pediatric optometrist will monitor your child's eye health, including visual clarity and acuity, color blindness, peripheral vision, eye movement and alignment, depth perception, and eye pressure. They will perform thorough assessments to determine if any general health issues are present that could impact your child's eyes and visual health.
Typical Childhood Eye Care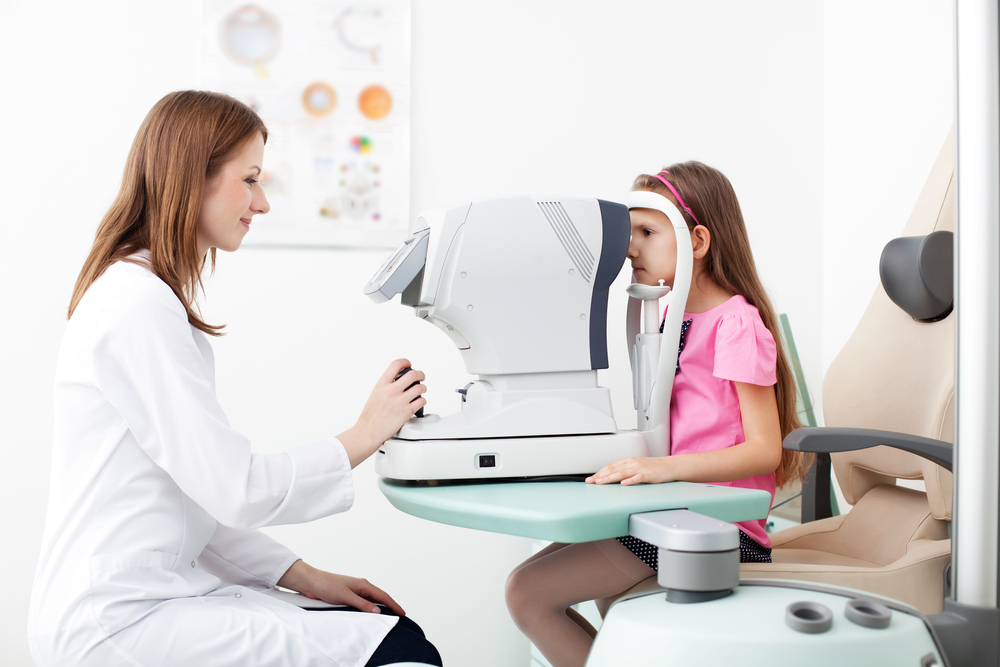 Before your child begins school, they should be getting routine vision screening. If any issues are detected, further screenings may be needed to evaluate how well they are responding to treatment.
One of the biggest reasons to start eye examinations early is to see if your child develops a lazy eye, or amblyopia. Permanent vision loss is possible if treatment does not start early.
Your child's pediatrician will likely perform routine vision screening when you take them to their well child visits. During this examination, your child will be asked to identify characters or letters to determine how well they can see from certain distances.
If anything abnormal is detected during these routine vision screenings, your pediatrician may recommend that you take your child to an optometrist for further evaluation. This professional can do things like prescribe corrective lenses if your child has a refractive error that reduces their visual acuity.
In some cases, a comprehensive eye examination may be warranted. A pediatric optometrist can perform this exam. The following reasons may warrant a need for this level of eye and vision evaluation:
Your child has a diagnosed problem with their vision.
They fail one of their routine vision screenings.
Someone in your family has eye or vision issues.
Just because your child is referred to have a comprehensive examination does not automatically mean there is something wrong. This examination can both diagnose issues and rule out any problems to get an accurate picture of their vision and eye health.
How to Evaluate a Pediatric Optometrist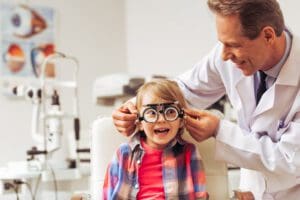 Your child will at least need routine eye examinations throughout their childhood. Having the right optometrist perform these ensures that your child's eye and visual health are well cared for.
Ideally, you want to get a list of about five pediatric optometrists. From here, you can contact them directly to do a final evaluation before deciding which one will be your child's eye and vision professional.
Referrals from friends can be the easiest way to find a pediatric optometrist. Since approximately 75 percent of people in the U.S. wear glasses, including many children, you know many people who can recommend a good pediatric optometrist.
Call your friends, ask local friends on social media, and chat with your family members who have children. When you request recommendations, ask about specifics. Then, start making a list and comparing them to determine which ones you might use for your child.
Your child's pediatrician likely has at least one pediatric optometrist they trust. They can provide you with a referral. If you like your pediatrician, chances are the professionals they recommend will also provide superior care.
Take a look at the American Optometric Association to see the pediatric optometrists who are working in your area. This website provides a searchable directory. You can usually get some information about their level of experience and professional credentials.
Call your insurance company for referrals. They can recommend pediatric optometrists that are in-network and covered by your plan. If one of the options on your list is not in-network, you may need to pay the full price for their services. You can usually check to see who is in your network online at your provider's site.
The final step is meeting with the optometrists you are considering. Make a short list of the qualities you are looking for. If your child has a specific issue, make sure the optometrist has some experience with this.
You can usually get a consultation with this health care professional. Be honest about why you are there. Pay attention to things like the wait time, communication, and the professionalism of every person you have contact with. While a great optometrist is important, the rest of their staff should also be people you and your child are comfortable with.
It is a good idea to assess a handful of pediatric optometrists in your area. You might not schedule a consultation with each one, but it's a good idea to talk to a few options, so you can make the best choice.
References
What Is an Optometrist? The College of Optometrists.
What Kind of Eye Doctor Should My Child See? Children's Hospital of Philadelphia.
How to Find the Best Optometrist in Your Area. USA Today.
Vision Care for Children. (2017). American Association for Pediatric Ophthalmology and Strabismus.