Actual Salaries for Optometrists (By State & Experience)
Home / Vision Education / Optometrist Salary
According to job data aggregators, the average salary of an optometrist working in the U.S. is roughly $130,000 per year. This number is affected by many factors, including additional skills, certifications, and years of experience. Salaries also vary dramatically between private practice optometrists and those employed by corporations.
Experience level is one factor that significantly impacts the typical salary of an optometrist. An optometrist who is just starting out can expect to earn around $100,000 or less per year, while an optometrist with over two decades of experience can earn over $125,000 per year.
If you are looking to increase your salary as an optometrist, there are various things you can do. Completing more education, gaining new skills, and earning additional certifications can help to increase your salary potential.
The location in which you work can also affect your salary. Some states pay a higher average optometrist salary than others.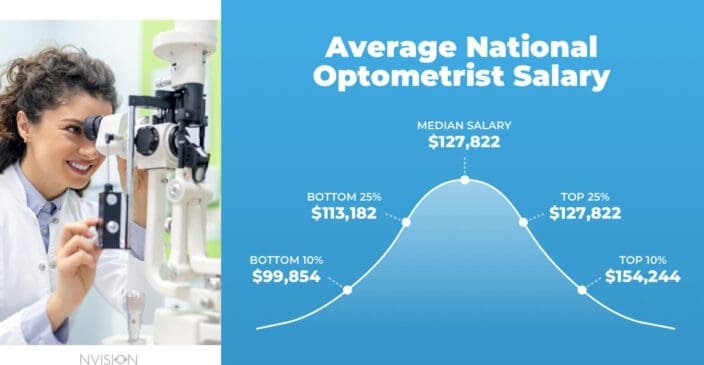 Average National Optometrist Salary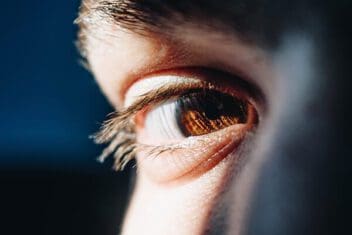 As of February 2021, the average optometrist salary in the United States was just under $130,000 per year. Salaries typically range from about $113,000 to just over $141,000 per year.
Data provided by Salary.com shows the national breakdown of optometrists' salaries as follows:
Bottom 10%: $99,854
Bottom 25%: $113,182
Median salary: $127,822
Top 25%: $141,652
Top 10%: $154,244
While all optometrists must meet national and state certification standards, not all optometrists will end up making the same amount.

What Influences an Optometrist's Salary?
Many factors influence what an optometrist is paid, such as location and years in the business. Some of the factors are in your control, while others just take time to achieve. Optometrist salaries can vary based on the following factors:
Education
Certifications
Additional skills
How long you have worked as an optometrist
Place of employment can also affect how much an optometrist makes. A job in a public health care facility, for example, is likely to pay less than if you are working in a private medical group or private practice.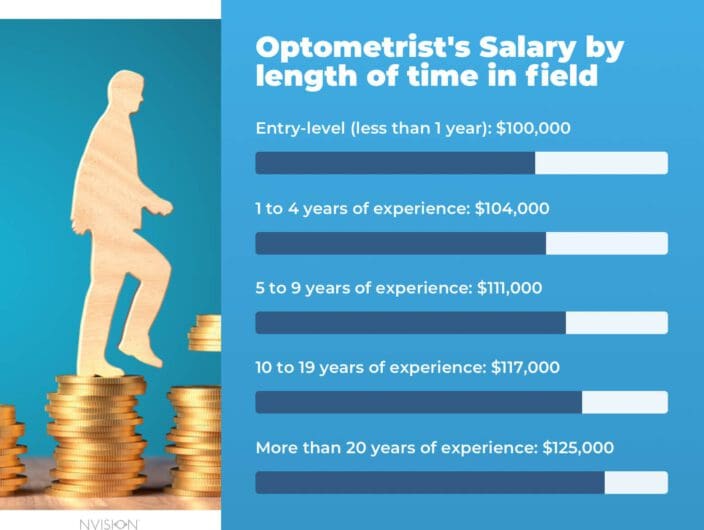 Experience Level & Salary
Your level of experience, such as the number of years you've been practicing optometry, is one of the greatest influencing factors on salary. Optometrists who have been in the field for 20 years or more are expected to earn over 15 percent more than their entry-level colleagues.
Average pay by level of experience can be as follows:
Entry-level (less than 1 year) optometrist: $100,000
1 to 4 years of experience: $104,000
5 to 9 years of experience: $111,000
10 to 19 years of experience: $117,000
More than 20 years of experience: $125,000
While it is possible to earn more earlier on, it is fair to expect that your salary will steadily increase the longer you work as an optometrist. Through years of experience, you will gain knowledge and skills that allow you to serve your patients better.
How to Increase Your Salary Potential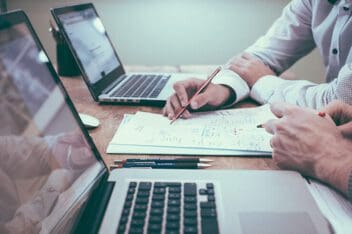 If you are eager to increase your salary potential without waiting to gain years of experience first, there are things you can do. Take classes to gain additional certifications and skills. This will help your career overall, and it is a great way to boost your earning potential.
These additional skills positively affect optometrists' salaries:
Clinical education
Customer service
Geriatrics
Patient education
Diagnosis and treatment planning
Knowing additional languages to be able to work with a wider range of patients
Other ways to increase your salary potential are to consider where you are working. Both location and place of employment can impact your salary. The city in which you work and the company you work for can make a difference.
Optometrist Salary by State
Optometrist salaries vary somewhat by state. The cost of living in each state impacts how much you can expect to be paid as an optometrist. It will also be affected by whether you are living in a large urban city or a rural small town,
Average annual optometrist salaries by state, as of November 2020, are as follows:
Alabama: $116,890
Alaska: $134,040
Arizona: $126,130
Arkansas: $120,571
California: $139,344
Colorado: $131,190
Connecticut: $122,176
Delaware: $110,744
Florida: $120,682
Georgia: $95,986
Hawaii: $130,886
Idaho: $117,740
Illinois: $119,387
Indiana: $122,422
Iowa: $109,263
Kansas: $118,387
Kentucky: $105,272
Louisiana: $138,901
Maine: $134,293
Maryland: $122,037
Massachusetts: $124,890
Michigan: $116,913
Minnesota: $127,618
Mississippi: $112,907
Missouri: $102,537
Montana: $120,403
Nebraska: $114,395
Nevada: $106,946
New Hampshire: $116,465
New Jersey: $122,127
New Mexico: $125,372
New York: $131,740
North Carolina: $140,913
North Dakota: $120,403
Ohio: $140,913
Oklahoma: $111,406
Oregon: $79,462
Pennsylvania: $125,850
Rhode Island: $143,910
South Carolina: $116,765
South Dakota: $106,785
Tennessee: $113,334
Texas: $113,732
Utah: $118,191
Vermont: $141,880
Virginia: $120,940
Washington: $133,230
West Virginia: $113,020
Wisconsin: $131,645
Wyoming: $105,723
After completing the proper schooling, training, and licensing requirements in a state, optometrists are free to work in any setting and location they wish. You can optimize your income as an optometrist by thinking about the state and city in which you work, your employment setting, and any additional certification and skills you may be able to achieve.
The information provided on this page should not be used in place of information provided by a doctor or specialist. To learn more, read our Privacy Policy and Editorial Policy pages.