Different Types of Eye Care Professionals & How They Support Your Eye Health
Home / Vision Education / Different Types of Eye Care Professionals
If you have an issue with your eye or just want to stay on top of your vision, you'll make an appointment with an eye doctor.
Table of Contents
The primary types of eye care professionals are opticians, optometrists, and ophthalmologists. There are professionals who specialize within ophthalmology, such as pediatric ophthalmologists and retinal specialists.
Technicians, medical assistants, and nurses are additional eye care professionals that are vital to vision and eye health services.
Each of these professions requires different levels of education, training, and expertise.
Optician
An optician can fill a corrective eyewear prescription, but they don't write prescriptions themselves. They do not diagnose or treat eye conditions, and they do not assess vision.
They are trained to fit eyeglasses, contact lenses, and other forms of corrective eyewear.
To become an optician, a high school diploma or GED is required. Most opticians get an associate degree or complete an optician-specific training program. Depending on the state, they may need a state-specific license.
Optometrist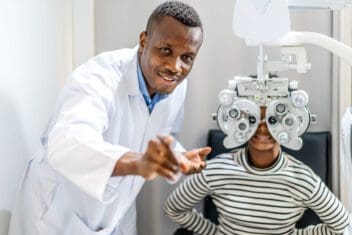 An optometrist provides general vision care to patients, including vision tests and corrective eyewear prescriptions. They can diagnose and treat eye conditions and vision issues. Optometrists can prescribe medication as needed for eye health issues.
To become an optometrist, a bachelor's degree and a doctorate in optometry are needed, which requires four years of graduate school. A license to practice optometry is also needed.
Ophthalmologist
An ophthalmologist is a doctor of medicine, specializing in the eyes and vision.
Ophthalmic surgeons regularly perform surgery on the eye, including cataract surgery, vision correction surgeries, and various other eye-related procedures.
To become an ophthalmologist, the professional must complete eight years of postgraduate work, including four years of medical school and four years of specialized training. They must be licensed in their state to practice medicine.
Some ophthalmologists further specialize. For example, they may wish to become a retina specialist, glaucoma specialist, cornea specialist, neuro-ophthalmologist, pediatric ophthalmologist, or ophthalmologist specializing in plastic surgery of the eye.
Eye Care Technician
Eye care technicians assist optometrists or ophthalmologists with advanced tests or procedures.
To become an ophthalmic technician, a high school diploma or GED is needed. They'll also need to complete a dedicated training program, which often results in an associate degree.
Medical Assistant
Ophthalmic or optometric medical assistants help or perform various tests in a professional eye care facility. They work under the supervision of an optometrist or ophthalmologist.
Medical assistants generally need an associate degree, which they can receive in a dedicated medical assistant training program.
Ophthalmic Nurse
An ophthalmic nurse is a nursing professional focused on diseases and conditions related to the eyes and vision. These nurses help to diagnose, treat, and care for patients dealing with various eye diseases, conditions, and injuries.
To become an ophthalmic nurse, a nursing degree from a nursing school is needed. A nurse can then further specialize in ophthalmology. It can be helpful to gain certification from the National Certifying Board for Ophthalmic Registered Nurses.
Choosing the Right Eye Care Professional
The eye care professional you choose will depend on your specific eye care needs.
Most people have a regular optometrist or ophthalmologist they see on a regular basis to ensure they stay on top of their eye health and vision. In that practice, you'll likely encounter ophthalmic nurses, medical assistants, and technicians who care for your needs.
You may see an optician to be fitted for necessary corrective eyewear.
If you are diagnosed with a specific disease, injury, or condition, you may be referred to a specialist who can better serve the specific issue.
The information provided on this page should not be used in place of information provided by a doctor or specialist. To learn more, read our Privacy Policy and Editorial Policy pages.