Seeing Your Optometrist for the First Time After COVID
Posted on June 28, 2021
With rates of COVID-19 diagnoses declining, many optometrists are welcoming patients back into their offices. To ensure that patients are kept safe, facilities and equipment are given regular deep cleanings, patients' temperatures are taken at the door, and staff and patients alike will be wearing masks and socially distancing.
Patients themselves can help by staying at home if they're sick, filling out paperwork online, and regularly washing their hands.
Going Back to the Doctor's Office
By now, many states have allowed healthcare practitioners to resume in-person services. Optometrists are back to providing vital regular and urgent care, as well as seeing patients for emergencies, comprehensive eye health and vision care, consultations, and many other areas of practice that were not possible (or outright off-limits) during the worst of the COVID-19 pandemic.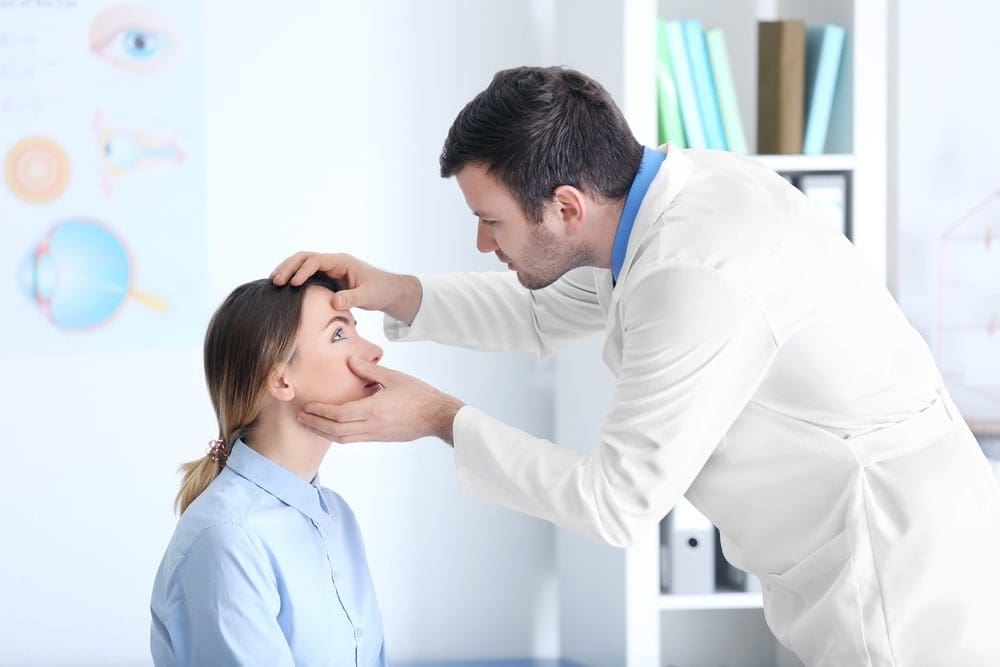 For this reason, optometrists around the country are encouraging patients to schedule in-person appointments to address eye care needs that might have gone unnoticed or untreated for the long months of the first phase of the pandemic. Many people who have spent hours of their day on Zoom meetings or watching TV shows on their phones, just inches away from their face, will be struggling with dry eyes or digital eye strain. Now that many restrictions about public services are being loosened, the time is right to go to an optometrist's office for a checkup.
Keeping Patients Safe
Doctors are aware that after the better part of a year with lockdown restrictions, patients might have questions or concerns about in-person checkups. It is hard to socially distance yourself from someone who has to have their face right next to yours as they conduct an eye exam, for example.
To allay any fears about exposure or transmission of the COVID-19 virus, optometry offices have worked very hard to create a safe, healthy, and welcoming environment for patients. Every office will be different, and every state and jurisdiction will have its own requirements, but the standard factor among all locations is strict adherence to the guidelines set out by the Centers for Disease Control and Prevention. This is in addition to similar state and local health directives to reduce the risk of infection, and to afford as much protection as possible to patients and healthcare practitioners alike.
Examples of these directives include rigid instructions for regular cleaning and sterilization of all surfaces, especially common areas like lobbies and restrooms, and treatment and diagnostic equipment. Many offices will undertake this form of cleaning multiple times a day. Some might even temporarily close during the workday, to allow staff (or an outside service) time to clean everything before admitting any more patients.
Additionally, patients might be requested to not bring any guests with them, in order to better manage crowd flow and social distancing. When necessary, guests might be contacted by staff to come and pick the patient up.
Staff might take patients' temperatures before they enter the office, and patients might have to answer questions on whether they've had any exposure to or symptoms of COVID-19 before they are allowed to enter. Upon entry, they may be directed to sanitize their hands and put on a facemask if they don't have one on already. Refusal to wear a facemask could legally be grounds for refusal of service.
What Can You Do?
While these are all things that an optometrist's practice can do to reassure you during your first visit since the pandemic, there are also things you can do to lower potential risks before and during your appointment.
If you or anyone in your household experiences any symptoms of COVID-19 (like loss of smell or taste, shortness of breath, fever, or cough), stay at home and call your doctor (not your optometrist). Similarly, even if you feel mildly sick, it is best not to take any risks, and you should reschedule your appointment. If you have an eye-related emergency (like pain in one or both of your eyes, or loss of vision), call your optometrist or have a friend call on your behalf.
When in your optometrist's office, stay six feet away from everyone (except when being examined), and continue to wear your facemask. You should do these things even if you have been fully vaccinated and even if the staff at the office have also received their vaccines.
You may be invited to wear disposable medical gloves if you wish. Cloth face coverings may not be sufficient, and you may be asked to use a disposable mask (provided by the optometrist's practice) instead.
Keeping Your Hands Clean
There is usually paperwork to fill out for every visit, so many optometrists are using digital platforms to reduce the necessity of different people touching the same sheets of paper and using the same pens. Check with your optometrist if they offer any possibility of filling out your intake forms online before the appointment. Not only will this reduce the amount of face-to-face contact you have with people outside your household bubble, it will also reduce the amount of time you have to spend in the office. This, in turn, helps the staff keep a better handle on crowd flow in their workspace.
Try not to touch your eyes, nose, or mouth with unwashed hands. Make it a point to wash your hands with soap and hot water regularly, and use hand sanitizer whenever provided. If you see a pair of frames you would like to try on, ask the staff before you can touch the frames and place them on your face. You may have to wait for the staff to disinfect the frames.
The COVID-19 pandemic continues to exact a huge toll on people, families, and communities. But as the rate of vaccinations increases, there is optimism as many parts of life resume, including routine eye care visits.
References
Is It Safe to Go to the Eye Doctor During COVID-19? Here is What You Need to Know. (May 2020). Health.
Digital Eye Strain in the Era of COVID-19 Pandemic: An Emerging Public Health Threat. (August 2020). Indian Journal of Ophthalmology.
Cleaning and Disinfecting Your Facility. (April 2021). Centers for Disease Control and Prevention.
How to Keep Your Business Safe From COVID-19. (December 2020). Cleveland Clinic.
Temperature Screening: New Guidance From the CDC, FAQs, and Best Practices. (May 2020). The National Law Review.
COVID-19 Employee Return-to-Work Survey. (May 2020). Society of Human Resources Management.
Why Businesses Can Still Require Masks After States Drop Mandates. (March 2021). ABC News.
Coronavirus (COVID-19): What Do I Do if I Feel Sick? (July 2020). Johns Hopkins Medicine.
Masks, Distancing Still Important Even With Vaccination, Study Suggests. (June 2021). CNN.