Does Medicare Cover Cataract Surgery in 2023?
Medicare covers cataract surgery and the costs associated with lens replacements, glasses, and contacts after surgery. Keep reading to learn all about how Medicare plans cover cataracts.
Most people are dismayed to learn that basic Medicare doesn't cover common vision costs, such as annual exams. But cataracts are different.
Even basic Medicare plans cover cataract surgeries and the glasses or contacts you might need after those procedures to see clearly.
And if you have a secondary add-on Medicare plan you pay for each month, you could get even better coverage.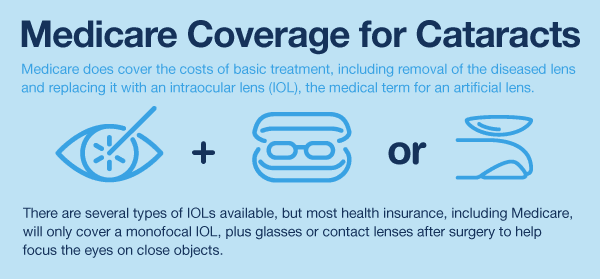 How Does Medicare Cover Cataract Surgery?
Medicare is a federal program that delivers basic health insurance to older people and those with qualifying medical conditions. A traditional Medicare plan with no add-ons is made to help you avoid devastating medical bills, but it has few protections for the things you might want or need to live a better life.

Cataracts can lead to blindness over time. They are considered serious medical issues by health insurers that cover most of the treatment costs. As a result, Medicare will cover cataract expenses, including the removal and replacement of lenses.
But how much you will pay, and how the program will work, depends on what type of Medicare coverage you have. Several plans are available.
| Medicare Plan | Coverage | Deductibles & Co-pays | Example Cataract Coverage |
| --- | --- | --- | --- |
| Part A | Inpatient hospital services, including surgeries and aftercare | Yes, depending on the service | Cataract surgery, if it occurs in an inpatient facility |
| Part B | Outpatient services, such as doctor's visits, preventive screenings, lab tests, and surgeries. Also covers corrective lenses post-surgery | Yes, you must pay a deductible and may have copayments | Cataract surgery in an outpatient setting and corrective lenses |
| Part C (Medicare Advantage) | Combines Parts A and B and often includes Part D. May include additional coverage, like vision | Varies by plan | Potential additional eye health benefits and potentially less expensive surgery |
| Part D | Prescription medications | Yes, depending on the medication and plan | Medications needed post-surgery, such as pain relief and eye drops |
Key Facts About Medicare Cataract Coverage
How Much Does Cataract Surgery Cost Without Insurance?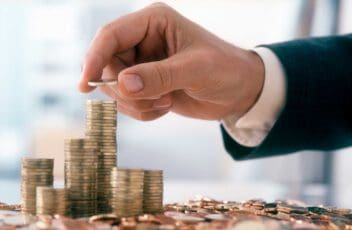 Insurance plans like Medicare are designed to help you avoid crippling costs associated with health problems. You pay a small amount each month for a great deal of protection. Without insurance, fixing a problem like a cataract can be prohibitively expensive.
People typically pay between $3,500 and $7,000 per eye for cataract surgeries without insurance. If you live in an expensive part of the country or choose a pricey doctor, you could spend even more.
What Is the Cost of Surgery with Medicare?
Your doctor should help you understand what you'll pay long before you arrive for surgery. Clinics, hospitals, and outpatient surgery centers have teams devoted to untangling insurance details and explaining the issues to their patients. Ask questions before you get started.
In general, this is what you can expect to pay.
How Much Does Surgery Cost?

Medicare Part B will pay for a basic cataract surgery performed in an outpatient center. Your costs include the following:

Deductible: You must pay $226 (in 2023) before Medicare Part B will cover your health care costs. If you haven't had any other procedures in the calendar year, you must pay this fee now.
Copayment: You pay 20 percent of the final bill, which is typically a few hundred dollars.

If you have a Medicare Advantage plan, your surgery costs could be completely different. You may not have a deductible or copayment if you use a covered doctor.
Does the Surgical Site Matter?

If you're using a Medicare Advantage plan, you must pay close attention to your surgery's location. Many of these plans have relationships with doctors and clinics. If you step outside of these contracts, you could be responsible for the whole bill.

If you're using Medicare Part B, you must use a surgery center or clinic. If you opt for a hospital when your doctor doesn't think you need this care, you could be responsible for the bill.
Are There Other Fees?

Medicare covers a very basic replacement lens in cataract surgery. If you want a more advanced lens, you're likely responsible for those costs, including the surgery required to put this premium lens in your eye.
Are There Medicare Cataract Surgery Coverage Exclusions?
Many hospitals, clinics, and outpatient surgery centers accept Medicare payment plans, but some don't. If you choose a location that doesn't accept your insurance coverage, you'll pay the whole fee.
Medicare also won't pay for progress appointments. If your doctor wants to watch your eye health closely and ensure you're not developing another cataract, you'll need a Medicare Advantage plan to help.
Medicare & Cataract Surgery Frequently Asked Questions
Why won't Medicare cover all items and services related to cataract surgery?

The Social Security Act limits what is covered by Medicare. The insurance will not pay for everything you need, even when the doctor certifies them as necessary as per the regulations of the Medicare Act.
What will you pay for cataract surgery in ASCs (ambulatory surgery centers)?

In an ASC, you will pay for the difference between the amount that Medicare pays for standard cataract surgery and the extra cost for your IOL plus a handling fee. Some ASCs also charge a usage fee for the aberrometer when using premium IOLs. Exact costs are difficult to quantify. Cataract procedures are almost always outpatient procedures, which keeps the cost down.
Will Medicare coverage differ for laser and bladeless surgical procedures?
Will Medicare cover the cost of eye exams, glasses, or contact lenses after surgery?

No. Medicare does not cover any routine eye exams for glasses or contacts. It is possible to qualify for some exam coverage under Medicare Part C, but that will depend on your particular situation.
Can other programs help me cover the cost of cataract surgery?

Yes. Mission Cataract USA offers free cataract surgery to people of all ages who can't afford the procedure. In addition, Operation Sight also provides financial assistance for eye patients with low incomes.
Does Medicare pay for cataract surgery with astigmatism?

Replacement lenses that correct astigmatism aren't covered in Medicare Part A or B plans. Your Medicare Advantage plan might offer different types of coverage.
Does Medicare cover multifocal lenses in cataract surgery?

No. Medicare only covers a monofocal IOL. You can use glasses to make up the difference after surgery. Medicare will pay for those aids.
The information provided on this page should not be used in place of information provided by a doctor or specialist. To learn more, read our Privacy Policy and Editorial Policy pages.