Congenital cataracts are present in newborns, clouding the lens of one or both eyes and causing early problems with vision.
Some viruses and genetic conditions increase the risk of your infant having cataracts, which can lead to trouble focusing on their surroundings, ignoring some stimuli, or rapid eye movements to focus on objects in front of them. Staying healthy during pregnancy is the only way to potentially reduce congenital cataract risk, but you cannot fully prevent this problem.
Fortunately, treatment is safe and effective. Your pediatric ophthalmologist will determine if your child's congenital cataracts need surgery.
Key Facts About Congenital Cataracts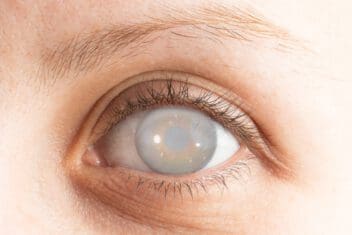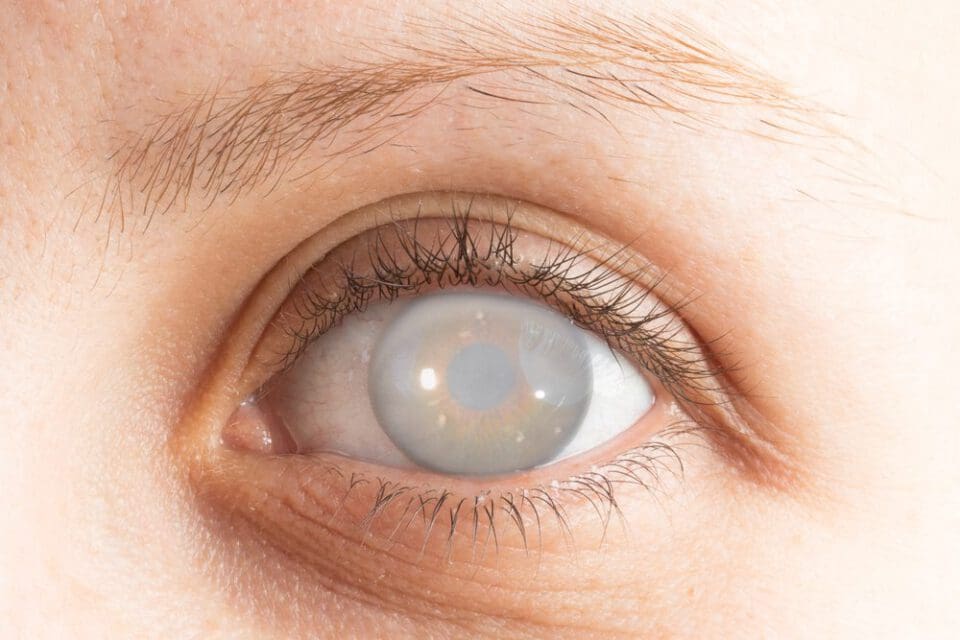 Can You Prevent Congenital Cataracts?
Some babies develop cataracts due to genetic factors parents can't prevent or control. But sometimes, parents can make small changes and keep their babies safer as they develop.
Before Pregnancy

If you have a family history of congenital cataracts, talk with your doctor about genetic testing. Your doctor could help you understand the risks your baby faces after the birth. 

Other genetic defects associated with congenital cataracts include the following:

Congenital rubella
Lowe syndrome
Marinesco-Sjögren syndrome
Conradi-Hünermann syndrome
Down syndrome/trisomy 21
Trisomy 13
Galactosemia
Hallermann-Streiff syndrome
Chondrodysplasia syndrome
Pierre-Robin syndrome
During Pregnancy

Work with your OBGYN to keep yourself as healthy as possible during pregnancy, which can reduce some risks like viruses.

These illnesses during pregnancy could increase your risk of baby's risk of congenital cataracts:

Chickenpox
Congenital rubella
Cytomegalovirus
Herpes
HIV
Toxoplasmosis
What Is the Most Common Type of Congenital Cataract?
Several types of congenital cataracts exist, but researchers say the most common version is a lamellar cataract. 
A lamellar cataract has a round shape, and it's typically 5 mm or larger. While your baby's eyes might be of a normal size and shape, you may see rings of cloudy bits when you look at the pupil of your baby's eyes. 
Lamellar cataracts typically appear in both eyes, but you may see them in just one.
Congenital Cataracts in Adults
Congenital cataracts often look different than adult cataracts, which begin in late middle age and progress over decades.
After cataract surgery, there is some risk that children with congenital cataracts could develop them again later. This is typically associated with genetic disorders, requiring treatment from a pediatrician and other specialists throughout life. Your pediatric ophthalmologist will generally recommend blood tests to determine if a congenital disease is the cause of the issue.
How to Know if Your Baby Has Congenital Cataracts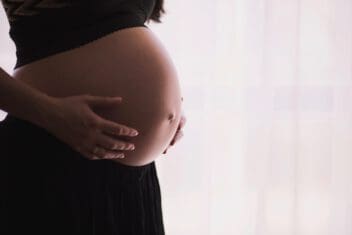 The only way to know if your child has congenital cataracts is to have a pediatric ophthalmologist evaluate your baby's eyes. If the underlying cause is a genetic disorder, working with an ophthalmologist specializing in these conditions can improve outcomes. Understanding if a genetic disorder caused congenital cataracts may require blood tests.
Symptoms of congenital cataracts can be hard to spot, although your obstetrics team should be able to identify signs such as these:
Lack of visual awareness of the world or lack of response to visual stimuli
Gray, white, or cloudiness in the pupil, which is normally black
Photos of your child's face that lack the "red eye glow," or that glow is missing in one eye
Nystagmus, or unusual eye movements back and forth
If your child does get congenital cataracts, removing them involves a safe, effective procedure. The diagnostic process is not invasive. Working with a pediatric ophthalmologist ensures your child will have the best possible vision.
Congenital Cataract Frequently Asked Questions
Are congenital cataracts a disability?

If the condition doesn't pose any significant risk to the child's vision, surgery won't be necessary. Some minor cataracts only require ongoing monitoring.

Immediate surgical removal of the lens is usually required for infants with progressive cataracts. Even when major damage is present, surgery is only a good option if there's reason to believe it can reverse or halt the damage. Surgery can help some people see clearly.

In some poorly resolved cataract cases, the child suffers permanent vision loss. In cases like this, it could be considered a disability.
Are congenital cataracts hereditary?
Can congenital cataracts be cured in babies?

Yes. Cataract surgery can help babies see much better.

Most ophthalmologists don't offer intraocular lens (IOL) implants to kids this young. Instead, doctors may prescribe contact lenses to correct your child's vision after cataract surgery. The general process for the eye operation, which lasts one to two hours, is as follows:

The surgeon uses general anesthesia to put your child to sleep before surgery.
A clinician will use eye drops to dilate (widen) your child's pupil(s).
The ophthalmologist makes a tiny incision through the cornea (at the front of the eye).
The surgeon removes the entire eye lens, which also removes the cataract.
In older children, the doctor inserts an IOL (artificial lens).
In younger children, the doctor sews the cornea shut with no artificial lens.
The doctors prescribe external contact lenses or eyeglasses for your child about seven days after surgery.

The purpose of the contact lens is to enable the child to see with the treated eye. For kids under 12 months old, IOLs are avoided because they can cause future eye complications like shortsightedness.
Can congenital cataracts be cured in adults?

Yes. Your doctor can replace the damaged lens with a synthetic version so you can see clearly.
The information provided on this page should not be used in place of information provided by a doctor or specialist. To learn more, read our Privacy Policy and Editorial Policy pages.