NVISION Eye Center

Sanket U. Shah, M.D.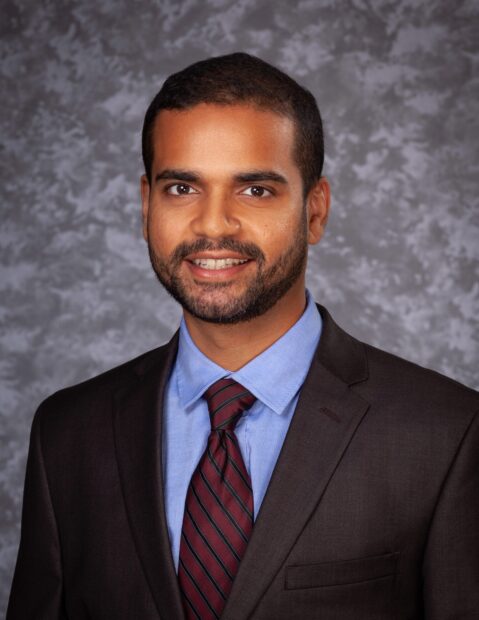 Dr. Shah received his medical degree from the Seth G. S. Medical College and King Edward Memorial Hospital in Mumbai, India. He spent two years pursuing a research fellowship in ocular oncology at the Wills Eye Hospital in Philadelphia, PA; and a second research fellowship in retina at the Jules Stein Eye Institute at UCLA in Los Angeles, CA. His training includes an internship in internal medicine at the Albert Einstein College of Medicine - Jacobi Medical Center in Bronx, NY, followed by residency in Ophthalmology at the Indiana University School of Medicine in Indianapolis, IN, where he served as the chief resident and received several awards. He then completed his fellowship training in vitreoretinal surgery and medical diseases of the retina at the prestigious Jules Stein Eye Institute at UCLA in Los Angeles, CA.
Dr. Shah is Board certified by the American Board of Ophthalmology. He is a member of the American Academy of Ophthalmology and the American Society of Retina Specialists. He has served as a co-investigator on several national clinical trials and participated in numerous research projects spanning topics including diabetic retinopathy, vitreoretinal interface abnormalities, macular degeneration, automated retinal image analysis, optical coherence tomography, uveal melanoma, and retinoblastoma. He has received the National Eye Institute travel grant to present his research.
Dr. Shah has over 35 peer-reviewed publications in national and international journals, 1 book chapter, and several abstracts, oral, video and poster presentations to his credit. He has served as a reviewer for articles in peer-reviewed journals such as Ophthalmology and the American Journal of Ophthalmology.
Surgeon Credentials
B.S., Physics, Chemistry and Biology - Ramnivas Ruia College, Mumbai, India

M.D. - Seth G.S. Medical College and K.E.M. Hospital, Mumbai, India

American Board of Ophthalmology

Late Sou. Saroj Bhalachandra Pai Paritoshik Award - 2004

N.V. Gunjikar Pharmacy Prize - 2004

2nd Place Award - Shirwalkar Examinations in Anatomy, Physiology and Biochemistry - 2005

Sir J.R.D. Tata Scholarship - 2006

Sir Ratan Tata Scholarship - 2006, 2008 and 2009

AAO EyeWiki Resident and Fellow Annual Contest Winner - 2013

Chief Resident - Eugene and Marilyn Glick Eye Institute, Department of Ophthalmology, Indiana University, Indianapolis, IN - 2015-16

Merrill Grayson Leadership Award - 2016

David May II Fellowship Award - 2016

National Eye Institute Travel Grant - 2017

Abe Meyer Memorial Fellowship Award - 2017-18
Internship, Preliminary Internal Medicine - Jacobi Medical Center, Albert Einstein College of Medicine, Bronx, NY

Residency, Ophthalmology - Eugene and Marilyn Glick Eye Institute, Indiana University School of Medicine, Indianapolis, IN

Fellowship, Vitreorentinal Surgery - Stein Eye Institute, David Geffen School of Medicine, UCLA, Los Angeles, CA

Professional Affiliations

American Academy of Ophthalmology

Education Commission for Foreign Medical Graduates (ECFMG) Certificate