Table of Contents
A pioneer in the field of online prescription eyewear, Warby Parker is a modern and innovative company with a twist. (Learn More) They create and manufacture all their own frames, offering stylish choices at budget-friendly prices. (Learn More)
Warby Parker's prices are higher than some competitors, and the retailer doesn't offer designer options. But they pride themselves on style and competitive pricing as well as extensive charity work.
The company gives you the ability to try glasses on before you buy them. This gives them a leg up on many other online retailers. (Learn More)
Warby Parker offers both online shopping and in-person retail stores. As a result, customers have multiple buying options. (Learn More)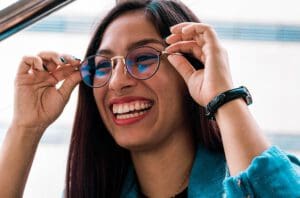 Warby Parker
An online retailer with a slightly different approach than many, Warby Parker provides the option to shop their online selection via their sleek and easy-to-use website as well as the opportunity to visit actual retail stores.
The Warby Parker website is modern, and the available choices in eyewear are stylish and made in house. The company strives to make shopping for glasses affordable, easy, and fun.
The company prides itself on charity work, partnering with companies and projects to offer the less fortunate access to vision and eye care services as well as affordable prescription glasses.
Warby Parker is an innovator in the online prescription eyewear market, pioneering the "try at home box." This allows customers to try on glasses before they have to commit to buying them.
With both online and in-person shopping options, Warby Parker has most bases covered in this market.
What You Get With Warby Parker
Warby Parker is one of the top names in online prescription eyewear retailers, and most customers feel the company is worth buying from. They are held in high regard for their customer service, charity work, pricing, exceptional service, and seamless customer experience. In 2020, Warby Parker products include prescription eyeglasses, sunglasses, and contact lenses.
Warby Parker's offerings include the following:
Affordable prices: Prescription glasses start at $95, with UV resistant and scratch-proof coating included as standard. Other options, such as blue-light filtering, are available.
Insurance options: Warby Parker accepts many insurance providers as well as payments from FSAs (flexible spending accounts) and HSAs (health savings accounts).
Seamless shopping experience: With retail stores and an easy-to-navigate website, Warby Parker provides a comprehensive experience to customers. Several retail stores even offer eye exams.
Home try-on feature: Warby Parker gives you the option to select five different frames, which will then be mailed to you to try for five days. Then, you select which pair (if any) you'd like to purchase and send the rest back.
Charity work: Warby Parker participates in the Buy a Pair, Give a Pair For every pair of glasses purchased, a pair is distributed to someone in need.
Free shipping and a generous return policy: Shipping is free. You can make returns for free for up to 30 days, and they have a free lens replacement for 365 days if the lenses are scratched.
Pros & Cons of Warby Parker
Warby Parker is a socially conscious company with a clear website as well as good customer service and solid reviews. The ability to try on glasses before you buy them is a major benefit when purchasing online, so this alone can make it worth it to buy from them. The company also offers competitive pricing and designer-like frames.
They do not have as many options as some other online retailers, and they don't offer name-brand frames.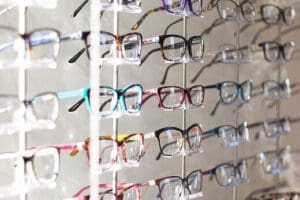 Warby Parker Compared to Other Online Retailers
Warby Parker is competitive with other online retailers when it comes to price, although they don't offer some of the super low clearance pricing that some sites do. All of Warby Parker glasses are their own brand, so you won't find discounted name brands like those offered by competitors like Glasses USA.
Despite fewer options, their products are high quality, stylish, and affordable. The website is not as visually busy as other sites, so it can be easier to use. It is clean and direct as well as aesthetically pleasing.
The Home Try-On option sets Warby Parker apart from most online retailers. Instead of a virtual option, you actually get to try the real thing before you commit. Warby Parker's customer service also gets high marks, as do their return and warranty policies.
You can also feel good about buying a pair of glasses from Warby Parker knowing that a pair will be donated to someone in need as a direct result of your purchase.
Is Warby Parker for Me?
If you want designer frames, Warby Parker is not the right eyewear provider for you. If you're fine with non-branded frames, they offer a good variety of glasses that are high-quality and look great. Overall, affordability and ease of purchase make Warby Parker a top online prescription eyewear retailer in 2020.
Warby Parker goes above and beyond other online retailers with the option to visit an actual brick-and-mortar store. The company also takes many forms of payment, including vision insurance. They should certainly be on your list to consider when looking for budget-friendly prescription eyewear.
The general consensus is that Warby Parker is a true contender in the prescription eyeglass market. They offer customers a modern feel and also feature a philanthropic approach to business.
References
History. Warby Parker.
Warby Parker. Warby Parker.
How to Use Vision Insurance at Warby Parker. Warby Parker.
Home Try-On. Warby Parker.
Buy a Pair, Give a Pair. Warby Parker.
Glasses USA. (2020). Glasses USA