Table of Contents
Finding an affordable eye exam can be difficult, so big box stores like Walmart and Costco now lease space to licensed and certified optometrists. (Learn More) Both companies offer low-cost, basic eye exams, and they sell glasses, sunglasses, contact lenses, and related eyewear. (Learn More)
There are differences in cost between the two companies. Costco requires that you have a membership to buy glasses, while Walmart does not. (Learn More)
Ultimately, both Walmart and Costco are good options for basic, routine vision care for healthy eyes. The main deciding factor may be whether one is located closer to you. (Learn More)
Walmart & Costco Offer Optometry Services

As an adult, you should have an eye exam at least once every two years. If you have an eye condition like nearsightedness or farsightedness, and think your eyes are changing faster than every two years, you can get an eye exam annually to keep up with your prescription. Your optometrist will also diagnose underlying issues like signs you may develop glaucoma or cataracts, which become more common as you get older.
Most people just need an eye exam when they need a new prescription, which is about every two years. Even with vision insurance offsetting the cost, some private eye clinics can be expensive. Finding an affordable optometrist to get a new prescription for glasses or contact lenses, and then finding a location that offers affordable glasses and contacts, can be tough.
When all you need is an eye exam to ensure your eyes are healthy and manage any refractive error changes, you may not feel like you need a dedicated optometrist or ophthalmologist to help you manage your vision. Big box stores like Walmart and Costco offer various niche services, including pharmacies, food courts or cafes, and optometrists. These are both great options for many, but there are some cost and service differences between the two.
Walmart & Costco Work With Licensed Optometrists
Walmart and Costco have offered services other than low-cost electronics, bulk groceries, furniture, and clothing for many years. Many of these services include medical help for basic services, pharmacies to fill prescriptions, and even some dental services in some locations. Both large companies also offer vision care centers that provide thorough, basic eye exams, including slit lamp tests and Snellen charts, which help keep your glasses and contact lenses prescription updated.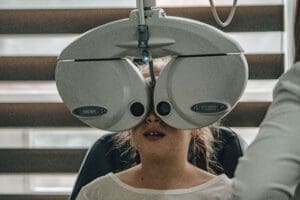 Both Walmart and Costco offer reading glasses, computer glasses, prescription lenses, and contact lenses for sale. You can use your vision insurance to cover the cost of the eye exam and prescription eyewear, but both companies intentionally keep the cost of the eye exam low. This makes it more accessible to people who may not have vision insurance or cannot afford the copay at a private optometrist in their area.
Since both Walmart and Costco lease space to optometrists, the vision care specialists are trained, licensed, and certified as required by your state of residence. Some states require Walmart or Costco to treat optometrists as employees of the store, while others allow the optometrists to be contractors who can maintain vision center employees and visual equipment for a lower price than setting up their own shop.
Either way, optometrists are medical professionals in both companies. In some stores, you may be able to find ophthalmologists too, but you are more likely to have one recommended to you for a more in-depth exam if a Walmart or Costco optometrist determines you need specialized help.
There are some important differences between the two stores, including price, membership requirements, and specific offerings in the vision center.
Differences Between Walmart and Costco
Walmart: This company's contracted optometrists provide basic eye exams, and sometimes might provide ancillary services like treatment for eye infections or disease. They will not provide treatment for more serious eye conditions like cataracts or glaucoma. These require a specialist.

Walmart does not accept some types of insurance, including Medicare or Medicaid. However, their basic eye exams cost between $64 and $118, depending on where you are located and what you need. For example, they can fit you for contact lenses, but there will be a surcharge on top of the basic eye exam cost.

Once you have a prescription in hand, you can also buy glasses there. Some places offer contact lenses too, although Walmart has contracted with 1-800-CONTACTS, so you may have better luck getting on that website on your own and inputting your own prescription information.

Glasses at Walmart can cost as little as $38, but if you look at designer frames, you will see prices comparable to a private optometrist's office or frame store. You can purchase glasses without having a specific membership or insurance plan. This is different than Costco, which allows nonmembers to get eye exams but does not sell frames to nonmembers.

Costco: Like Walmart, Costco offers low-cost basic eye exams geared toward keeping your glasses and contact lenses prescriptions up to date. The company also sells glasses, including prescription sunglasses and computer glasses, along with contacts, at their stores.

Costco leases space and equipment to optometrists who are licensed and certified medical providers in your state. While optometrists carry out eye exams, you'll need to see an ophthalmologist for more serious eye issues, such as glaucoma or cataracts.

The price range for eye exams at Costco is a little higher than Walmart — between $80 and $150, depending on where you live and if you need additional services like a contact lens fitting. The average cost is $100 at most Costco locations.

You can use insurance, but they may not take your vision insurance coverage, and they do not take Medicare or Medicaid. The insurance providers accepted by Costco vision centers can vary, as the optometrists are independent leasers of space, so they determine which insurance they accept.

Costco typically requires shoppers to have a membership with them, but you can get an eye exam with their optometrist without a membership. However, to purchase glasses there, you do need to be a Costco member or have a loved one with a membership they will let you use.
Location Might Make the Choice For You
There are many similarities between Walmart and Costco. They both lease space to medical professionals, including optometrists. You can get basic eye exams to keep your glasses updated, and you can purchase frames or contact lenses in their stores.
Costco is a little more expensive, and you may find it inconvenient to be unable to buy frames that day if you are not a Costco member. Both Walmart and Costco offer good basic services, and the deciding factor may be which one is closer to your home.
References
Walmart Vision Centers. Walmart.
Costco Optical. Costco.
Is Walmart Vision Center a Good Choice? (October 2019). Verywell Health.
How Much Is an Eye Exam at Walmart? (March 2018). Care.com.
Eye Exam Costs at Costco. (November 2019). Eye Exam Costs.
Costco Optical Insurance Accepted: Plans, Acceptance Policy Detailed. (September 2019). First Quarter Finance.
Eight Things You Can Do at Costco Without a Membership. (October 2018). The Krazy Coupon Lady.