Table of Contents
Membership-based retailers like Sam's Club provide discounts for bulk and large items. More often, they are providing additional services like car maintenance, pharmacies, and optical centers for glasses and contacts. (Learn More)
There are many benefits to optical centers at Sam's Club. Customers have easier access to basic eye exams and prescription eyewear, which they may not get other places. You have to be a member to purchase eyewear with this company, and their eye exams do not offer treatment for more serious eye diseases. (Learn More)
Most consumers who get exams and prescriptions with Sam's Club are happy with their experience and recommend the quality of treatment and eyewear. (Learn More)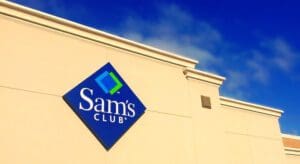 Sam's Club Optical Centers: Basic Eye Exams & Prescription Updates
Sam's Club is a membership-based retailer that offers savings and discounts on a wide range of options, including food and drinks, clothing, electronics, and furniture. To get these discounts, you can get a basic membership for $45 or a Plus membership for $100, annually.
Basic memberships get you access to savings on items in the store, gasoline, and tire and battery centers for car maintenance. You also get the ability to add members to your account for a lower annual price. Plus memberships allow you far more options, including free shipping on ordered items, some free prescriptions, and discounts on the cost of glasses.
Like many large retailers, Sam's Club offers access to services like pharmacies and optical centers. If you have simple needs for glasses or contact lenses, getting a basic eye exam at Sam's Club can help you keep your prescription up to date, get fitted for contacts, and get additional pairs of glasses that you might not be able to afford otherwise.
Sam's Club accepts many types of vision insurance too, so you can get further discounts if you need pupil dilation or other tests.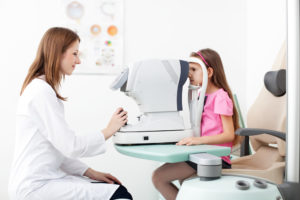 The Pros & Cons of Sam's Club Optical
Sam's Club contracts with licensed, professional optometrists who rent space in their brick-and-mortar locations. These contracted optometrists do not work directly for Sam's Club, but working with the large retailer allows them to be more accessible to people who need prescription eyewear. You do not need to be a member of Sam's Club to have an eye exam at one of their optical centers; however, you do need to be a member to buy glasses or contact lenses at Sam's Club.
If you do not have your own membership, a friend or family member who has a membership can get you a guest membership. Updating an eyewear prescription every one to two years is important for many people with refractive errors, so this can help you manage that. If you have more serious eye health issues, Sam's Club Optical Centers are not able to provide the level of treatment you need.
Here are some pros and cons of choosing Sam's Club to manage your basic eye needs:
Pros: If you have a membership to Sam's Club, you get access to a wide range of glasses and contact lenses. This includes frames, various types of lenses, coatings for your lenses, and fittings.

Basic eye exams cover an updated prescription for new glasses. For a small additional cost, you can also get fitted for contact lenses. This is important if you have not worn contacts before, do not wear contacts regularly, or have an astigmatism. You can get further tests, like pupil dilation, for an added cost.

When you want fashionable eyewear, Sam's Club can help. They have several low-cost, high-quality options for frames. Besides standard glasses, you can also get bifocals or progressive lenses and sunglasses there to help you see clearly.

Cons: One of the biggest downsides to Sam's Club is the required membership. While you can get an eye exam without being a Sam's Club member, you cannot get prescription glasses and contacts there unless you have a membership card.

Additionally, the optometrists at Sam's Club only provide basic services. While they may be able to spot signs of issues like cataracts or glaucoma, they cannot provide official diagnoses and regular treatment. You will need an ophthalmologist to help you manage higher level eye conditions.
Ultimately, Sam's Club Optical Centers cover basic needs, but they may not be able to help you with more than a simple exam.
Positive Reviews for Sam's Club Optical
Many consumers are very satisfied with getting eye exams, glasses, and contacts from Sam's Club.
Some online reviews state that the basic exam is very thorough, with optometrists asking detailed questions about eye health to get a solid patient history. Contact lens fittings include suggestions for brands and tips to keep contacts as comfortable as possible in the eyes. One reviewer said that a pet chewed on their glasses, and Sam's Club replaced the glasses for free.
Overall, their services are good quality and meet basic needs for people who are nearsighted, farsighted, or have astigmatism.
However, Sam's Club optometrists and opticians cannot help you with more than prescribing glasses and contact lenses. While they may be able to dilate your pupils and examine your retina's health, they cannot prescribe treatments. Instead, they may refer you to an ophthalmologist who can help you further.
An ophthalmologist is a medical doctor who can diagnose many different eye conditions, create a treatment plan, and even perform surgery. Some ophthalmologists have subspecialties in glaucoma, corneal or retinal problems, surgery, or pediatric care.
In contrast, an optician can fit eyeglasses, frames, and contacts. Optometrists can help to manage refractive error changes, prescribe lenses, and detect certain abnormalities in the eyes. For serious eye health issues, you should see an ophthalmologist.
While getting an eye exam at Sam's Club is a great option for many people, it may not be a good long-term care solution. Updated glasses and contact lenses can help you see clearly, but managing other conditions like astigmatism or eye diseases requires different specialists who do not contract with big-box retailers.
Even if you get regular eye exams at big-box stores like Sam's Club, it's a good idea to establish a relationship with an ophthalmologist. Visit this professional every few years to assess your overall eye health. Many eye conditions can be successfully managed if they are detected early. If your ophthalmologist does detect a more serious issue, like retinopathy or glaucoma, they can recommend a care plan.
After your initial visit with an ophthalmologist, they can give you an idea of the frequency with which you should see them. They may recommend that you continue to update your prescription via regular basic exams at Sam's Club or another retailer, and visit them every so often for a more thorough assessment of your overall eye health.
References
Get the Most Out of Your Membership. Sam's Club.
Optical Center. Sam's Club.
Sam's Club Optical, Now Your Best-Kept Secret for Affordable Luxury. (September 2018). Sam's Club.
Sam's Club Optical Department. Angie's List.
Eye Glasses From Sam's Club or Costco? DISBoards.
Difference Between an Ophthalmologist, Optometrist, and Optician. (February 2019). American Association for Pediatric Ophthalmology and Strabismus (AAPOS).