Caution Sign - Allergy Season Ahead
By: Dr. Paul Casey, Nevada Eye Care, an NVISION Company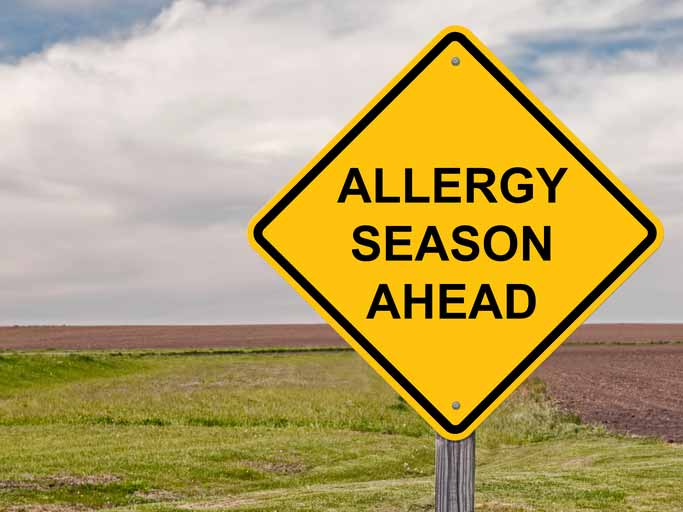 The cold winter months have passed and spring is here upon us. As we look forward to the warm weather and outdoor events, there is just one thing that a great number of us are dreading…allergies.
You know the drill: itchy, red, or even burning sensations in your eyes. If this sounds like you, you're not alone. The American College of Allergy, Asthma, and Immunology estimates that 50 million people in the United States have seasonal allergies. This affects approximately 30% of adults and 40% of children.
Common causes of allergies are airborne around you every day both indoors and outdoors. Things like pollen (grass, trees, weeds), mold, dust, and pet dander triggers the cells in your eyes release histamine and other chemicals that cause inflammation.
Luckily, there's relief and tips for prevention to avoid or limit exposure with your trigger(s).
Outdoors

Avoid going outside and close windows when pollen count is high

How do I know what the pollen count is you may ask? Click here to see what Google's forecast is.

Use A/C and air filters/purifiers and be sure to swap them out as recommended by the manufacturer
Wear sunglasses or glasses when outside to keep the pollen out of your eyes

Indoors

Dust mites

Use special pillow covers to keep allergens out
Wash bedding frequently in hot water
Consider replacing old mattresses
Clean floors with a damp mop
Replace carpeting with hardwood for an easier clean

Mold:

Keep humidity levels in homes below 30-50%
Consider having an expert in if any water damage has occured

Pets:

Keep animals outside as much as possible and out of the bedroom
Wash your hands after touching pets
After being near a pet, wash your clothes
For any contact lens wearers, you may want to remove your contacts and opt for your eyeglasses until your allergy symptoms are gone. This is because the surface of contact lenses can attract and accumulate airborne allergens. If wearing your glasses is not an option, you can switch to daily disposable contacts to avoid allergen and other debris buildup.
Experiencing allergies now? Some treatments for allergies include:
Artificial tears
Decongestant eye drops (do not use long-term!)
Oral antihistamines
Allergy shot
Prescription medications
A last bit of advice: Avoid rubbing your eyes, it will only irritate your eyes more!