Posted on November 18, 2019
Table of Contents
You've told yourself you couldn't have LASIK, even though you desperately want to stop wearing contact lenses all the time. You think you'll save money by sticking with the tried and true.
Do the math, and you might discover that you're paying more for contacts than you would for a LASIK surgery.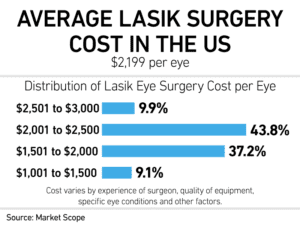 How Much Does LASIK Cost?
During a LASIK procedure, your doctor numbs your eyes, creates a corneal flap, and amends the tissue within your eye with a laser. The flap is replaced, and you're sent home with drops to help you heal. The procedure is sophisticated, and it can come with a high price tag.
Analysts say LASIK can cost between $1,000 to more than $3,000 per eye. That price includes your:
Eye exam. Your doctor needs to assess your vision loss and eye health before the work begins.
LASIK procedure. The doctor's time, the equipment, anesthesia, and all other details are included in this price.
Post-operative care. Drops you need to heal your eyes and your return visits with the doctor are included here.
Follow-up care. If you don't achieve the vision correction you want, a second surgery can be included in the fee.
Bargain-basement prices often come with loopholes. Your follow-up care might cost extra, for example, or you won't get a second surgery for free. You'll need to understand the price carefully before you sign on.
How Much Do Contacts Cost?
You don't need surgery to wear contacts, but you do need a special type of eye exam. And you'll need to pay for both your contacts and their upkeep. This is an expense you'll always see in your budget.
In 2012, researchers dug into eye health prices all across the country. These are some of the fees you can expect to pay as a person who wears contact lenses:
Contact exam: Fees range between $85 and $215.
Contact lenses: These fees vary widely, depending on the kind of contact you need. Expect to pay about $90 for a three-month supply.
Glasses exam: You'll also need glasses to wear when you're resting your eyes from your contacts. This demands a different exam. Expect to pay between $20 and $140.
Glasses: You'll pay between $50 and $300 or more, depending on your prescription.
You'll also need cases and solution to store your contacts when they're not in your eyes. Fees can vary, but it's not unusual to pay $200 per year to maintain your contacts.
What About Insurance?
We use insurance policies to offset the cost of medical care and keep our expenses low. While some plans help to pay for vision care, it's rare to have full coverage. And even if you do, some of your fees won't be included in your benefits package.
LASIK is not covered by insurance plans. Officials consider this an elective procedure that you could skip by wearing glasses or contacts. It's rarely, if ever, covered.
Vision insurance programs offer benefits, but they can be lean. In one typical program, you'll get coverage for:
Eye exams.
Contact lens fittings.
One set of contact lenses annually.
You'll have to pay out of pocket for your glasses. And this plan won't cover the cost of your solutions and maintenance materials.
Vision insurance can be helpful, but it's rare. Analysts say just 35 percent of employers offer this kind of coverage to their employees. And Medicare doesn't cover routine eye exams at all, reporters point out.
If you don't have vision insurance, you're not alone. But it means you'll pay your bill on your own, regardless of whether you choose LASIK or contact lenses.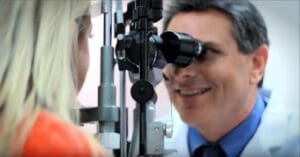 What's the Final Tally?
To determine if LASIK is truly more affordable than contact lenses, we'll have to do some comprehensive math.
We know LASIK will cost, on average, $4,000 for both eyes. That's a lifetime cost, as you won't need to repeat the experience every year.
Per year, contacts will cost:
$100 for an exam.
$300 for the lenses.
$200 in solution.
$115 for glasses (since glasses cost about $350, and they last for about three years).
That brings your yearly contacts price to $715. After about five years, you'll pay more for contacts than you would for LASIK.
References

How Much Does LASIK Cost? VSP.
How Much Do Glasses Cost? How Much Do Contacts Cost? (October 2012). Clear Health Costs.
Vision Insurance FAQ: Frame, Lens, and Contact Lens Benefits. (April 2016). VSP.
What Percentage of Companies Offer Vision Insurance? (January 2017). Zenefits.
Vision Care Lags, With Blind Spots in Insurance Coverage. (May 2018). National Public Radio.