Do LASIK Surgeons Operate on Family Members? Do They Have LASIK?
Posted on October 30, 2019
Table of Contents
How do you know if LASIK surgeons really believe in the procedure they perform every day? Finding out if they recommend the solution to their friends and family members is a good place to start.
Researchers say that it's common for LASIK surgeons to both recommend and perform the procedure on their family members. They know a lot about the benefits of this surgery, as they often have it themselves.

Why Wouldn't Doctors Operate on Family?

Watch medical programs like Grey's Anatomy, and you'll walk away convinced that doctors often perform surgeries on the people they love. In reality, there are guidelines about the practice. Sometimes, those rules make doctors step away from the surgery room.
Experts point out that organizations like the American Medical Association encourage doctors to stay in the waiting room when their loved ones need help. A doctor treating a loved one can struggle to:

Remain impartial. Serious illnesses often call for analytic decisions. That's hard to do when you're working with someone you love.
Deal with a crisis. During an intense surgery, a loved one can experience a complication. Surgeons must work quickly under pressure. Relationships can make that hard.
Maintain confidence. Worries and doubts can keep surgeons from making the right calls in a crisis.
Despite these risks, it's somewhat common for doctors to work on those they love. In a 2017 study, 76 percent of doctors said they'd performed surgery on friends and family members.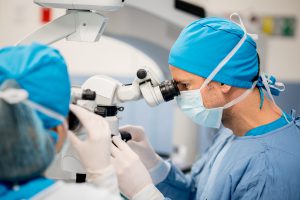 How Is LASIK Surgery Different?

When we're talking about surgeries and family, we're sometimes talking about life-and-death procedures. If someone we love has a severe bone break, a cancerous tumor, or a blocked artery, the surgical solution is serious. The surgery comes with enhanced risks. LASIK is a surgery, but the risk profile is a little different.
Doctors use finely calibrated equipment to perform LASIK procedures. They take very detailed measurements before the first cut is made. And the whole surgery is over in minutes.
It's still a surgery, but the chance that something will go catastrophically wrong is minuscule.
Doctors might choose to perform LASIK on those they love because:

They trust their skills. A doctor who has performed LASIK surgeries thousands of times knows the equipment inside and outside. Sending a loved one to a different surgeon can seem silly.
It helps with marketing. Patients trust doctors who are willing to perform LASIK on those they love. It's a vote of confidence that could help nervous patients feel safe while in surgery.
They believe in the surgery.

Researchers

say more than 90 percent of LASIK surgeons recommend the procedure to friends and family members. They know it works, and they want those they love to take advantage.
They understand the patient's lifestyle. Close families know one another well. LASIK surgeons may know their husbands have dry eyes in the summer, or they know their wives enjoy knitting in the winter. They can take precautions to match surgical outcomes to fit the person's lifestyle.
Doctors might also encourage family members to have LASIK because they know it works. Researchers say more than 62 percent of experts who perform LASIK have been patients at one point.
They couldn't treat their own eyes, of course. But they trusted a colleague to help them. And now, they see the results every day. They're in an exceptional position to discuss risks and benefits with those they love.
Patients have choices. There are plenty of practitioners ready to help people who want to leave a life of glasses behind. But if you know and love someone who provides this surgery, it could be a good option for you to consider.
References

Why Doctors Shouldn't Treat Family Members. (January 2012). CNN.
When You Operate on Friends and Relatives: Results of a Survey Among Surgeons. (May 2017). Medical Principles and Practice.
Do Ophthalmologists Undergo LASIK? (May 2016). The Ophthalmologist.
Eye Doctors Are LASIK Patients Too. (February 2016). American Refractive Surgery Council.