Posted on February 16, 2020
Table of Contents
Are contact lenses safer for your eyes? Or should you opt for LASIK instead?
If these questions keep you up at night, you're not alone. We all want to do what's best for our eyes. And it's sometimes hard to parse medical jargon and get at the truth.
It's true that LASIK is a surgery, and all similar procedures come with at least some risk. But contact lens complications are more common than those seen with LASIK.
While your doctor can help to cut your LASIK complication risk, you'll need to adjust your contact injury rate alone. That's not always easy.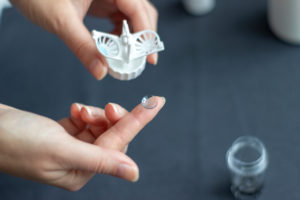 Contacts and Complications
Contacts are medical devices, and they're tightly regulated by the U.S. Food and Drug Administration. That organization wouldn't automatically approve something that wasn't safe.
But to keep your risk of problems as low as possible, you need to follow detailed instructions carefully. Few people do that.
In a study of contact-lens wearers, a third had a lens problem that required a trip to the doctor. That means the majority of people who wear contacts will have some sort of complication.
Most of the time, experts say, problems stem from bacteria. In some cases, infections can cause blindness. They can develop quickly, and often, they start with an innocent decision.
You might choose to:
Expose your contacts to water. You might rinse them under the tap, or you might wear them while swimming or showering.
Skip a cleaning step. You know you should clean your contacts before storing them. But you're tired, and you don't. Bacteria can grow in just one night.
Reuse solutions. The liquids you need to care for contacts are expensive. But reusing solutions instead of replacing them can be dangerous.
Hold on to cases. You should replace your case regularly. If you hold onto it for too long, bacteria can grow.
The type of lens you use plays a role in complication rates. In one study, for example, researchers found that 86.84 percent of people wearing extended-use lenses had a problem. Only 67.85 percent of those who chose daily wear versions had the same issue.
Your doctor plays a role in the lenses you choose, but all the other complication risk factors stem from your choices. And global problem rates remain consistent over time. People don't seem to change the way they care for contacts, even as the risks of improper contact use become clear.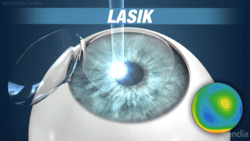 LASIK and Complications
Every surgery comes with risks. You could have a reaction to the anesthetic drops, or the machine your doctor uses could malfunction. When you're preparing for surgery, it's easy for your mind to dream up plenty of scenarios that end with long-lasting blindness. In reality, LASIK comes with very few complications.
Industry records suggest that the LASIK complication rate sits at below 1 percent. Some people experience transient issues, such as:
Blurred vision.
Trouble with night vision.
Light sensitivity.
Mild pain or discomfort.
Dry eyes.
But often, these problems go away when the eye heals. It's very rare for them to persist.
Experts say LASIK technology is improving to reduce side effects. When compared to older surgeries, newer versions tend to come with fewer patient complaints. That means we can expect complication rates to drop even more.
To ensure the best outcome, you'll need to choose your surgeon carefully and work with a partner with plenty of experience and skill. You'll also need to stick to the follow-up care instructions given by your doctor. Do that, and there's no reason to expect major problems.
What Should You Do Next?
It's good to understand the risks and benefits of any medical procedure you're considering. That's true whether you're thinking about contacts or surgery.
But remember that your eyes are unique and special, and what's right for you might be different than what's right for someone else. Talk with your doctor to get the best advice on what should work for your eyes. 
References
Complications of Contact Lenses. UpToDate.
Contact Lens Risks. (September 2018). U.S. Food and Drug Administration.
Prevalence of Contact Lens-Related Complications Among Wearers in Saudi Arabia. (2016). Sudanese Journal of Ophthalmology.
LASIK Complication Rate: The Latest Facts and Stats You Should Know. (October 2017). American Refractive Surgery Council.
Facts About LASIK Complications. (December 2018). American Academy of Ophthalmology.